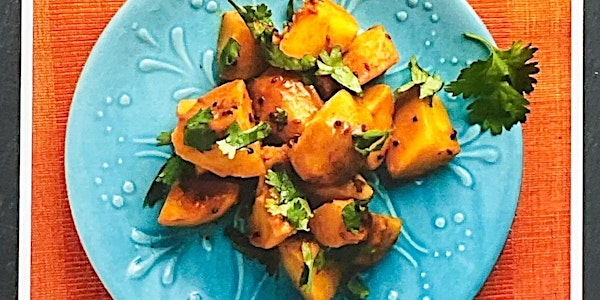 Everyday Indian Vegetarian Cooking- An Online Cook Along!
Join us for this fun, interactive Cook Along! Dinner for 4 is sorted by the end of class!
About this event
This meal truly resembles an everyday Indian dinner and is also suited for the vegan lifestyle. Step by step guidance from sourcing the ingredients, prep work, cooking along and having dinner ready by the end of class, all make this a fun experience. You may choose to watch and cook later too. Even novices to Indian cooking have gained the confidence of recreating this entire menu in their own kitchen!
We will begin the class with a brief introduction to the commonly used spices and the tempering technique used for the spices, in Indian cooking. Tips for using the Instant Pot for meal prep convenience will be discussed.
So here is our menu-
Scallion Dal (flavorsome red lentil curry)
Basmati rice
Aaloo Subji- scrumptious spiced potatoes
Roasted Papadums
Store bought Roti to round out the meal. 
Join us for this informative, interactive, fun class! Class fee is $40/ person. Spice kits containing spices and curry powders required for this class,are also available for $10 each.
To reserve your spot register at the link .
For more info, e-mail / text me @
indfused@gmail.com/ 781-439-5453