Description
Join us for food and drinks as we celebrate the installation of our new show! This collection will showcase the works of Deborah Grayson, of Grayson Studios, a local artist from Washington, DC. Her works will be on display and for sale until September 30, 2019.
Many thanks to Danielle Glosser, Founder of Client Raiser, for bringing Deborah our way! Looking forward to working with her to support local women artists with our art shows!


---
About the Artist:
Deborah Grayson uses figuration and abstraction in her work to center women as the subjects of our own stories, not as a form of reclamation or re/definition but as we see ourselves outside of and in resistance to the external gaze of others. Grayson's creative techniques range from painting and printmaking to sculpture and assemblage. Through the process of layering these techniques she creates portraits of women who are connected to the spiritual and physical realm. These women lead, they resist, they are everyday goddesses.
Grayson is an artist from Washington, DC where she currently maintains her studio practice. She holds a BA in English Languages and Literature from the University of Maryland, College Park, and an M.A. and PhD from Michigan State University in American Studies, an interdisciplinary degree that allowed her to pursue scholarly interests in science, technology, and material culture.
---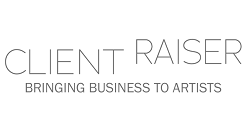 DANIELLE GLOSSER
Danielle is the Founder and Principal of Client Raiser, a business dedicated to helping artists to increase their client volume and the visibility of their art. Since 2014, she has worked with dozens of artists across the country in support of their professional goals. Emerging and established artists alike begin with Client Raiser's in-depth interview process, which results in a tangible assessment of their art practices and concrete next steps for advancing their careers.
Prior to launching Client Raiser, Danielle implemented social justice initiatives at The White House and in communities across the country that required her to manage complex projects with multiple constituents. Inspired by collecting art, Danielle was exposed to the unique career challenges that artists face and was moved to use her professional skills in strategic planning, project management, research, writing, and networking to support their aspirations.
Danielle is a 25-year resident of Washington, D.C. She has led workshops and partnered with arts organizations across the region, including Washington Project for the Arts, Gateway Arts District, Artomatic, District of Columbia Arts Center, Montgomery Arts Association, Capitol Hill Arts League, Washington Sculptors Group, Women's Caucus for Art and the D.C. Commission on the Arts and Humanities.
---