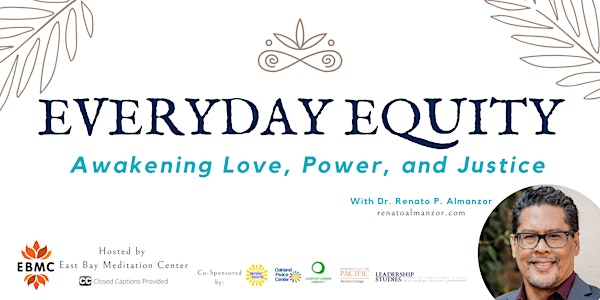 Everyday Equity: Awakening Love, Power, and Justice
An Online Class Series with Dr. Renato Almanzor
Refund Policy
Contact the organizer to request a refund.
About this event
Fridays April 9th, 16th, 23rd, & 30th 2021
Closed Captioning Provided
Everyday Equity is both a realization of and an agenda for social justice and community well-being. The program offers perspectives, principles, and practices toward awakening love, power, and justice in our daily lives at home, work, and community. The webinar series is not just an individual path, we will catalyze interpersonal and collective transformation through experiential activities including journaling, mindful stationery and movement meditation, and conversation in pairs, small groups, and whole group. Addressing equity, we will examine personal, relational, and collective experiences from the effects of culture and systems, specifically accessing our stories of harm and healing. As we practice Everyday Equity individually and together, we're invited to cultivate sustainable community well-being.
Series Overview
Although the webinar series is designed to be experienced together, each webinar can be experienced as a stand-alone module. You can expect that participation may vary from week to week.
What Matters – Awakening Love:
April 9, 2021, 1:00 p.m. – 4:00 p.m. PST
This webinar sets the tone for the series, highlighting the sequential and simultaneous nature of learning and practicing everyday equity. By the end of this webinar participants will have 1) a greater understanding of their purpose, 2) experienced seeing and being seen by another, and 3) practiced care and respect for themselves and others.
Framework for Everyday Equity
What Matters: Purpose
Process: Awareness, Acceptance, Action
Meditation: Loving Kindness
Practice: Awakening Love
What's Difficult – Awakening Power:
April 16, 2021, 1:00 p.m. – 4:00 p.m. PST
This webinar accesses our intrinsic worth, acknowledging "hurt people hurt people," and reminding ourselves of our loveliness beyond the effects and conditioning of oppression. By the end of this webinar participants will have 1) a greater understanding of cultural and systemic socialization, as well as power and its uses, 2) accessed stories of resilience, and 3) practiced radical compassion and healing.
Framework for Everyday Equity
What's Difficult: Harm and Healing
Process: Personal, Relational, and Cultural Healing
Meditation: Compassion
Practice: Awakening Power
What's Possible – Awakening Justice:
April 23, 2021, 1:00 p.m. – 4:00 p.m. PST
This webinar acknowledges that there are as many avenues for action as there are areas of suffering. However, we focus on our possibilities by addressing issues not problems, and choices to be "harder on the structure and softer on the people." By the end of this webinar participants will have 1) a greater understanding of systems thinking, justice, and liberation, 2) cultivated loving and power liberatory options for structuring belonging, and 3) practiced appreciative joy and compassionate accountability.
Framework for Everyday Equity
What's Possible: Wisdom
Process: Accountability and Unaccountability Pathways
Meditation: Joy
Practice: Awakening Justice
What Now – Everyday Equity:
April 30, 2021, 1:00 p.m. – 4:00 p.m. PST
This webinar curates amazing achievements and fabulous failures along our journey of everyday equity. This session offers opportunities to discuss what we're learning about DEI leadership, organization, and community development, as well as interrogating our approaches of incremental and transformative change. By the end of this webinar participants will have 1) a greater understanding of incremental and transformational capacity building , 2) stories of pride and prejudice, and 3) practiced learning.
Framework for Everyday Equity
What Now: Transformation
Process: Pivots and Possibilities
Meditation: Equanimity
Practice: Everyday Equity
Intended participants:
Mindful Activists exhausted, overwhelmed, and frustrated addressing the system and effects of oppression, losing hope and maybe even questioning if it's even worth it.
Everyday Equity acknowledges that we are a part of, not apart from the woundedness of our world – so we embrace working in and on systems of oppression by healing ourselves at a faster rate than the harm being done.
Community and organizational leaders torn between the tensions of perspectives, principles and practices including internal transformation/social reform; "by any means necessary"/"being the change"; sense of urgency/moving at the speed of trust; spiritual/pragmatic, anti-racist/feminist/environmental justice; power over/under, power with, power within…
Everyday Equity nurtures "and/also" instead of "either/or" while encouraging diversity of perspective yet proposing that not all perspectives are equal.
100% of our programming is sliding scale and no one will ever be turned away for lack of funds. Thank you for the gifts of your generosity and for supporting the work of East Bay Meditation Center and our beloved teachers who have volunteered their time.
Dr. Renato Almanzor is a transformation catalyst, whose experience emerges from over 30 years developing leaders committed to equitable communities, multicultural organizations, and social justice. As a leadership expert, he has delivered keynote addresses, workshops, and seminars on issues related to leadership for equity, cultural diversity, and social change. Much of his work has been dedicated to supporting community leaders working with and in low-income communities and communities of color. He has a PhD and MA in organizational psychology, an MS in counseling, and BA in psychology, as well as certifications in coaching and Zumba Instruction. He is a proud alum of the first Practices in Transformative Action program at the East Bay Meditation Center, where he also served as an apprentice the following year.
As a leadership expert, Dr. Almanzor delivers leadership development programs, keynote addresses, workshops and seminars on issues related to leadership for equity, cultural diversity, and social change. His professional practice ranges from executive coaching and strategic planning to change management consulting and team development. Dr. Almanzor was awarded the Wallace Alexander Gerbode Fellowship in 2015, recognized for Transformative Leadership by the California School Age Consortium in 2016, and acknowledged for service and leadership during Asian American and Pacific Islander month by the City of Oakland in 2018.
Dr. Almanzor has taught courses ranging from organization theory and organizational behavior to working with diverse populations and designing multicultural organizations at Humboldt State University, University of the Pacific, California State University East Bay, University of San Francisco, Alliant University, and Argosy University. In addition, he has held executive roles at UC Berkeley, Oakland Unified School District, LeaderSpring, and East Oakland Building Healthy Communities, as well as provided consulting through the Bay Area Coalition for Equitable Schools, now the National Equity Project.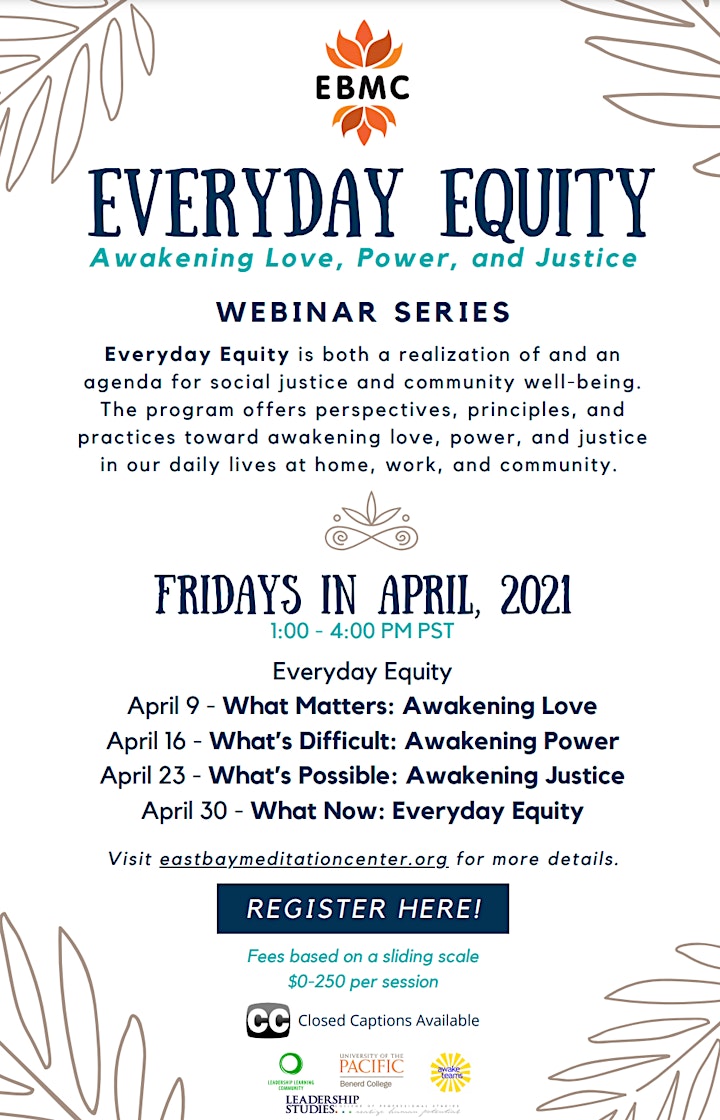 About the Host and Co-Sponsors:
The East Bay Meditation Center (EBMC) is an independent center located in downtown Oakland, at 285 17th Street at Harrison, just 3 blocks from the 19th Street BART station. We offer meditation training and spiritual teachings from Buddhist and other wisdom traditions, with attention to social action, multiculturalism, and the diverse populations of the East Bay and beyond. Our programs include meditation classes, daylong retreats, sitting groups, workshops, and classes.
AwakeTeams embeds enduring human capabilities in organizations by training diverse teams in fundamental skills. We empower employees, teams, and organizations to thrive in the new normal.
Leadership Learning Community is a national nonprofit organization transforming the way leadership development work is understood, practiced and promoted, primarily within the nonprofit sector. We connect the learning and work of people who believe that supporting equity-based, networked and collective leadership is a lever for catalyzing social justice.
The Leadership Studies program at Humboldt State University prepares students with foundational leadership skills in planning, critical thinking, sustainability, and organizational transformation that are transferable and relevant across industries. Engage in career-relevant coursework that aligns with your current and future professional goals. Experience an excellent student-faculty ratio, with personalized support from faculty that draw from their diverse leadership experience in public, private and nonprofit sectors.
The Transformative Action in Education Program at University of Pacific offers a unique experience for educational practitioners interested in the study and practice of transformative leadership. Our students focus on a critical examination of themselves to understand their role in the education system and are committed to disrupting and rebuilding this system.
The Oakland Peace Center is a community of artists, activists, cultural workers, educators and non-profits collaborating to bring about a city of hope, justice, nonviolence and compassion. The OPC provides needed space, hosts collaborative events and trainings, and creates a network of emotional and spiritual support for the 30+ organizations who partner in its work.