Description
Humpdays just got way more fun with Everybody's Famous on Wednesdays party at Repour Bar. Join us from 10:00 P.M. to 2:00 A.M. for decadent, handcrafted cocktails and to listen the best of classic and current beats.
Your favorite dance, funk, hip hop and rhythm & blues will be spun by Miami's (sort-of) famous deejay, Myke Dilla. Sip on a titillating Spicy Paloma or a funky Something Tyler Made.
Since everybody is the star here, there is no cover charge until… well...whenever! On Everybody's Famous Wednesdays at Repour, we are all the stars. No pretentious VIP and no popping bottles – unless you are poppin' a bottle of craft beer, of course.
Come as you are, dress as you like. RSVP to learn what drink specials will be available. Can't wait to see you there!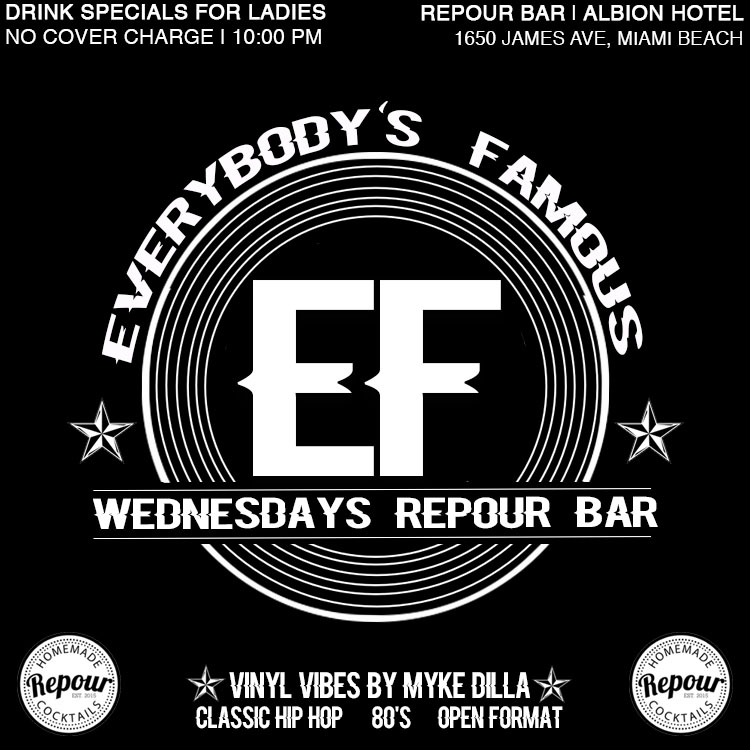 Everybody's Famous on Wednesdays at Repour Bar
Wednesdays from

10 p.m. to 2:00 a.m.
Located inside the Albion Hotel
1650 James Ave
Miami Beach FL
33139