Description
The 70's were groovy, the 80's were totally awesome, but everybody knows that the 90's were downright dope! 90's fashion, flava, and especially the MUSIC were everything! Well, we at The Alumni Group are yearning for those times, and we especially miss the soundtrack that filled our days -- from gritty hip hop to sultry soul music to boy bands! So on Sunday, June 30th we're throwing back to the 90's at Everybody Loves The 90's Brunch & Day Party at at District 7 Bar in Downtown L.A.! For $25 get 1.5 hours of bottomless brunch cocktails (Mimosa, Bellini,Sangria, & Rum Punch) with the purchase of an entree! NYC's DJ E Class and LA's dj U will be spinning classic 90's hip hop and R&B to keep you and your crew moving while you eat and drink. If you miss this, you're buggin 'cause this brunch will be phat, yo! Word up!
***Food and drinks are not Free you will need to pay your server once you are done dining***
****Please use #TAGBRUNCH when sharing socially.****
Please follow us on instagram @The_Alumni_Group
MEDIA DISCLAIMER, photos and videos are occasionally taken at our events. The Alumni Group reserves the right to use any photograph/video without the expressed written permission of those included within the photograph/video. The Alumni Group may use the photograph/video in publications or other media material produced, used or contracted by The Alumni Group including but not limited to: brochures, invitations, books, newspapers, magazines, television, websites, etc.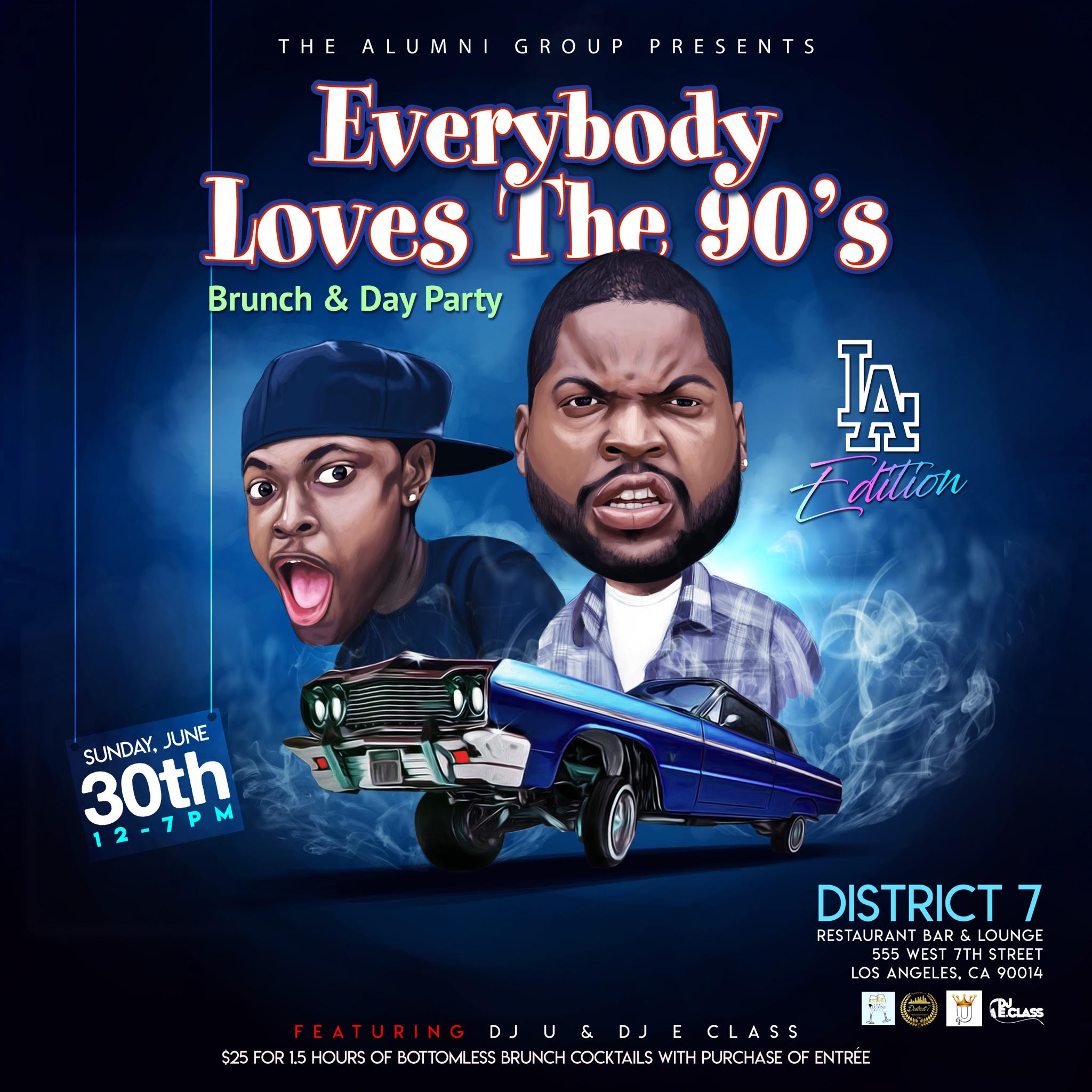 Brunch Menu
Bottomless Cocktail Options: Mimosa, Sangria(White/Red), Rum Punch with Purchase of Entree (1.5 Hour Limit $25)
Brunch Sides / Starters
Wings $10
French Fries $5
Crab Hush Puppies $10
Lobster Hush Puppies $12
Mac & Cheese $5
Brunch Entrees
Chicken & Waffles $14
Shrimp & Grits $14
Chicken & Grits $14
Zucchini Noodles (Zoodles) $10
Sauce Options: Alfredo, Marinara, or A la Vodka (Pink Sauce)
Choice of Chicken $12, Shrimp $14, Crab $14 or Lobster $16
Breakfast Sliders (Eggs, Steak, & Cheese) $16
Bottle Prices
$250
Ciroc (all flavors)
Hennessy
Jameson
Patron
Don Julio
Moët Rose
Jack Daniels
$275
Dusse'
$400
Hennessy White
$200
Veuve
Veuve "Rich"
Belair Gold
$175
Belair Lux
$150
Belair rose
$80
House champagne