Description
The 70's were groovy, the 80's were totally awesome, but everybody knows that the 90's were downright dope! 90's fashion, flava, and especially the MUSIC were everything! Well, we at The Alumni Group are yearning for those times, and we especially miss the soundtrack that filled our days -- from gritty hip hop to sultry soul music to boy bands! So on Sunday, Janurary 14th, we're throwing back to the 90's at Everybody Loves The 90's Brunch & Day Party at Mist Harlem! For $35 get an appetizer, brunch entrée and 1.5 hours of bottomless brunch cocktails (Mimosa, Bellini,Sangria)! DJ E Class will be spinning classic 90's hip hop and R&B to keep you and your crew moving while you eat and drink. And to elevate the experience, we're bringing back boy bands! That's right, you will also enjoy LIVE music by the RNB Boys (Jerome Bell, Devin Snow, and Timorris Lane), who'll be belting out 90's ballads during brunch. "Ooooh yeah!" If you miss this, you're buggin 'cause this brunch will be phat, yo! Word up!
$35 Prix Fixe Brunch Includes an Appetizer, Entree, and 1.5 Hours of Bottomless Brunch Cocktails (This Price DOES NOT include Tax & Gratuity which comes out to $45 total)
$55 Prix Fixe Brunch includes an Appetizer, Entree and Bottomless Drinks for the duration of the event. (This Price includes Tax & Gratuity)
**Seating during brunch is on a first come first served. RSVP does not guarantee seating**
***Once you are done dining please be considerate of others waiting and relinquish your seats***
****Please use #TAGBRUNCH when sharing socially.****
Please follow us on instagram @The_Alumni_Group
MEDIA DISCLAIMER, photos and videos are occasionally taken at our events. The Alumni Group reserves the right to use any photograph/video without the expressed written permission of those included within the photograph/video. The Alumni Group may use the photograph/video in publications or other media material produced, used or contracted by The Alumni Group including but not limited to: brochures, invitations, books, newspapers, magazines, television, websites, etc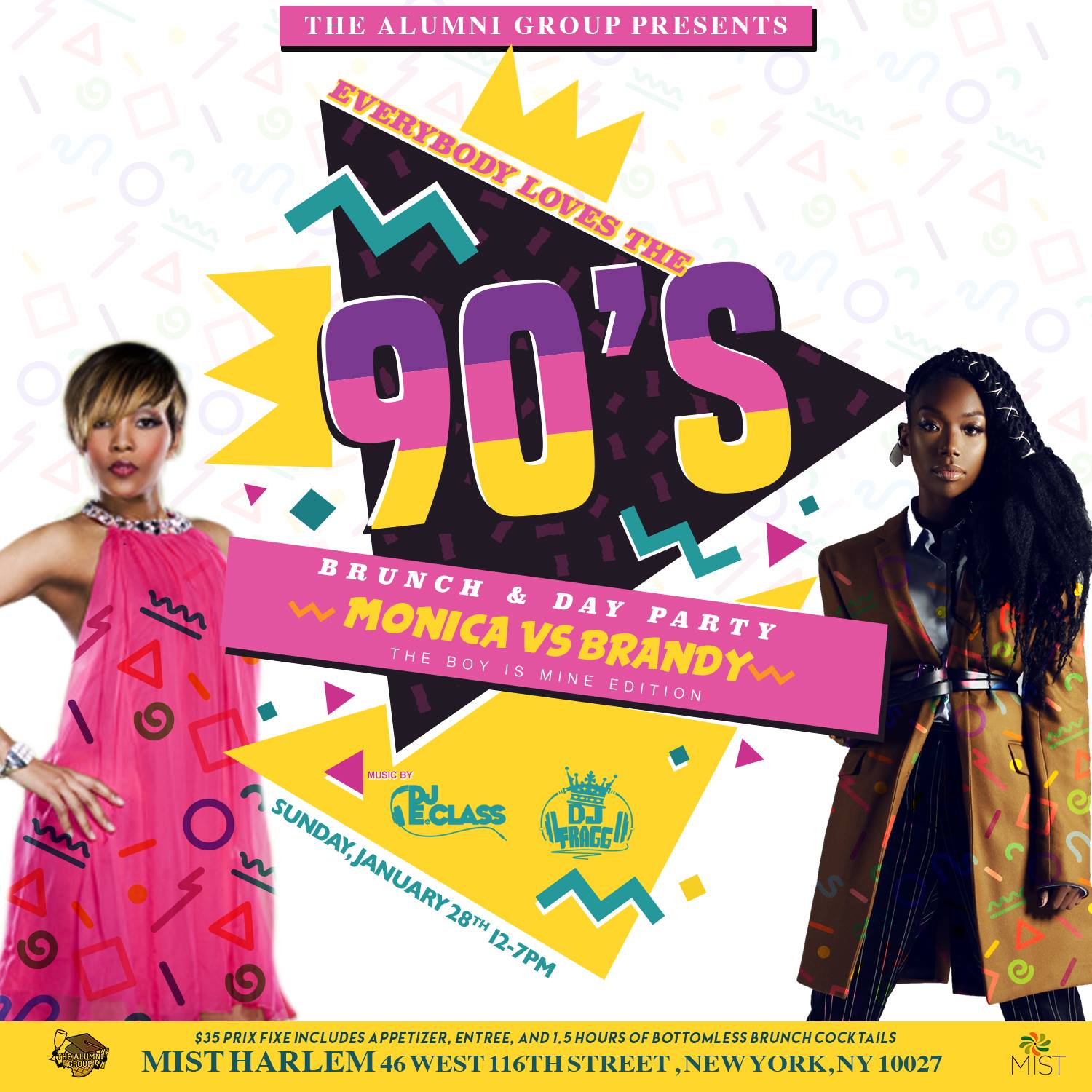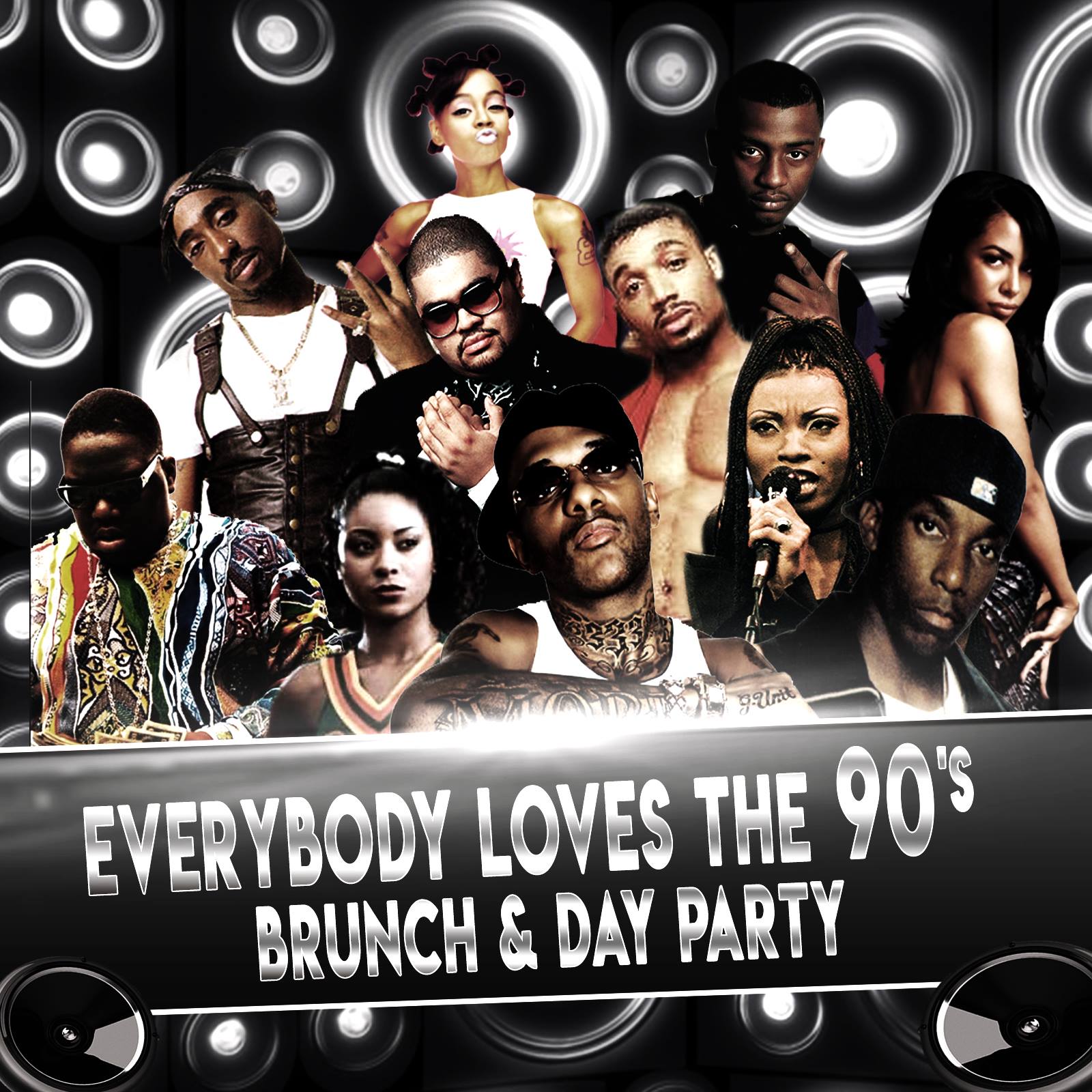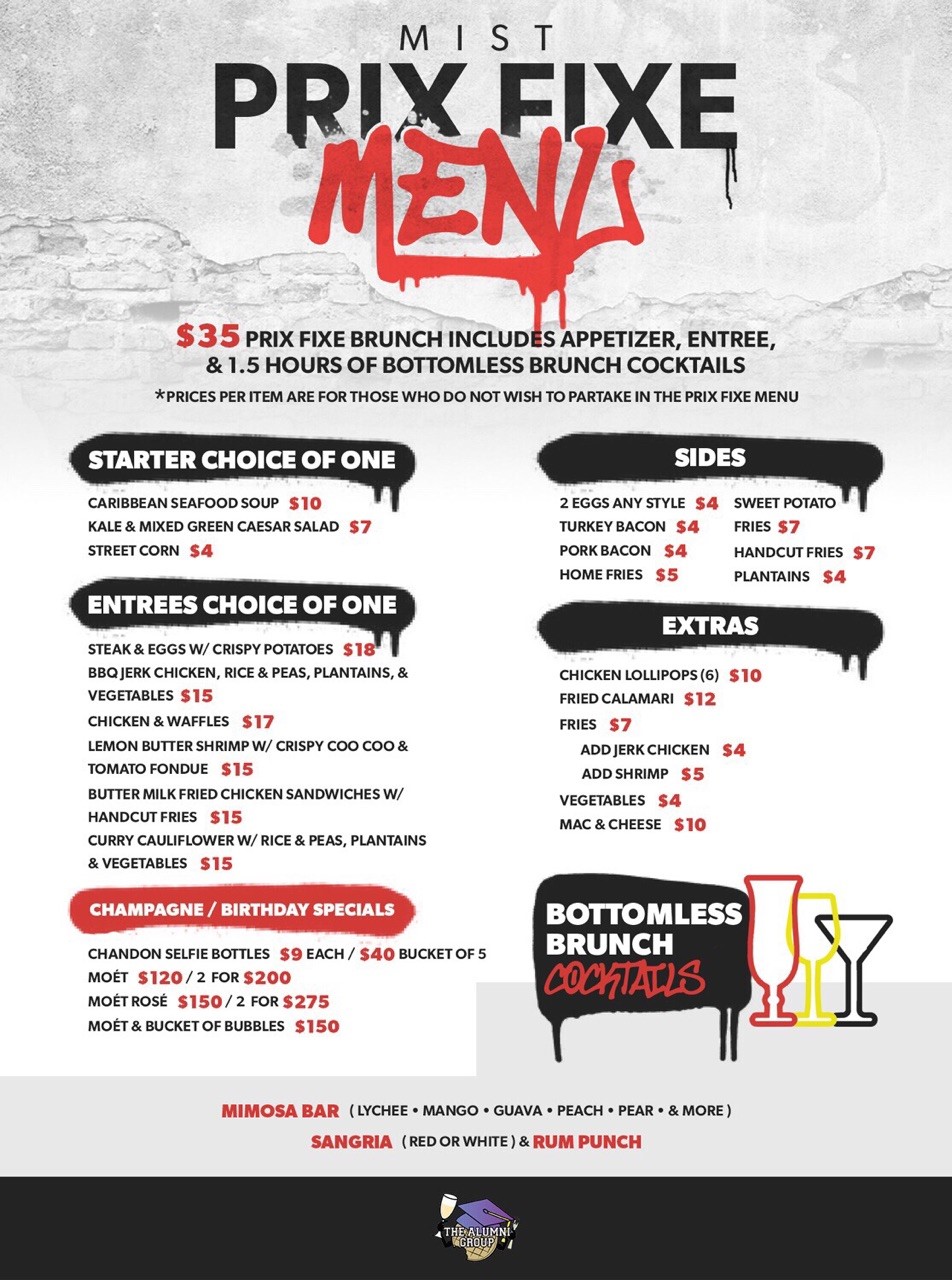 Mist Brunch Menu $35 Prix Includes Appetizer, Entrée and 90 minutes of bottomless brunch cocktails.
*Prices per item are for those who do not wish to partake in the prix fixe menu*
-Starters Choice of One-
Caribbean Seafood Soup $10
Kale & Mixed Green Caesar Salad $7
Pholourie Vegetables with Chadon Beni Aioli $10
Entrees
Steak & Eggs With Crispy Potatoes $18
Barbecue Jerk Chicken Rice and Peas, Plantains, and Vegetables $15
Chicken & Waffles $17
Lemon Butter Shrimp with Crispy Coo Coo and Tomato Fondue $15
Butter Milk Fried Chicken Sandwich with Handcut Fries $15
Mist Burger With Handcut Fries $15
Curry Cauliflower with rice and peas, plantains, and vegetables $15
Sides
2 Eggs Any Style $4
Turkey Bacon $4
Pork Bacon $4
Home Fries $5
Sweet Potato Fries $7
Handcut Fries $7
Plantains $4
Extras
Chicken Lollipops (6) $10
Fried Calamari $12
Cheese Fries $11
Add Jerk Chicken $4, Shrimp $5, Vegatables $4
Mac & Cheese $10
Bottomless Brunch Cocktails (1.5 Hours)
Mimosa
Tropical Bellini
Sangria (White or Red)
Champagne/Birthday Specials
Chandon Selfie Bottles $9 each, $40 bucket of 5