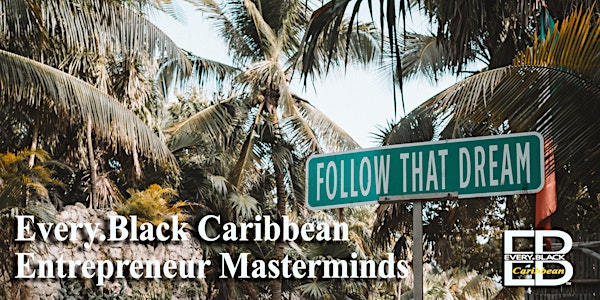 Every.Black Caribbean Entrepreneur Mastermind Meeting
Network with Caribbean Entrepreneurs, learn about entrepreneurship, how to use technology in business and hear dynamic amazing speakers.
About this event
NOTE: Meeting access information is provided when you register.
Join Caribbean Entrepreneurs Virtually EVERY TUESDAY on Zoom where we Develop our God Given Talents for Business.
If you live in:
The Caribbean - 7PM
The USA - 6PM
Attend and interact with entrepreneurs from the Caribbean. We meet each week to read and discuss books to learn about entrepreneurship and secondly to network with like minded individuals from around the world. Listen to and learn from amazing dynamic speakers. Learn a new technology tip each week to implement in your business. Develop a positive mental attitude to accomplish your goals. Brainstorm to find innovative solutions. Learn from the experience of others in a friendly, nurturing atmosphere of accountability, support and faith. If you want to learn what it takes to successfully arrive at your entrepreneurial destination, then you need to attend our weekly Every.Black Caribbean Entrepreneur International Mastermind meetings.
These meetings started over 80 years ago by a man named SB Fuller.
SB Fuller (https://en.wikipedia.org/wiki/Samuel_B._Fuller) started a business with $25 and created a corporation bringing in over $18 million each year. For over 40 years he mentored thousands of other entrepreneurs through weekly meetings where they read books and networked with one another. One of the people he helped was a man by the name of Joe L. Dudley, Sr., (https://www.patreon.com/joedudleysr) of Dudley Beauty products. Dudley started with $10 and created a company grossing over $35 million each year. When SB Fuller passed, Joe L. Dudley, Sr. promised Fuller that he would continue the weekly meetings to help other aspiring entrepreneurs. Dudley has kept that promise for another 40 years and still continues to do so today. I had the privilege of attending the meetings at the home of Joe L. Dudley, Sr. in 2015 and now we conduct our own meetings virtually each week (http://www.every.black/masterminds). The legacy continues!
Benefits of Attending a Mastermind Meeting
Discover solutions and ideas from brainstorming.
Tap into the experience and skills of others.
Increase your confidence in the decisions you make.
Be accountable for real progress in your business.
Obtain an instant and valuable network.
Develop a sense of family.  You are not alone.
Innovate from new ideas.
Boost your everyday positive mental attitude.
Thank you for registering to attend the Every.Black Caribbean Entrepreneur Mastermind Meeting. Be sure to attend EVERY TUESDAY and tell a friend. I look forward to seeing you there!
Sincerely,
Jimmy J. Davies, Founder of Every.Black, Jimmy@Every.Black
Join the Every.Black Family at www.Every.Black/Join to receive your 30 DAY FREE Trial Membership.