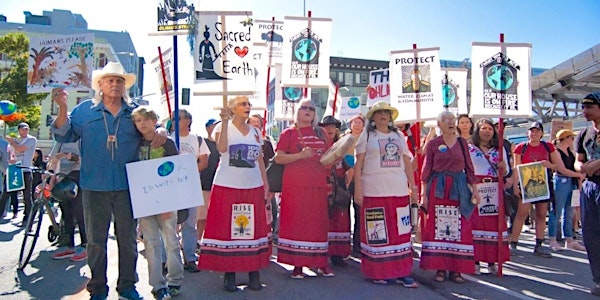 Every Step a Prayer - Special Filmmaker Event
Exclusive Private Work-in-Progress Screening of Film: Every Step A Prayer: The Refinery Corridor Healing Walks
Date and time
Wednesday, December 11, 2019 · 6:30 - 8:30pm PST
Location
Lisa & Jeremy's House 1014 Euclid Ave Berkeley, CA 94708
About this event
Join Filmmakers Chihiro Wimbush and Dr. Melinda Micco for a special preview of the work-in-progress screening of Every Step A Prayer: A Film About the Refinery Corridor Healing Walks.
We'll gather to watch the rough cut of the first 30 minutes of what will ultimately be a one-hour film.
From the filmmakers: "This is a fundraising watch party to offer you a chance to see how the film is emerging at the halfway point of our edit, as we raise the funds to complete the second half of the film. The impact we're seeking is to inspire others in how they can rise to the challenge of climate chaos by taking action within their communities from a place of love and inclusivity. The funds will be used to complete our film in time for the spring film festivals. Please know that any size donation is welcome."
Every Step a Prayer Fundraiser (RSVP Required):
6:30pm Reception: Meet the filmmakers, Delicious hearty appetizers, wine and dessert)
7:00pm-8:30pm Program: Screening, Discussion and Opportunity to Donate
Donations: You can support the film directly through their online fundraiser or in person at the event.
Location: Lisa & Jeremy's Home in North Berkeley (limited space, RSVP required)
About the Filmmakers:
Chihiro Wimbush is an Emmy-nominated filmmaker and creative media maker who is passionate about documenting and sharing stories that change how we view each other and the world we live in. www.chihirowimbush.com
Dr. Melinda Micco (Seminole/Creek/Choctaw) is an Associate Professor Emerita from Mills College. She produced the documentary "Killing the 7th Generation: Reproductive Abuses Against Indigenous Women" and is working on book Seminole Voices in Indian Country.
The film documents the all-volunteer group Idle No More SF Bay organizing and completing walks along the Refinery Corridor over four years in the San Francisco Bay Area. Led by Indigenous elders the walks, between 9 to 13 miles each through refinery communities, were inspiration for local actions addressing the disasters of fossil fuel extraction as well as those throughout the United States and in Canada.
Idle No More SF Bay founded in 2013 continues to be a major catalyst for various actions with Indigenous grandmothers in leadership roles. The group is committed to a just transition from fossil fuels and ensuring that countries move rapidly toward solutions for climate chaos. Additionally, Idle No More is committed to the transference of traditional Indigenous knowledge to the next generation.
Co-hosted by Jennifer Brass of Idle No More SF Bay and Climate Compassion.
About the organizer
Climate Compassion is a framework and practice for responding to the socio-ecological challenges of our times with compassionate action. We aim to be a node of mutual flourishing, that shifts culture toward a life-sustaining society through community events, workshops and trainings.