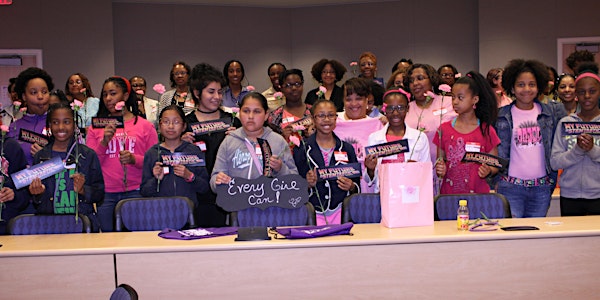 Every Girl Can Lead'shp Conf. Girl Strong. Confidence/Self-Love/Soc.M Savvy
Leadership conference for girls/women: Lead w/confidence, self-love & Soc.Media savvy. Guest speaker/panel discussion/youth forums/fitness
When and where
Location
Montgomery College, Health Sciences Center 7977 Georgia Avenue Silver Spring, MD 20901
About this event
14th Annual Every Girl Can Education Conference.
Sponsored by Every Girl Can Learning Institute in Collaboration with Montgomery College- Takoma Park/Silver Spring Campus
IN-PERSON EVENT
Venue - Health Sciences Center - 7977 Georgia Ave. Silver Spring, MD, USA
Theme: GIRL STRONG - Leading With Self-Confidence, Self-Love & Social Media Savvy
Sat. April 23,2022. 9:00 am - 2:00 pm - Admission: FREE
PRE-CONFERENCE - Get Up/Warm-Up - 8:30-9:10 am
-Mother/Dad-Daughter fitness walk around campus Please register by 4/20/22Activity will be indoors in the event of inclement weather
CONFERENCE
-Check-In - 9:00 am - 1st floor, outside the auditorium-Light breakfast/networking/exhibits – 9:00-10:40 am - 2nd flr. Lounge-Video/entertainment/Meet special County official - TBA
MORNING PLENARY - 9:40-10:30 am - 1st floor Auditorium
-Welcome/Girls Scout flag presentation. Troop _TBA
-Guest Presentation - Dr. Katya Salmi, Asst. Prof. Sociology, Montgomery College
-Every Girl Can/Yes I Can! Affirmations - Girls & Women Raising Carnations
BREAK - 10:3-10:40 am
Stretch/Refresh/Social Media Shout Out/Last chance to see exhibits
BREAKOUT SESSIONS (Concurrent) 10:40 am - 12:30 pm
A. Panel discussion FOR WOMEN - 10:40 - 12:20 ( 90 minutes with a 10-minute break)
(parents/educators/youth program leaders).
Topic: Helping girls build self-confidence and navigate the pressures of Social Media – High school students welcome to participate in this forum.
B. Leadership Discussion Forum FOR GIRLS - (50-minutes) each session
1.Your voice matters! - Stand up and be heard! - 10:40 to 11:30 am
BREAK - Refresh/Snack/Social Media Shout Out
2. Learning to Lead with Social Media Savvy 11:40 am to 12:30 pm
C. LUNCH - 12:30 pm - 1:20 pm
Cafritz Arts Center (on campus - 3 minute walk from Health Sciences Center)
Lunch and Learn - PLEASE BRING A BROWN BAG LUNCH. There is a small cafeteria on site
Informal, small group virtual and in-person chat with college students, young professionals and Social Media personalities. Check out the art exhibits.
D. CLOSING PLENARY - 1:20 - 1:50 pm
Program review/Q&A
Attendee recognition/giveaways/prizes.
Our future programs
Thank yous, Good byes. Social Media Shout Outs
E. End/Pick-Up
Walk back to Health Sciences Center Lobby for Pick-up-
Thank you for your support
We welcome program sponsors, donations and volunteers. Email yasmin@evverygirlcanlearn.org for more information