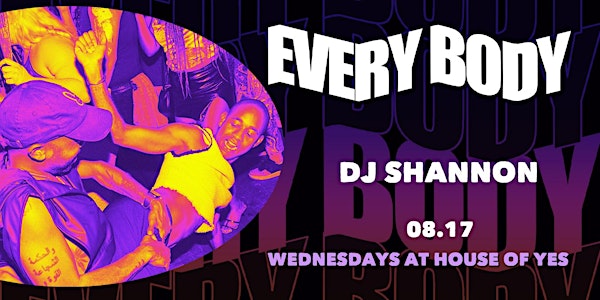 EVERY BODY PARTY: DJ Shannon
House of Yes presents EVERY BODY PARTY, our weekly Wednesday queer party. Free All Night!
When and where
Location
House of Yes 2 Wyckoff Avenue Brooklyn, NY 11237
About this event
This dancefloor is for Every BODY.
Every shape / size / style of BODY.
Every ability of Every BODY.
Move your Body. Love your Body. Be your Body.
Feel your body, Flaunt your body. Serve your BODY.
::: MUSIC :::
~ FREE with RSVP | 21+ ~
#EveryBodyParty is an intentional space that celebrates queer, trans, and BIPOC communities. If you are an ally and wish to attend the party, you are welcome so long as you are mindful of the intention of the event and move respectfully through the space. Even better, bring your $DOLLARS$ to tip the queer performers working the party! Racist, sexist, homophobic, transphobic, ableist, fatphobic, and other discriminatory and aggressive behavior will not be tolerated. Consistent misgendering will not be tolerated. If your behavior is found to be disruptive, you will have to leave.
Subscribe to our email list for first access to events & tickets: bit.ly/YESEMAILS
* * * SAFER SPACES POLICY * * *
House of Yes is a space for everyone to feel welcome. We have a zero tolerance policy for harassment, unwanted touch, and discrimination. Always ASK before touching anyone at our events. If someone is making you uncomfortable, speak to a security guard or ask for a manager. We will believe you, and we will help. All restrooms in our venue are gender neutral. The entrance to the venue is ADA accessible. Strobe lights are used during performances and parties. Questions about our safer spaces policy? Email consent@houseofyes.org.