Description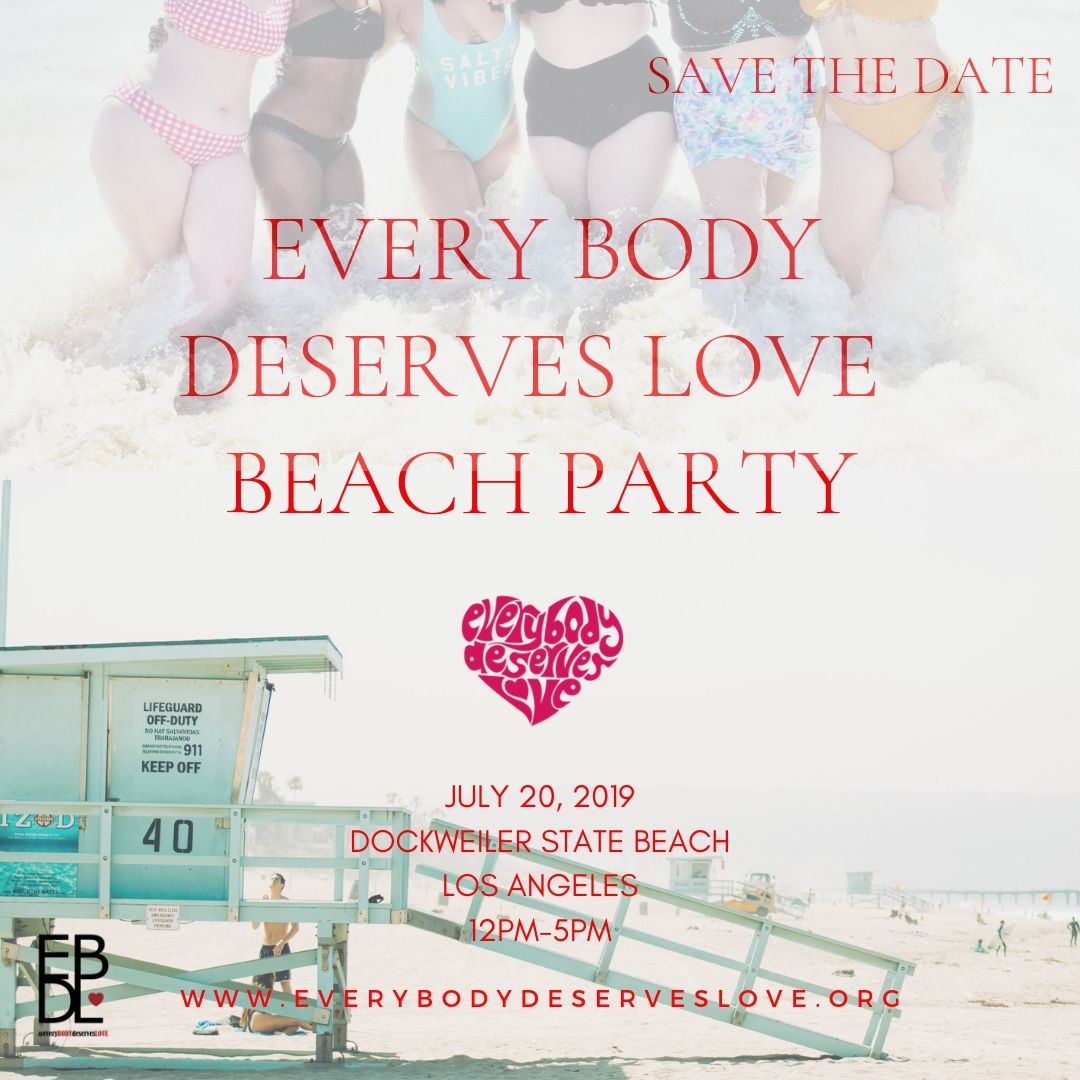 Every Body Deserves Love Beach Party is a family fun fundraiser that brings a new understanding to having a SUMMER BODY. This all ages fundraiser is known for its judgement free culture and inspring mission. We have all experienced the immense amount of social pressure to physically look a certain way during the summer time, especially at the beach but NOT here.
EBDL is hosting it's 3rd annual beach party and we want you to come celebrate yourself and raise awareness for mental wellness and positive self-image! When you arrive you will be greeted with love and acceptance thanks to the culture EBDL prides itself on. There will be children, brand partners, photographers, models, bloggers, the founder's personal family, and anyone else that wants to step outside of their comfort zone and dare to bare it all!
Have you ever missed out on a pool party or beach event because you were worried about how you look in a swimsuit?! Or are you confident with your bangin' beach body?! Well, either way EBDL is challenging you to come to our fundrasier and celebrate yourself! You deserve to love your body no matter what it looks like and we want to help you celebrate it!
This is a great event for those looking to build thier confidence, self-esteem, and continue their self-love journey!
BRING CASH FOR LOTS OF GIVEAWAYS AND SELF-LOVERY ACTIVITIES!
Schedule:
Upon arrival, sign in to recieve your free gift! (limited supply - first 50 people)
Also, please let the staff know if you'd like to be an amazing EBDL vip volunteer for the day so you can get your free shirt and an assignment.
12:00 Sign In
12:00 - 2:00 Beauty Bar (henna, glitter tatoos, hair braiding)
1:00 - EBDL Energy Boosts opens (lemonade, kids friendly drinks)
1:00 - 2:00 BFF Bracelets with Marsaille Wells
2:15-3:00 Paradise Fitness with Carly
3:15 - 4:00 Meet and Greet with EBDL Family and Hosts; Alexa Phelece and Dru Presta
4:15 - 4:30 Giveaway Announcements
5:00 - 6:00 Clean Up
LOCATION: Dockweiler State Beach-12001 Vista Del Mar, Playa Del Rey, CA 90293- features a three mile long shoreline with a picnic area and concession stand. The wide beach is beneath the takeoff path from Los Angeles International Airport.The beach is located at the western terminus of Imperial Highway in Playa del Rey.
DATE: Saturday, July 20th, 2019
TIME: 12:00pm-5:00pm
PARKING:
On weekends and holidays, the first 300 vehicles will pay $8. All other vehicles will pay the regular summer rate of $13 on weekends and holidays. The current rate will be posted at the lot entrance, and it will be updated when the rates increase after the first 300 vehicles. All vehicles, including those charged the lower rate, can stay until the lots close at 10 p.m
WHO: EVERYONE IS WELCOME! This is a family fundrasier.
WHAT TO BRING: Cash for raffle tickets! Your raffle tickets supply you with all the good stuff! Also bring your Swimsuit, towel, chair, canopy, camera, food, friends, and a positive attitude! We will have some canopies but we always excourage to share the shade.
EVERYBODY DESERVES LOVE CONTACT INFO:
Email: EVERYBODYDESERVESLOVE@GMAIL.COM
WWW.FACEBOOK.COM/EVERYBODYDESERVESLOVE
WWW.INSTAGRAM.COM/EVERYBODYDESERVESLOVE_
Hosted By:
Alexa Phelece - Founder and Model
www.instagram.com/alexaphelece
Model and Social Activist Alexa Phelece, started this nonprofit to encourage all people to celebrate the body you have and provide you with resources to guide you on your self love journey. The nonprofit organizaton sponsored by Ashley Graham, goes above and beyond to promote messages of self-love and mental wellness to all ages, genders, and communities. Co-Hosted By:
Co-Host: Dru Presta
Dru Presta, 21, is set to change the fashion industry. This beautiful girl was born with a form of dwarfism and is 3 feet 4 inches (around 1 meter) tall, but that does not stop her from following her dreams of a photo model and inspiring people along the way.
From a very young age, Dru was bullied because of her condition, achondroplasia. Dru is the only person in her family with dwarfism, so there were not many people in her hometown of Reno, Nevada, that were able to understand what she was going through. However, all the mean words did not stop the beautiful woman; they made her stronger instead.
She moved to LA and started modeling to break the boundaries of the fashion industry beauty standards and inspire other people with similar conditions to follow their dreams.
"I want everybody in the fashion world just to be accepted. I want anybody to be able to walk that runway just like any fashion model would – whether you see them rolling down the runway in your wheelchair or on crutches."