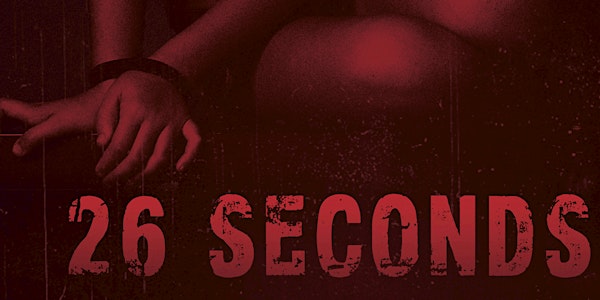 Every "26 SECONDS" A Child is Trafficked Globally - Screening & Panel Discussion with Human Trafficking Experts
When and where
Location
Chapman University @ Digital Media Arts Center 200 N Cypress Street Orange, CA 92866
Description
Global Sex Trafficking Panel Discussion with Human Trafficking Experts and Screening of the Film, "26 Seconds" Directed by Kelly Galindo.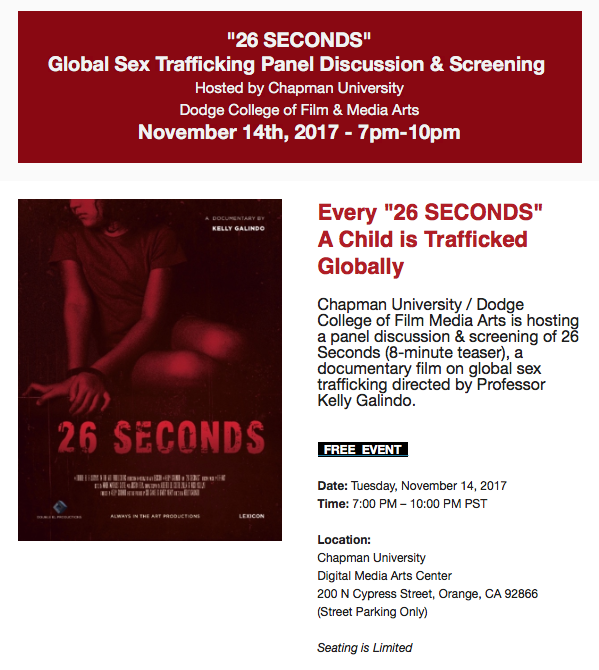 ABOUT OUR EVENT:
Chapman University / Dodge College of Film Media Arts will be hosting a panel discussion of experts in the field of human trafficking. These distinguished experts are also featured in the upcoming documentary, "26 SECONDS" directed by Kelly Galindo on global sex trafficking. There will be an 8-minute screening of the teaser for the upcoming this feature film soon to be released in 2018.




OUR PANELISTS: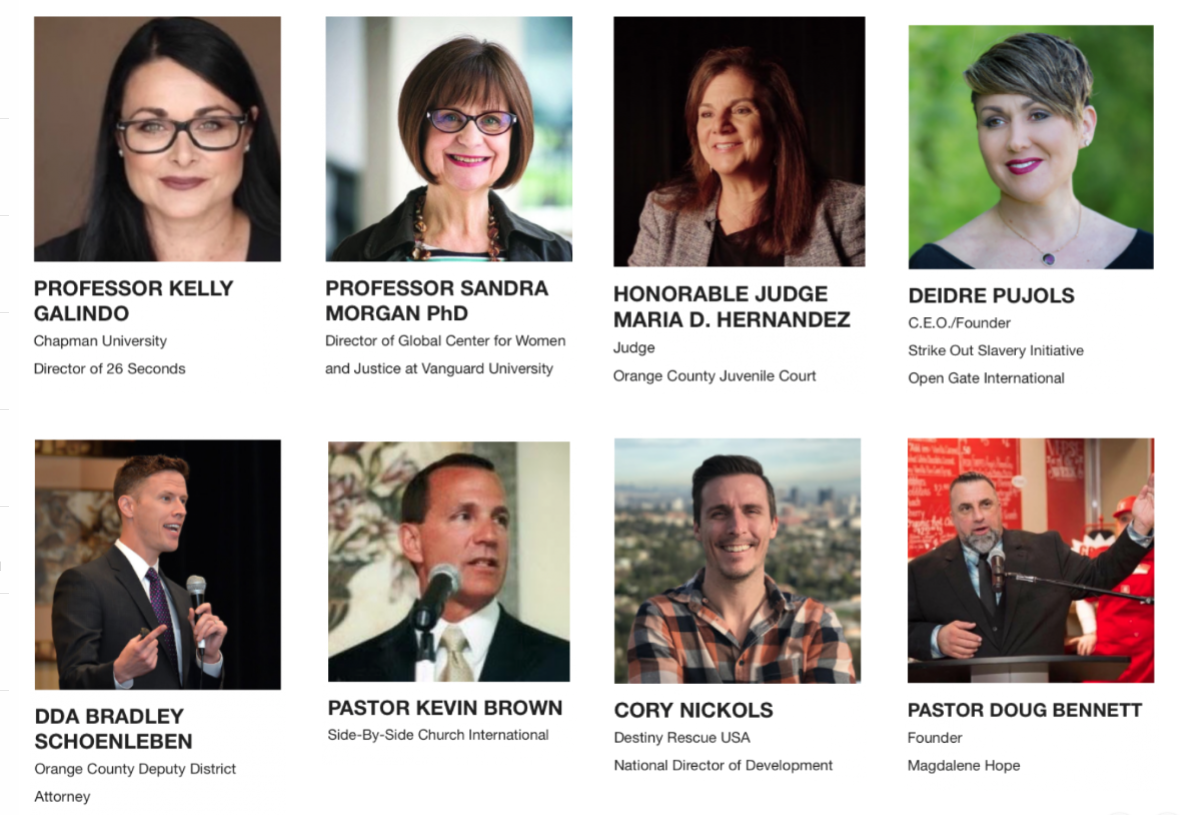 Professor Kelly Galindo - Chapman University - Dodge College of Film & Media Arts - Director of the film, "26 SECONDS"
Chapman University Professor Kelly Galindo is the director of the film, "26 SECONDS" a documentary on global sex trafficking, which also features organizations and individuals highlighting their work in rescue, restoration and reintegration. Her focus is in giving a voice to children who are victims of the sex trade and raising awareness of this gravely urgent issue of global sex trafficking and also right here in the U.S. Her film challenges all of us to dig deeper, stand up, and do something for these innocent children.
Professor Sandra Morgan PhD - Director - Global Center for Women and Justice at Vanguard University
Sandra Morgan is recognized globally for her expertise on combatting human trafficking and working to end violence against women. Her work as the director at the Global Center for Women & Justice is monumental in studying the issues, so we can be a voice and make a difference on issues that marginalize women, children, and families.

Honorable Judge Maria Hernandez - Judge of the Juvenile Court for Orange County

The Honorable Judge Maria Hernandez is the presiding Judge of the Juvenile Court for Orange County since 2014. Prior to her appointment, she chaired the task force relating to Commercially Sexually Exploited Children (CSEC). In addition to being responsible for both dependency and delinquency inventories, presiding over Juvenile Drug Court, Dependency Drug Court and the Boys Court program.

Deidre Pujols - C.E.O./Founder - Strike Out Slavery Initiative and Open Gate International
The Strike Out Slavery Initiative concentrates on raising awareness about the existence of modern day slavery. She is also the founder of Open Gate International, an organization which provides training, mentoring, employment in order to empower the impoverished, displaced, enslaved, and forgotten.

DDA Bradley Schoenleben - Orange County Deputy District Attorney
Prosecutor in the human trafficking unit and is highly recognized for his exemplary job performance, teamwork, and integrity in the pursuit of justice within the Human Exploitation and Trafficking (HEAT) Unit. He prosecutes human traffickers and conducts trainings across the country on human trafficking prosecution, prevention, and awareness.

Pastor Kevin Brown - Side-By-Side Church International
A retired sergeant who is trained in law enforcement for 30 years, his experience also includes work with the Federal Bureau of Prisons, undercover narcotics, parolee apprehension, and thirteen years as a SWAT member. His work through the Harbor Outreach Ministry combats the injustice of Sex Trafficking in the United States and Iraq. It was through "Lives Worth Saving-Human Trafficking" - in which a curriculum was developed and men and women from faith-based organizations responded graciously. Leading the ministry to develop a one-of-a-kind approach to Identify, Locate and Recover victims of Human Trafficking and placing them in safe after-care locations.
Cory Nickols - National Director of Development - Destiny Rescue USA
An internationally-recognized non-profit organization dedicated to rescuing children trapped in the sex trade. As the National Director of Development for Destiny Rescue USA, his work includes traveling around the United States inspiring audiences' young and old alike to join the fight against child sexual slavery.

Pastor Doug Bennett - Founder - Magdalene Hope
Magdalene Hope strives to bring awareness of the social justice issues of human trafficking and modern-day slavery while educating women of hope, healing and grace to survivors. In 2013, they opened a safe house called, Restoration Ranch and recently created, Rescue Grounds Coffee Company to give survivors the ability to earn a living on their own.
ABOUT "26 SECONDS"





For more information & updates:
WEBSITE: http://www.26secondsdoc.com

FACEBOOK: https://www.facebook.com/26secondsdoc

INSTAGRAM: https://www.instagram.com/26secondsdoc/

TWITTER: https://twitter.com/26secondsdoc