Evernote Trunk Conference

Thursday, August 18, 2011 at 8:00 AM (PDT)
Event Details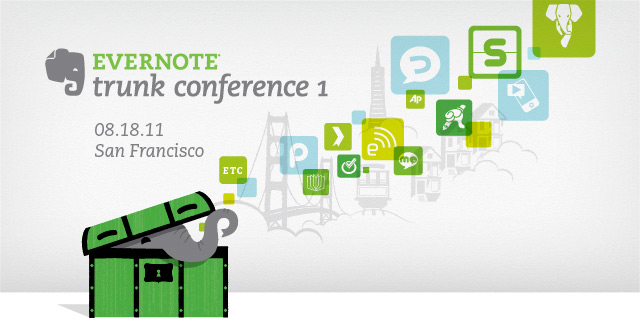 Welcome to the first ever Evernote Trunk conference. 
The Evernote Trunk Conference (ETC) is a full day of sessions, workshops and discussions designed to help you take advantage of the Evernote platform. You'll learn how to kick off your API project, hear success stories from fellow entrepreneurs and discover ways to improve your daily use of Evernote.
For all the details visit: http://www.evernote.com/about/etc/
Where: Terra SF San Francisco
When:  August 18th, 2011
Who should attend?
All friends of Evernote are encouraged to attend. There will be a wide range of topics and discussions. 
ETC Schedule
Time
Session
8am
Registration and breakfast
9am

The Future of Evernote

Phil Libin, CEO, Evernote

10am

Great Decisions: How companies reach the next level of growth

A conversation with Tim Ferriss, Guy Kawasaki and Roelof Botha

11am

Developing a Rich Application

Damian Mehers, Senior Software Engineer, Evernote

11:30am

Inside Evernote's Architecture

Dave Engberg, CTO, Evernote

Noon
Lunch
1pm
Evernote Developer Competition Finalists Presentations
2pm

State of the Trunk

Seth Hitchings, VP Platform Strategy, Evernote

2:30pm

How to be Big in Japan

3pm

What's New in the API

Seth Hitchings, VP Platform Strategy, Evernote

3:30pm

Icon to Interface - A Conversation with Evernote's Creative Director

Gabe Campodonico, Creative Director, & Andrew Sinkov, VP Marketing

4pm

A Lifetime of Memories: A Conversation with Gordon Bell

Gordon Bell, Microsoft
ETC Evening Schedule
Time
Session
6pm

Newbie to Ninja: Power Tips

Brett Kelly, author of Evernote Essentials

6:30pm

Using Evernote for Blogging and Public Speaking

Michael Hyatt

7:00pm

How Evernote Helped Me Through Design School

Kyle Koch

7:30pm

Evernote for Busy Parents

Carley Knobloch, Digitwirl
Guest Speakers
Gordon Bell

Gordon is a principal researcher at Microsoft working on lifelogging and cloud computing. His famous MyLifeBits project is documented in his recent book: Total Recall
Guy Kawasaki

Guy is the founder of Alltop and bestselling author of numerous books, most recently Enchantment.
Roelof Botha

Roelof is a partner at Sequoia Capital. His portfolio companies include Square, YouTube, Tumblr, and Evernote, among others.
Michael Hyatt

Michael is a publisher, speaker and writer on topics relating to leadership, productivity and Evernote.
We Hope to See You There
We're offering two ticket options to fit everyon's schedule.
ETC Full Ticket: 8 am- 10:30 pm Complete access to all sessions, events and after party.
ETC Evening Ticket:  6 pm-10:30 pm - Admission to only the after party and evening user sessions.
You can follow along with the hashtag: #evernote_etc
When & Where

Terra SF
511 Harrison Street
San Francisco, CA


Thursday, August 18, 2011 at 8:00 AM (PDT)
Add to my calendar