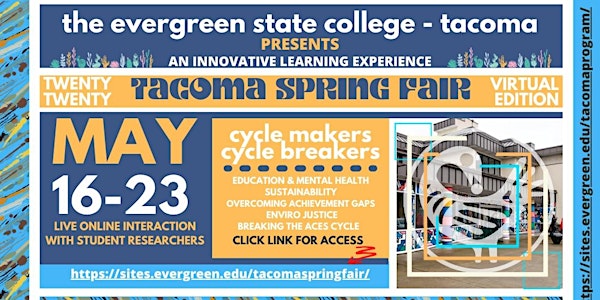 Evergreen College Tacoma Community Spring Fair
When and where
Location
Online Event Tacoma, WA 98405
Description
No tickets necessary
Dear Friend of Evergreen Tacoma,
Each year The Evergreen State College Tacoma program holds an in-person Spring Fair to showcase what our students are learning and the new information they have acquired through their research. This year, due to COVID19, the Tacoma Spring Fair will be online! We will have live events Saturday, May 16th from 2 to 4pm PST, as well as ongoing exhibits that you can visit from May 16th to May 23rd. https://sites.evergreen.edu/tacomaspringfair/
Our program's theme for this year is Cycle Makers, Cycle Breakers. We would love to show you some innovative information for breaking the cycles in your life as well as rising and becoming a positive cycle maker as well. Come and hear cutting edge information on mental health, healing childhood trauma, sustainability, gang prevention, infant mortality, women, and education. Students have spent the past school year researching and translating this information into real-world solutions for their community.
We have many talented student leaders as well as staff and faculty that will be presenting and sharing: podcasts, live seminars, presentations, etc.
Highlights include:
• A story hour for children, featuring our own Dr. Arunga's book The Stolen Ones
• A selection of the much-anticipated, new documentary film Since I Been Down and a Q&A with the director, Dr. Gilda Sheppard.
• Award-winning author Peter Bacho will read from his forthcoming collection of "mini-memoirs": Mostly True: A Love Note to Seattle and a Community that no Longer Exists
We think this event will be just as exciting and interactive, with the added convenience of attendees being able to pop into our virtual Spring Fair world at any point during the week and explore the valuable information being shared: https://sites.evergreen.edu/tacomaspringfair/
Dates: May 16-23, 2020 You can visit the website at any point during this time and explore the projects. For the live events, you will need a Zoom account. See below for more details.
We also have set up a Facebook event page that you can click 'going' on so that you can be reminded that the date is approaching.
Facebook event link: https://tinyurl.com/yc2cq7w5
We would love to see as many of our community, far and wide attend and engage with us.