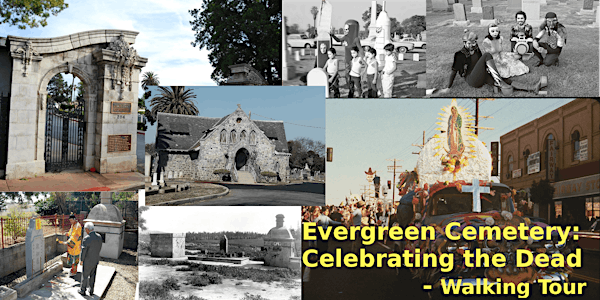 Evergreen Cemetery: "Celebrating the Dead" (Día de los Muertos)
Location
Evergreen Cemetery
204 North Evergreen Avenue
Los Angeles, CA 90033
Description
SPECIAL TOUR: CELEBRATING 46-YEARS OF DÍA DE LOS MUERTOS IN BOYLE HEIGHTS!
In the fall and winter months, especially around the holidays, it is the custom of many cultures to remember our dearly departed. As we begin to celebrate our holidays, of course we remember our loved ones and how they brought joy to our lives. This will be our theme on this day, as we approach the winter holidays and consider the mourning rites of the many cultures which animate Boyle Heights, East Los Angeles.
Founded in 1877 in Boyle Heights, Evergreen Cemetery is the oldest cemetery in Los Angeles to be in continual use to this day. It is the most lovely cemetery in the city, and one which so proudly displays the diverse cultural heritage of early Los Angeles.
We will discuss:
Evergreen Cemetery: The first privately operated and "non-segregated" cemetery in the city of Los Angeles. It is also the resting place of some of the most notable figures in early Los Angeles history. This cemetery has also been used in numerous films for its picturesque grounds.

The Potters Field: The Los Angeles County Cemetery and Crematorium: The resting place of the unclaimed dead of Los Angeles County, which are laid to rest every December before the holidays. We will be taking a moment to show our respects this day.

The fall celebration of Día de los Muertos: This Mesoamerican/Mexican celebration which was reintoduced to Mexican-Americans by Self Help Graphics in the 1970s in this very location. Learn about the founding of this festival in East LA, and about the Chicano artists which helped to make it their own.

The Chinese Cemetery and Precious Burners: The lost Chinese cemetery that was discovered during the construction of the Metro Gold Line light rail, and the Precious Burners for ritual offerings which date back to the 1800s. We will talk about the fall and winter mourning festivals honored by this culture.

The Japanese Issei pioneer monument, and the Japanese American World War II war memorial dedicated the 442nd infantry war heros.

The Pacific Coast Showman's Association - Showmen's Rest: In these distinctest plots acquired by this old world style guild of the carnival and circus folk, rest more that 400 people whose lives were spent bringing joy to the lives of others.

And so much more!!!
We will be meeting at the gates of Evergreen Cemetery, for check-in at 11:45am so that we can start our tour promptly at 12-noon. The tour will last about three hours.

We will be limiting this group to a maximum of 20 participants. Once again, I expect this to sell out right away; so please sign up today!


***Your contributions through ticket sales are greatly appreciated, and supports the work of the Boyle Heights History Tours Museum and Cultural Center ***