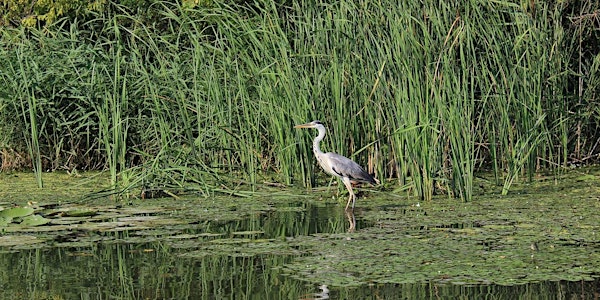 Everglades Update: Benefits of the Everglades Agricultural Area Reservoir
A panel discussion on the benefits of the Everglades Agricultural Area (EAA) Reservoir project
Refund Policy
Contact the organizer to request a refund.
Eventbrite's fee is nonrefundable.
About this event
Please join SCCF and co-host the Everglades Foundation on Wednesday, Feb. 24, 6pm to 8pm for a virtual panel discussion to explore the benefits of the Everglades Agricultural Area (EAA) Reservoir.
The EAA Reservoir was one of the original Comprehensive Everglades Restoration Plan (CERP) projects conditionally authorized by Congress in the Water Resources Development Act of 2000. A vital component of Everglades restoration, it is the only project that will provide the dual benefits of reducing damaging discharges to the Caloosahatchee and St. Lucie estuaries and restoring freshwater flows to the Everglades and Florida Bay. The project will reduce the damaging discharges from Lake Okeechobee to the estuaries by more than 55 percent and almost double freshwater flows south to the central Everglades.
The free program will be moderated by SCCF CEO Ryan Orgera, Ph.D., and the panel will include:
Steve Davis, Ph.D., Vice President of Communications and Engagement and Senior Ecologist, Everglades Foundation
Marisa Carrozzo, Everglades and Water Policy Manager, Conservancy of Southwest Florida
Capt. Daniel Andrews, Co-Founder & Executive Director, Captains for Clean Water
James Evans, Environmental Policy Director, SCCF
Bios of Moderator & Panelists
Moderator
Ryan Orgera, Ph.D., is Chief Executive Officer of the Sanibel-Captiva Conservation Foundation. Ryan grew up on Lemon Bay in Charlotte County where he fell in love with Southwest Florida's nature. Ryan holds a bachelor's and master's degree in Romance Languages and Literatures from the University of South Florida and a Ph.D. in Geography and Environmental Sciences from Louisiana State University. Before starting with SCCF, Ryan worked on the Ending Illegal Fishing Project and Global Shark Conservation teams with The Pew Charitable Trusts. He traveled extensively to institute meaningful conservation measures in African and Latin American nations, as well as within various United Nations conventions, most notably the Convention on International Trade in Endangered Species of Fauna and Flora. During his time with Pew, Ryan helped ensure global protections for thirteen species of sharks and rays. As a Knauss Marine Policy Fellow in the Office of U.S. Senator Bill Nelson, Ryan served as the senator's ocean, coastal, and flood insurance policy expert. Ryan also served as a member of the Federal Marine Protected Area Advisory Committee, which advises the U.S. Secretaries of Commerce and Interior.
Steve Davis, Ph.D., is The Everglades Foundation's Vice President of Communications & Engagement as well as Senior Ecologist. A native of Ohio, he earned a Ph.D. from Florida International University in 1999 with research in Florida Bay and the coastal Everglades. Steve joined The Everglades Foundation in 2009 as a member of the Science Department, and he became a key voice in support of the organization's mission to restore America's Everglades. He draws upon his 25 years of Everglades science and teaching experience, including 10 years as a professor of wetland ecology at Texas A&M University, to lead science, communication, and outreach efforts focused on Everglades restoration, ecosystem health, and impacts of sea-level rise.
Captain Daniel Andrews is Co-Founder & Executive Director of Captains For Clean Water. Capt. Daniel once lived his life's calling as a full-time fishing guide. As the SW Florida estuaries began declining due to water mismanagement practices, so did Capt. Daniel's business. He learned of the underlying corruption and lack of awareness in the outdoor community, leading him to fight back by co-founding Captains For Clean Water. As Executive Director, Capt. Daniel keeps a steady pulse on Florida water policy and projects, working with elected officials and government agencies to ensure science-based solutions are implemented to restore our water quality. Capt. Daniel firmly believes that, to protect the Everglades and our way of life, we must be the ones to speak up.
Marisa Carrozzo is Everglades & Water Policy Manager at the Conservancy of Southwest Florida. She is responsible for developing and implementing the Conservancy's policy initiatives for water resources and Everglades issues at the local, state, and federal levels. Marisa has over nine years of experience in natural resource policy, including Everglades Restoration, environmentally-sensitive lands preservation, water quality regulations, and restoration plans.
Marisa is Co-Chair of the 61-member organization Everglades Coalition and serves on the CREW Land & Water Trust Board of Trustees. Marisa is a member of the working group and technical group for the Picayune Strand sub-regional water quality feasibility study. Marisa is also the project manager for the Conservancy's Estuaries Report Card, a comprehensive review and assessment of Southwest Florida's estuarine watershed health.
James Evans is Environmental Policy Director for the Sanibel-Captiva Conservation Foundation (SCCF). As Policy Director, he is responsible for interpreting science to create, inform, and advance environmental policy in Southwest Florida. He holds a bachelor's degree in Environmental Studies and a master's degree in Environmental Science from Florida Gulf Coast University. James has more than 20 years of experience working on water resource issues and Everglades restoration. Prior to joining SCCF, James was the Director of Natural Resources for the City of Sanibel and was the primary author of the Caloosahatchee Watershed Regional Water Management Issues white paper—a document outlining short-and long-term strategies to address the freshwater discharges from Lake Okeechobee and the Caloosahatchee watershed.