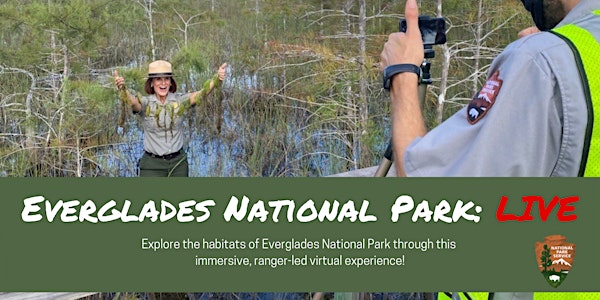 Everglades LIVE: Join a Park Ranger on an Exploration of Habitats
Explore the habitats of Everglades National Park through this immersive, ranger-led virtual experience!
About this event
Each year, rangers from the education team of Everglades National Park lead thousands of students into the many different habitats of the park, allowing them to become scientists for a day during these immersive field trips.
In celebration of the Everglades National Park's upcoming 75th anniversary, the education team is now bringing that experience TO YOU!
Adults, families, and children alike are invited to join the team on a live-streamed virtual program to explore habitats and watch for wildlife in the third largest national park in the lower 48 states - Everglades National Park!
Habitats that will be explored include:
Sawgrass Prairies: Flooded marshland with alligators, birds, fish, and other aquatic animals
Pine Rocklands: Fire-dependent ecosystem that boasts many endangered plants and animals
Hardwood Hammock: The highest and driest habitat - former home to many Native Americans!
This virtual event is free to attend, but registration is required to receive the link to watch!
The Everglades Education programs, as well as this event, are supported by The Alliance for Florida's National Parks.