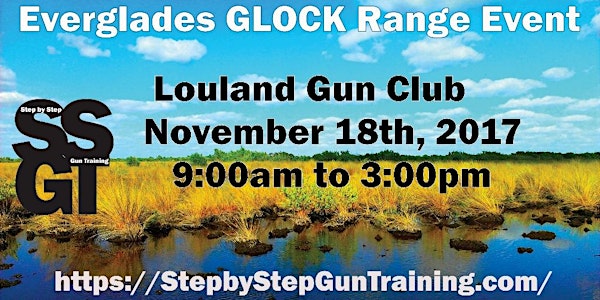 Everglades GLOCK range event 2017
When and where
Location
LouLand Gun Club 12425 Union Road Naples, FL 34114
Refund Policy
Contact the organizer to request a refund.
Description
The 4 stages will employ fun reactive steel. Each time you hit the steel will make a noise fall down or move. The vendors area will be close to the action. We will emphasize fun over competition. We will have (at no charge) Loaner GLOCK's. and ear and eye protection (at a nominal cost), available if needed. As of now we have 4 GLOCKs to give away, and many other prizes donated by the vendors.
For udpated information click the link below
https://stepbystepguntraining.com/everglades-glock-range-event-2017/
Organized by Step by Step Gun Training Check out the website for details and updates https://stepbystepguntraining.com or call 239-641-6140.
You will need ammo (amount depends on how much you want to shoot. For $25 you get in and Tickets to shoot all 4 stages. You can get back in line and re-shoot any stage for another $5 each time as many times as time will allow). Everglades ammo will be there to sell ammo if you run out of ammo. All adults need a drivers license or state ID. All youths must be accompanied at all times by their parent or guardian.
You need eye and ear protection on at all times even when you are not shooting. You are responsible for keeping it on. If you don't have any it will be available at a nominal cost. If you want a chair please bring one. you are welcome to bring your own cooler with your favorite non-alcoholic beverages. You will need your drivers license.
For those that do not bring a hand gun we will have loaner guns. These are brand new Glock 17 or 19 Generation 4s and we are not charging a rental fee.
The range is a cold range (cold range means no loaded firearms except when a shooter is on the firing line and before they leave the firing line they show clear and lock the slide open) and a holster is not needed as you will not be shooting from a draw.
If you bring your own gun bring it unloaded and in a gun bag or case. If you are going to shoot your carry gun and need to get it out of your holster and bagged for the event you will need assistance from a Range Safety Officer.
Details are subject to change.