Everest Base Camp Yoga Trek Via Gokyo Lake (18 days)

Saturday, October 7, 2017 at 5:30 PM

-

Tuesday, October 24, 2017 at 8:30 PM (Nepal Time Nepal Time)
Event Details
OVERVIEW
• Dates: October 07- October 24, 2017
• Cost: $1499.00 USD / Deposit $400.00 USD
• 18 days
• Limit: 10 participants
• Type of trek: Lodge/Teahouse
• Max altitude: 5545m
• Trek grade: Moderate/Adventurous
Rugged Trails Nepal is excited to offer our Everest Base Camp Yoga Trek to new and experienced yogis alike. We take you to the most beautiful, serene, and inspiring place in the world to deepen your yoga practice.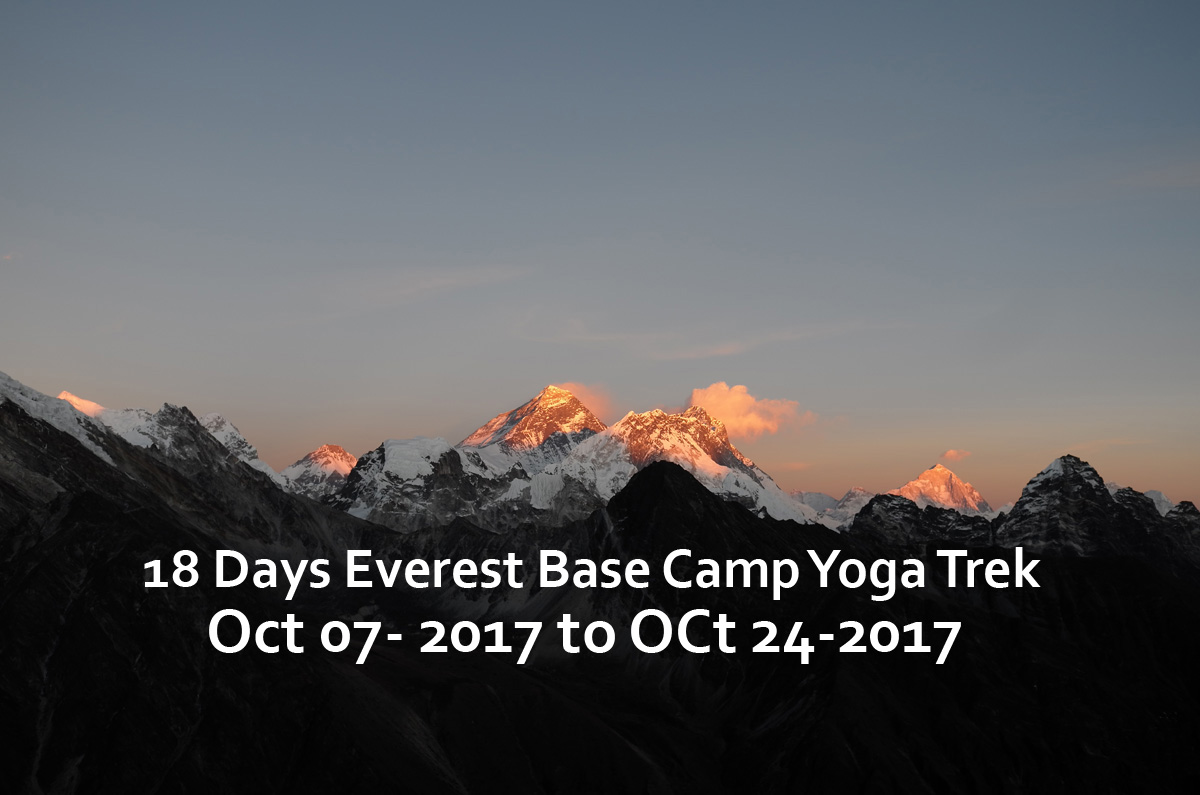 Each day we begin with meditation, pranayama, and asana practice, followed by breakfast prepared by the local Sherpa people. We then trek through incredible scenery, giving you opportunity to detach from the outside world and tune into your true self. Upon our arrival to our tea house accommodations, we take rest and then again flow through an asana practice to encourage growth and healing in our bodies and spirits. Following dinner, a guided meditation and/or satsang is offered before taking rest and preparing for our next days trek.
Our licensed guides are well experienced in the Everest region, ensuring the group is safe and informed on environmental conditions. Our certified yoga teacher will guide you through your yoga practice each day, and will aim to inspire you as yoga becomes every breath of your being and you deepen yourself into the magical land of the Everest region.
Oct 07 2017 :Arrival in Kathmandu (1,350m)
Upon your arrival at the Kathmandu airport, you will be greeted by a representative from Rugged Trails Nepal who will take to your hotel. Welcome drinks upon arrival at the hotel, free time until 6pm. Evening welcome dinner in a traditional Nepali Restaurant with authentic Nepali cuisine and cultural program.Overnight in Kathmandu Hotel.
Oct 08 2017 : Kathmandu: Spiritual and heritage Sightseeing around Kathmandu
After breakfast proceed our short guided sightseeing tour and warm up yoga at the Swayambhunath Temple. After swayambhunath temple we will visit another UNESCO World Heritage sites and the sacred Hindu temple of Pashupatinath, and Buddhist shrine (Bouddhanath), which is also one of the largest stupas in the world. After sightseeing drive back to hotel and briefing of our rest of trip plan. At the same time if you have to buy any trekking gears or things for the rest of the days Guide will help take you to the trekking equipment store in thamel. Overnight in Kathmandu.
Oct 09 2017 :Fly to Lukla, trek to Phakding (2,651m) 3 - 4 hours trek
Wake Up early morning to take flight to Lukla, you will receive a packed breakfast. From the Kathmandu domestic airport we will take 40 - 45 minutes flight to Lukla (9,186ft). Enjoy one of the most beautiful air routes in the world on a hillside surrounded by mountainous peaks. We will meet the rest of our crew members at the Lukla airport, a gateway destination from where our trek begins. A gentle walk to phakding village through Chaurikharkha village, Mt. Khumbila and monastery. The Photographer will give us a brief lesson in the evening focused on camera settings and basics. Overnight at Phakding.
Oct 10 2017 :Phakding to Namche Bazaar (3,438m) 5 - 6 hours
This is the day that you hear the most is the trek into Namche Bazaar, walking through a beautiful pine forest Dudh Koshi River and go on passing Chumoa to Monjo, and the entrance to Everest National Park. Then after crossing a suspension bridge, we pass Jorsale village and walk alongside of the Dudh Koshi and Bhote Koshi rivers. The path to Namche is very well traveled so you'l continually come across locals, other tourists and then continue traffic of Yaks and porter. It is infamous for it's long consistent steep inclines uphill brings us to the prime heartland of Sherpa village - Namche Bazaar. At one hour's distance to reaching Namche Bazaar, we can view the sights of Mt. Everest and Mt. Lhotse. Overnight in Namche Bazaar.
Oct 11 2017 :Acclimatization Day - Namche Bazaar: (3,440m)
There are plenty of things to do around Namche Bazaar, we wake up to another spectacular morning and view from our room and sun rose of the breathtaking mountains. Let us make you clear something up that is a big misunderstand about the Acclimatization day. Acclimatization day is not a rest day, it is something completely different so don't think that after the huge climb of getting into Namche Bazaar you'll spend today lazing around the lodges or shopping in local stores. Our team will take you to explore the real charm of Namche Bazaar. So after breakfast we will start gentle hike up to Everest view hotel where we can see the views of Mount Everest, Lhotse, Nuptse, Ama Dablam, Thamserku, Kongde and so on. This day we will continue our lessons with photography focusing more on light theory and appreciating the beauty around us. We will do yoga practice at the top of Namche valley in front of stunning himalayas. Overnight at Namche.
Oct 12 2017 : Namche Bazaar to Phortse Thanga (3,680m) 5-6 hours
We climb the trails steeply out of valley through rhododendron forest, juniper and large conifers start to appear as the elevation increases trekking beautiful in spring. The trail passes through yak Kharkas and the Khumjung hill. We visit Mohang, the birthplace of the re-incarnated Lama of Rongbuk Monastery of Tibet who is believed to have introduced Buddhism in the Khumbu region of Nepal. The views of KhumbiLa and Tawache peak are magnificent throughout the day. Overnight in Phortse Thanga.
Oct 13 2017 : Phortse Thanga to Machhermo (4,470m) 5 hours
The trail climbs uphill to Machhermo with a ridge for an excellent view both down the valley to Kengtega and up towards Cho Oyu and descent to a river and again climbs steep to the terminal moraine of the Ngozumoz glacier. On the trail alongside a rhododendron forest and pass through a waterfall before reaching Tongba Village. The long mountain valleys here will provide excellent source of inspiration for our photographer to teach about compositional rules during this day. Overnight in Machhermo.
Oct 14 2017 : Machhermo to Gokyo (4,800 m/15,744 ft) 4-5 hours
We follow a very scenic path to Pangka and then descend slightly, to the riverbank before climbing onto the terminal moraine of the Ngazumpa Glacier on a steep trail. We climb a steep rocky incline into the valley by the side of the glacier, passing the first of the holy lakes. We get a chance to observe llama footprints on a stone. We soon arrive at the second lakes, crossing the path which heads across the glacier to Cho La our route to Lobuche and Everest, later in the trek. Taboche Tsho, we become mesmerized by the shimmering turquoise blue sheet of water sparkling in the sun. The third lake is known as Dudh Pokhari and on its eastern shore is the settlement of Gokyo. Walking by the side of the lake, the scenery is breathtaking with the summits of Cho Oyu and Gyachung Kang reflected in its emerald green waters.
Oct 15 2017 : Gokyo Valley Acclimatization Day - Hike to Gokyo Ri (viewpoint): 4 hours
After the morning yoga session and breakfast we will to climb Gokyo Ri, a popular viewpoint to enjoy stunning views of the mountain vista. From the viewpoint, which is located at the edge of the 5thlake, we get astounding views of Cho-Oyu, Gyachung Kang, Everest, Lhotse, Nuptse, and Makalu mountains. We will also get chance to see the biggest glacier of the world- the Ngozumba Glacier. This breathtaking location will be the perfect chance for our Photographer to lead you through his first full photoshoot- an opportunity to observe and absorb photographic skills as he captures human subjects amidst the beauty that will surround us. Overnight at Gokyo valley.
Oct 16 2017 : Gokyo to Thagnak (4750 m) 4 hours
Today we will be hiking short through the longest glacier of Nepal called Ngazumpa glacier. Afternoon we will explore nearby the hills on Thagnak and yoga continue. But today it will be almost easy and rest for hiking, which will prepare us for long hiking days and elevation gain to come. There is icy part for a while and again the trail drops down through the huge rock and an easy walk at the end to get to the Zungla.
Oct 17 2017 :Thagnak to Cho La pass (5,367m) to Dzongla (43,80m) 7 - 8 hours
So here we are on the longest and toughest day of the whole trip. "We are not scaring you but it's exciting part of our trip". The Cho La pass is not itself difficult, but it is steep and involves a glacier and we need to be careful. The trail from Phedi climbs through a ravine and a rocky trail. While trekking through the side of a frozen lake, we reach at the top of the pass decorated with prayer flags. There is icy part for a while and again trail drops down through the huge rock and easy walk at the end of Dzongla. From Dzongla we can see great views of Cholatse, Ama Dablam, Lobuche mountains. Overnight at Dzongla.
Oct 18 2017 : Dzongla to Lobuche (4940 m): 3 hours
This morning let's not think of the previous days longest and tiring hike and start a very easy hike to Lobuche. Very short and plenty of time to relax and enjoy the beauty that surrounds us. We will enjoy a conversation on conceptualizing ideas for photos with our Photographer- delving deep into topics of memory, dream, and engaging with our realities.
Oct 19 2017 : Lobuche to Gorak Shep (5,170 m) visit Everest Base Camp (5,364 m) 6-7 hours
After the morning session the trail leads toward Gorakshep through the rocky and rugged. While walking on the way you will see the amazing views of Mt. Everest, Mt. Nuptse, Mt. Pumori and other. After reaching in Gorakshep, we will drop our bags a short tea break and we take the trail to Everest Base Camp. Hike towards to Base camp is strenuous due to the thin air, we follow our lead Sherpa diligently. We pass through rocky dunes, moraine and streams before reaching the Everest Base Camp. Upon reaching the Everest Base Camp, we see tents of mountaineers, we will see lot's during the springtime. We will take the opportunity of visiting such an iconic location to engage in another conceptual photo-shoot performed by our Photographer, through which he'll guide us to learn further photographic skills. After exploring Everest base camp we get back to Gorak Shep. Overnight in Gorak Shep.
Oct 20 2017 : Gorak Shep to Kala Patthar (5,545m) to Pherice (4,288m) 7-8 hours
This morning we will wake up early to hike up to our final top highest destination Kala Patthar for sunrise and 360 degree up-close and formidable view of Mt. Everest. The temperatures will be -10 to -14 C and a chilly winds. We had seen many people get tears on their eyes after being on top over here after seeing the world's tallest mountains. We are doing Yoga on the top of the world as well as free time to photograph. After our yoga and photography we will hike back to Gorakshep the afternoon is taken to descend down to Pheriche village.
Oct 21 2017 : Pheriche to Namche Bazaar (3,440m) 6 - 7 hours
Morning yoga session, and breakfast we continue hike downhill through rhododendron and juniper trees. We continue to follow the river Dudh Koshi, and in the forest, we may come across colorful pheasants and mountain goats. Thyangboche is one the biggest and famous place for buddhism and here we will visit Thyangboche Monastery. From here we can see magnificent views of Kwangde, Tawache, Everest, Nuptse, Lhotse, Ama Dablam, Kantega and Thamserku are just a few of the Himalayan giants. Our Photographer will perform his last conceptual photoshoot in this rich, inspiring location.
Oct 22 2017 : Namche Bazaar to Lukla (2,800m) 6 - 7 hours
We will be walking all the way back where we had trekked on day 02 from Phakding to Namche. We need to walk cautiously as our shaky legs continuously battle the rocky terrain. The trail becomes more normal once we cross the suspension bridges over the Dudh Koshi River. And finally we will get chance to stretch our legs, and today is the last night where you can thank, greet and give some tips for our crew who joined from lukla all the way to everest base camp.
Oct 23 2017 : Fly to Kathmandu
Here we say bye to Khumbu region and fly back to Kathmandu. Check in at hotel and free time for shopping or exploring around Thamel. Evening Farewell dinner will be organized by rugged trails Nepal team. Overnight in Kathmandu.
Oct 24 2017 : Final departure
Transferred to the international airport on your flight schedule and if some have extra days in Nepal they can continue with other activities. If any help is needed for further plans feel free to contact rugged trails Nepal team.
Cost Include(s)
Full Board (breakfast, lunch and Dinner) in Trekking.
Domestic Airfare as per itinerary.
International Yoga teacher
Matress for each member.
Accommodation during trek (local lodge).
Government registered English speaking local expert guide, porters.
Sagarmatha National park fees.
TIMS Card.
Duffle bag / Sleeping bags
Accommodation at standard hotel in Kathmandu on twin sharing with breakfast.
Guided Tour in city with Expert tour guide.
Welcome and farewell dinner in city
Equipment clothing for porter & staffs.
Insurance for all staff & porters.
Private transportation to and from the starting and ending points of the trek
First Aid Kit.

Everest Base Camp Trekking Map

 for Each Member
Salary, allowances, expenses & insurance for all staff including porters
Cost Exclude(s)
Nepal visa - Multiple Entrée 30 days - USD 40
Lunch & dinner during hotel stay in Kathmandu
Extra baggage charges
Personal gears & clothing (available on hire)
Tips, any expenses incurred in emergency evacuation/road block due to any reason, table drinks, snacks while walking
Personal insurance, medical evacuation in case of emergency.
Service other then mentioned above
International airfare and airport taxes, excess baggage charges, hot shower, battery charge (during the trek), telephone etc….
Items of a personal nature expenses such as alcoholic drinks, cold drinks, laundry, mineral water

If there will be below 10 members yoga trek will be cancelled or normal trekking will be made on normal price.
Check our Yoga Teachers Profile
Dressing information
Lightweight walking boots that are broken in prior to arrival in Nepal to avoid blisters
2-3 synthetic tee shirts, long sleeve shirts
1-2 synthetic hiking pants, zip-off pants
Fleece or sweatshirt for cool night temperatures
Rain jacket or poncho (Gore-tex or equivalent)
Rain pants (Gore-tex or equivalent)
Thick wool socks, thin synthetic liner socks to prevent blisters
Synthetic underwear
Sun hat
Warm puffy down filled jacket (synthetic or natural feathers).
Synthetic mid layer (fleece, wool, or lightweight down sweater).
Soft shell or insulated ski pants.
Sleeping bag to -15C
Thermal underwear/base layer
Beanie with ear flaps (wool or fleece)
Balaclava or face mask
A pair of winter gloves/mitts (waterproof)
A pair of lightweight gloves (fleece or synthetic materials)
Ski goggles or glacier glasses (polarized)
Gaiters (to cover boots and lower leg)

What to bring
1-2 water bottles - 2 liters
Iodine to purify water (Can be purchased in cities)
Sunglasses and strap
Trekking poles
Toilet paper and cigarette lighter (toilet paper can be bought in cities)
Small headlamp/flashlight/torch with spare batteries
Personal medical supplies
Pocket knife
Sunscreen
Small daypack - 25 liters
Personal snacks from home (candy bars, protein bars, granola, nuts, etc.)
Sandals or slip on shoes for walking around tea houses or camp
Biodegradable soap and/or shampoo.
Spare boot laces
Large plastic bag to line backpack, day pack from wet conditions, and small bag for dirty clothes
Small towel

Passport / visa
A valid permit is required for most areas in Nepal, which we will obtain upon your arrival. We will require two working days and two passports size photographs. There are two major permits, which are National Park permits and special regional permits for restricted area permits (Upper Mustang, Manaslu, Dolpa, etc.).

Important information
Always carry Nepalese rupees in small bills on your trek. The amount to be cared depends on the area and the duration of the trek. A guideline for this will be presented during our trek briefing. Money will only be required for the purchase of soft/hard bottled drinks and souvenirs along the way. Other money and valuables should be kept in a safe deposit box in your hotel in Kathmandu.

Altitude sicknessif a serious consideration if you are climbing or trekking in Nepal and its essential that you investigate the causes, symptoms and treatment of altitude sickness before you travel to Nepal. There are approximately three deaths per year in Nepal from altitude sickness, but with the right precautions there is no reason why you should become one of these statistics.

Acclimatizations the word used to describe the adjustments your body makes as it ascends. You should adjust your schedule so that you average no more than 400 meters per day of ascent above 3,000 meters. If you fail to allow time for acclimatization, you may develop symptoms of Attitude mountaineering System. The AMS may be mild enough to go away with a days rest or if ignored may lead to death. All that is required to ensure a safe trek is basic awareness of AMS, and a willingness to rest or descend if you develop symptoms. As a result of the growing awareness of altitude problems there is only one death from AMS in Nepal out of every 30,000 trekkers and climbers. Even these deaths would be avoidable if everyone knew how to respond to AMS. There are no reliable figures for casualties among porters.

Additional information
For more information ask your questions directly to Rugged Trails Nepal who will be happy to assist you.

Booking Conditions:
Payment
15% amount of the total payment should be paid as an advance while booking our services. It assures he trip and we can book flight tickets and book the hotels. The rest of the money can be paid on your arrival in Nepal.

The bank charge should be paid by yourself at the time of deposit.

Cancellation
If you want to cancel the trip, it should be made before 2 weeks and will charge 25%.
This trip will be cancelled if there will be less then 6 people, on that case we will organize normal trek or the payment will be refunded

Accepted payment methods
Cash, Credit card (4% extra charge of using your credit card should be covered by yourselves)

Travel insurance information
Travel insurance should be done by you in your own country.
WHY YOGA IN NEPAL?
When you first arrive in Nepal, you feel the distinct energy of spirituality and love filling the air around you. It is after all, the land of god and goddesses. Travellers describe Kathmandu, Bhaktapur and Patan as the towns of temples and goddesses. There seems to be more gods than humans here, some day. Despite modernisation creeping into these places and concrete jungles sprouting up in sprawly patches across these cities, they are still dominated by ancient the structures that inspire faith in anyone lucky enough to walk upon its ground.
Nepal is not only connected with Hinduism, it is also the land of Lord Gautama Buddha and is a major Buddhist destination for practicing devotees. Nepal has a long history of Buddhism which is still present in Upper Mustang.
In Mustang, there is a statue of Padmasambhava. After visiting Nepal and India, this Buddhist master returned to Tibet to spread Buddhism. He wanted to build a monastery but he didnt get permission so he went back to Mustang and built his own statue.
Pharping Monastery, near Kathmandu Valley, is a sacred place for Hindus and Buddhists alike. It is here that we can see the cave where Guru Rinpoche meditated. And through it all, both Hinduism and Buddhism in Nepal has been strongly influenced by the beliefs and practices of Tantrism.
The fact that Hindus worshipped (then, and continue to now) at Buddhist temples and Buddhists did the same at Hindu temples has been one of the principal reasons why adherents of these two dominant religious groups in Nepal have never fought over their spiritual practice.
Yoga is the journey of the self, through the self, to the self.

-The Bhagavad Gita
When & Where

Nepal
Thamel, Kathmandu
Khumbu Region
Kathmandu
Nepal

Saturday, October 7, 2017 at 5:30 PM

-

Tuesday, October 24, 2017 at 8:30 PM (Nepal Time Nepal Time)
Add to my calendar
Organizer
Rugged Trails Nepal is a top trekking and Tour Company located in Nepal, leading explorers from around the world; from beginner to mountaineer. Rugged Trails Nepal is a registered Company by the Government of Nepal and recognized by the Ministry of Tourism, located in the capital city of Kathmandu. We are dedicated to give you a dynamic encounter with the worlds most stunning landscape and its extraordinary cultures, designed to challenge, invigorate, and inspire. We offer a wide range of packages and services, tailored to our clients expectations to ensure their dreams become a reality.
Our Team
Our satisfied clients tell us that our guides and customer service define the Rugged Trails Nepal experience. Our exceptional team of men and women strive to exceed expectations and transform great treks and tours into unforgettable adventures. From our office staff to our guides and porters in the field, our team at Rugged Trails Nepal is passionate and dedicated on our work in the tourism industry, sharing the land that we love with you.