Eventworking. Jak efektywnie korzystać z konferencji, targów i innych event...
Description
Zapraszamy Cię na prelekcję o Eventworkingu, czyli o sztuce efektywnego korzystania z konferencji, targów i innych eventów. Na spotkaniu uzyskasz konkretne porady o tym, po co uczestniczyć w eventach; jak wybierać odpowiednie eventy; jak zamieniać kontakty na relacje; co robić, a czego nie robić na międzynarodowych eventach; podróże, hotele, jedzenie i wszystko co warto wiedzieć, gdy jesteś daleko od domu;
co zrobić, gdy zdarzyło Ci się zostać organizatorem wydarzenia lub wystawcą itd.
Prelekcja jest skierowana do Kierowników Projektów i członków zespołów projektowych oraz do wszystkich osób, które bywają na targach/konferencjach i chcą z nich czerpać jak najwięcej korzyści.

Prelegent: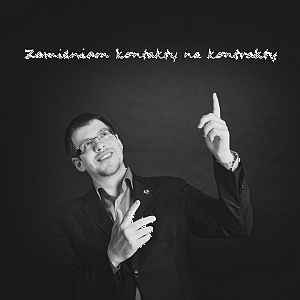 Spotkanie poprowadzi pan Artur Sójka, praktyk i trener z zakresu sprzedaży, ze szczególnym uwzględnieniem sprzedaży relacyjnej i rekomendacji. Zajmuje się również tematyką komunikacji i wystąpień publicznych. W latach 2008 - 2016 prowadził jako trener wewnętrzny wiele szkoleń z zakresu pozyskiwania klientów za pomocą networkingu i rekomendacji dla klientów firmy BNI Polska. Moderował sesje networkingowe m.in. dla 800 klientów IBM Polska czy absolwentów studiów MBA Akademii Leona Koźmińskiego. W drugiej połowie 2016 roku przeszkolił na zlecenie firmy Comp S.A. ponad 1000 dystrybutorów urządzeń fiskalnych marki Novitus. Przygotowywał do wystąpień publicznych wielu przedsiębiorców i managerów w tym Marketing Managera Eastern Europe z GE Healthcare, czy Director of the Services Management Department z Betacom S.A. Posiada certyfikat I stopnia facilitatacji po kursie Tony Mann'a. Jest współtwórcą bydgoskiego i lubelskiego oraz trzech warszawskich Klubów Toastmasters International. Mentor dla kilkunastu członków Toastmasters. Advanced Leader Bronze, Advanced Communicator Silver i zdobywca Triple Crown. Występował przed ponad 350 osobową publicznością podczas wizyty dr. Ivana Misner'a w kwietniu 2013r. w Szkole Głównej Handlowej czy przed ponad 400 osobową publicznością podczas Kongresu Stowarzyszenia Mieszkanicznik w Łodzi. Wykładał podczas Network Session Lublin, Kongresu Biznesu i wielu innych. Prowadzi bloga biznesowego www.artursojka.pl oraz firmę doradczo-szkoleniową Sójka Consulting (www.sojkaconsulting.pl). Wraz z Bernardem Frugą napisał książkę pt. Eventworking. Jak efektywnie korzystać z konferencji, targów i innych eventów. Poradnik dla przedsiębiorców, managerów i handlowców.
Agenda spotkania:
18:00 - 18.05

- Przywitanie uczestników prelekcji
18:05 - 19.35

- Prelekcja
19:35 - 19.50

- Pytania i dyskusja

20:00 - 20:15 - Czas na networking
Udział w seminarium jest bezpłatny.
Organizer of Eventworking. Jak efektywnie korzystać z konferencji, targów i innych eventów.