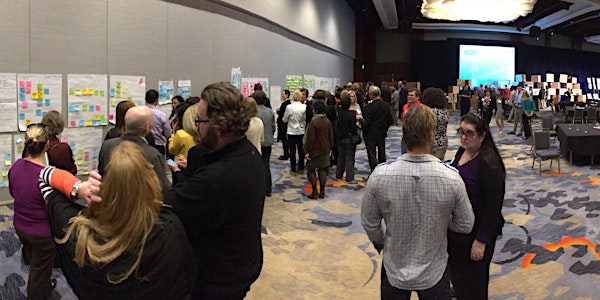 Eventprofs Happy Hour: Three Questions experience, debrief, and social
A unique opportunity to experience The Three Questions: the best way to open an online conference designed for active learning & engagement
About this event
Adrian Segar is a meeting designer and facilitator, and author of three books on meeting design. For twenty years, attendees at Adrian's in-person meetings have enjoyed and benefited from his simple yet profound opening session The Three Questions, which:
allows participants to learn about each other.
uncovers the issues, topics, and challenges attendees actually want & need to learn about, discuss, and solve.
reveals the expertise and experience in the room for everyone to tap.
Now you can experience and learn how to hold The Three Questions online. In the process you'll get a fundamental introduction to your fellow attendees, and discover the power of this session to create authentic connections and ongoing relationships.
Like all Adrian's workshops, you'll learn by doing. You'll answer and hear others' answers to The Three Questions in your own private group of event and association professionals, led by Adrian, Miguel Neves, and Elizabeth Glau.
Adrian will then lead a short debrief on the session, followed by an opportunity to explore how what's uncovered in The Three Questions can be turned into an optimum conference program for the participants.
We'll end with an online social, using one of the new video-chat tools recently developed for recreating online the experience and possibilities of an in-person social event.
Important: Registration is limited at this free event. Before registering, we ask you to commit to attending the first 75 minutes of the workshop , as leaving early will affect the experience of other participants with whom you'll be working. Thank you!
Adrian is an icon in our business. He has given us the tools to help us become better collaboration artists — David Adler, on stage at BizBash Live DC, July 31, 2019
I have never been to a conference where I felt like I got to know so many new people so well — Samuel J Smith
…one of the most innovative and eye-opening professional experiences I've had. Aside from coming back with lots of new tips and ideas, I easily established triple the number of new contacts, and formed stronger relationships with them, than at any other conference I've been to — Howard Givner
Adrian Segar has broken new ground when it comes to innovative conference formats that reliably build highly interactive, crowdsourced, participant-led events — Barbara Scofidio, editor of Prevue Meetings & Incentives
The best professional development I ever had was a small conference in the northeast, where I got less than 4 hours sleep a night, but actually learned night and day and made friends that have lasted since — Alex Podchaski
More testimonials here