| | |
| --- | --- |
| Event & Meeting Management Fundamentals | NYC (Fall 2015) | |
Event Details
Description
If you're looking to become an event or meeting planner, or you've been planning events for a while but never got a proper training, this is the ultimate course for you.  Here you'll get a thorough understanding of how events work, why people and companies host events, how the industry is configured, & how to strategically plan & coordinate a typical event from A to Z.
This course will cover the role of events in today's world. budgets & goals, workflow management, venue selection and negotiation, room layouts and seating formats, food and beverage, entertainmentand speakers, design and decor, transportation and logistics, registration and check-in, hybrid and virtual metings, using apps and technology, basic lighting, audio visual and more. 
Course Preview
Click here to learn how the course works, review the syllabus and meet our instructor, Howard Givner.

Dates
This 12-week in-person course will run from September 28 - December 14 and meet in-person on Mondays from 6:30-9:00 pm. Location: Grind, 1425 Broadway (at 39th Street), 22nd Floor, New York, NY
*Still on the fence about enrolling in one of our Professional Development Courses?
Have questions or simply just want to meet your instructor? Join us for one of our FREE Info sessions taking place in Washington, DC, New York and Chicago. Learn more about our intensive learning program and see how it will help boost your career! Click HERE to learn more and to RSVP.

How the Course Works
Participants will gather for a 2.5-hour lecture each week, where they will cover materials outlined in the syllabus. Lessons may be supplemented with additional resources, articles, case studies, etc. Short quizzes and assignments may be given to help reinforce learning outcomes though only the final exam will be graded. Students who obtain an 85% or higher on the final exam will be awarded Digital Credentials from the Event Leadership Institute for Event & Meeting Management Fundamentals.  A certificate of completion, will be awarded to students who consistently attend lectures. This course offers 36 CMP contnuing education units.
Registration / Installment Options
This course is not included in monthly or annual subscriptions and requires separate registration, though active members will benefit from 20% discount off the enrollment fee.  Enrollment is $995 before September 7th, and $1,195 thereafter.

We offer an installment payment option: 5 monthly payments of $219 each ($1,095 total) by September 7th. If enrolling after this date, 5 monthly payments of $263 each ($1,315 total). To pay via check, please contact us.
Instructor 'Office Hours'
Participants may email the instructor at any time with questions or comments, and the instructor will respond within 24 hours in most cases. The instructor will hold "office hours" twice a week (exact dates and times TBD) during which participants may schedule live calls or email chats to discuss items in further detail.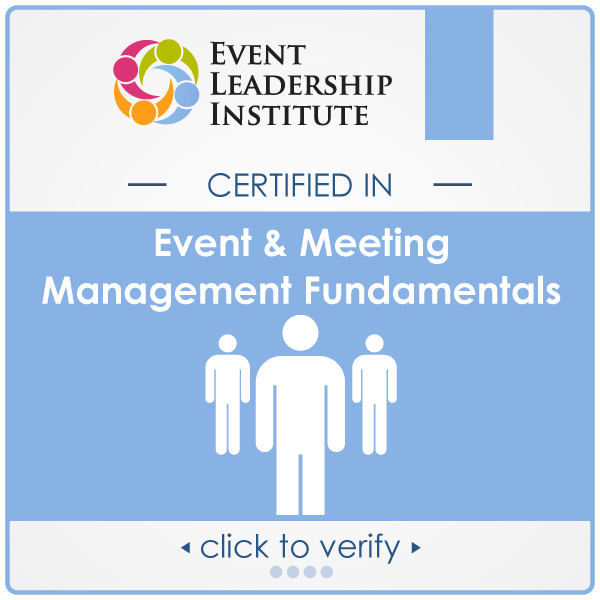 Earn Your Credential
Students who complete this course and pass a final exam will earn a Certificate from the Event Leadership Institute for Event & Meeting Management Fundamentals. 
Syllabus
Vist the class page for an overview of the full curriculum.  
Your Learning Is Guaranteed      
The Event Leadership Institute stands behind all of its content.  If you're not fully satisfied for any reason, just let us know within 30 days of the final lesson and we'll give you a full refund.
About the Instructor

With over 20 years of industry experience, Howard is a widely recognized expert and innovator in the field of special events, meetings and small business growth strategy. He is the Founder and Executive Director of the Event Leadership Institute, provider of best-in-class training and education for the events industry, through online, on-demand video classes, interviews with industry leaders, white papers, webinars and live events.
Event Agency Owner
He is the founder of Paint The Town Red, Inc., and the former CEO of North America for Global Events Group, the 13th largest event agency in the world, which acquired Paint The Town Red in 2008.  During his tenure the company won over 30 industry awards.
Industry Leader & Expert
Howard is a Past President of the ISES (International Special Events Society) NY Metro Chapter; has served on the board of directors of MPI (Meeting Professionals International) Greater NY Chapter as VP of Education; has served on the Advisory Board of Special Events Magazine; been a judge of the Gala Awards & HSMAI's Adrian Awards. He is a frequent speaker at industry conferences on a wide range of topics. He currently writes the monthly In Business column for Event Solutions magazine.  He has been profiled in The New York Times, The Wall Street Journal, CNBC, National Public Radio, ABC News, The Apprentice, and USA Today, in addition to numerous trade media.
App Developer
Howard is the creator of the SuperPlanner Mobile App, winner of the 2010 BizBash Event Style Award for Most Innovative New Product, and the 2011 Special Events Magazine Gala  Award for Best New Product / Service.
On a personal level, Howard sits on the Board of Directors of Every Child A Reader, the charitable foundation of the Children's Book Council.  He lives in Westchester, NY with his wife and two children.
Where

Grind
1412 Broadway
22nd Floor
New York, NY 10018


Organizer
Event Leadership Institute
ABOUT US
 Launched in June, 2011, the Event Leadership Institute provides the highest quality educational programs, and features top thought leaders and industry influencers sharing their insights at live events throughout the country. We strive to empower a more educated planner to produce smarter, more creative, and cost-effective events. 
LEARNING GUARANTEE
We stand behind the quality of our content and back all of our online classes and live events with a 100% money-back guarantee if you feel you did not learn what you expected to.
TESTIMONIALS
"ELI has moved to the forefront of online learning for the event industry, and has created THE standard of education provision in both level of content and accessibility to students."  
Kevin White | President-Elect, ISES International, Adjunct Professor, NYU
"One of the smartest investments an event business owner can make."  
Lyn Stout | A Bond Event
"Thank you for your continued leadership, and always lighting the way."  
Ceci Johnson | Founder, CECI New York
"Hands down, the best educational content and the smartest instructors in our industry."  
David Adler | CEO, BizBash
"ELI classes are like a shining light in the dark."  
Jharna Jaisinghani | Owner, Artistic Affairs
Event & Meeting Management Fundamentals | NYC (Fall 2015)