Description
Event Marketing
7 Steps to Profitability Using Lunch & Learns and Sales Events
Sign up now! - 7 Secrets To Profitability Takes Place Starting October 10th...through 12th. Keep Reading and find out how you can really grow your business over the next 12 months...

Join me (David Stelzl) for 6 hours of incredible insight on making your marketing events one of the richest sources of new business your company has every experienced. Making cold calls and sending out spam email messages disguised as genuine inquiries is stale and ineffective. Keep reading and see how you can totally change your prospecting strategies.
Stop Giving Away Free Lunches...

Do you realize that setting up a lunch & learn event takes the same amount of work whether you invite influencers who won't buy from you, or executives with a budget? More importantly, cold calling and networking takes ten times as long as holding one event with new prospects! Your forecast could be full right now - after just one successful customer event!

I've been conducting lunch & learns and live marketing events now for almost 20 years, and before that I was a client, attending them. Looking back, I am amazed at how much time I spent with so little results....but then something changed!... I kept thinking there was something here - a better.
For the last 15 years I have dedicated much time to analyzing and improving these events in an effort to prove their value. I have made more mistakes than can be counted, but have leveraged these to learn - to completely re-engineer the process. And over the past 8 years, I have seen incredible results - a transformation that has multiplied some of the companies I work with in way I never imagined.

This fall I am inviting you to join me for three days to discover some amazing facts about how marketing programs work, what keeps the right people from coming, and how to re-engineer your events to drive more business than you can possibly imagine.
You'll Leave With:
Every month I meet with executives to discuss technology - (I'm talking about CEOs, CIOs, Business Owners, and Key Decision Makers). On average, 75% of the key decision makers attending my events are responding to offerings including assessments and project work! The best part is, most of these events are well funded by JMF dollars...In this session I will be sharing with you 7 important secrets I have learned over the past decade of doing these events. Some of the key things you'll walk away with include:

**How to attract Decision Makers. Everyone invites these people, and I am sure you do - but they hardly show up. I will show you exactly how to get them to come!

How to get enough JMF from your vendor partners. The channel managers might be telling you - we don't have any money...every month I am helping my clients get enough money to completely cover their events.

How to cut down on those annoying people who don't show up after committing. Avoid the irritation of no shows by following a few simple steps.

*The secret to filling a room with new prospects. If you need more clients - this is the fastest way to get them. I'll give you a formula for success that will end cold calling forever.

How to move from this meeting to a project. Lunch & Learns are fun, but if they don't turn into paid business - they are a waste of time - let me show you how I convert 75% of the audience.
*** I'll show you my personal 3 step follow up program that will absolutely multiple the number of deals coming our of your next event. Create a follow-up program that guarantees three meetings with a decision maker.
THIS IS BIG - SELL MANAGED SERVICES! Don't miss this - everyone is trying to grow managed service business...and I have a simple program that will move these people right through to a long term contract.
If you have been to one of my workshops - you know this will be content rich - no wasted time, no filler. I believe in giving step-by-step methods. If you're not completely satisfied, I'll refund your money - no questions asked.
Sign up here: http://7secretsmktg.eventbrite.com/
Here's The Schedule:

I have segmented this program into 6 power packed sessions (2 per day). I will also be giving you a one hour, one-on-one coaching session call valued at $500.00
Re-engineering the Marketing Event

Planning an Effective Marketing (including, how to raise sponsorship money)

Getting the Right People There, Executives and Asset Owners

Topics and Speakers That Work

Creating An Irresistible Offer: Maximizing Conversion Rates

Executing Effective Follow-Up, Turning this into business.

Q&A Session (on Friday)
Times and Dates: October 10 - 12 ...Virtual Workshop
Format: Three, 2 hour Webinars

Time: 3:00 - 5:00 EDT | 2:00 - 4:00 CDT | 1:00 - 3:00 MDT | 12:00 - 2:00 PDT

Presenter: Author of From Vendor to Adviser ,David Stelzl

Who should attend: Sales, pre-sales, managers, and marketing

See agenda and detailed description below...
More Details...
All online - no travel!

Mentor Alumni Discount Available (choose this option when signing up)


Limited Seating - Only 50 Seats Available
Sign up now and you'll also receive:
A one hour personal coaching session to review your future event plans.

A recorded copy of the sessions.

A FREE copy of my latest ebook on Event Marketing
__________________________________________________________________
Here's What People Are Saying...
_______________________________________________________________________________
Doug Baker

President, ICE
"Your stuff works Dave, Thanks for the advice! I like to deal with CEO's only, in the SMB space, because they have the checkbook; they are the asset owners.
Talking to them about technology is really tough. But when talking about Operational Efficiencies, Data Risk, or obtaining those efficiencies and Costs reductions, I can tell you my margins have doubled, sales are taken to a higher level, and the CIO/IT guy and the CFO are now only supporters or influencers, not decision makers.
This has opened up a whole new sales discussion and approach."
Top qualities: Doubled margins, Dealing with Business Owners, Advice
_______________________________________________________________________________
Nate Freeman
President, Network People
We recently held an educational event with David Stelzl as our keynote speaker to explain the 7 Essential Mindsets of securing critical data. The event was held at the right time, with the right people, and at the right place and was a great success! We had 74 people in attendance which represented 31 actual companies. Of those, 65% signed up for a Risk Assessment that night and an additional 5 companies wanted project work done. Since then, we've had two of 31 companies actually call us for help with security issues. Both have engaged for project work. They definitely would not have called without us doing the event.
Judging the success of the educational event alone, I would be thrilled. But something very powerful happened afterwards that I did not expect. A "Security" specialty opens doors even when my competitors are standing in them. In two meetings last week, I was discussing critical data with business owners as a follow-up to the event. Those owners gave me access to the entire network, passwords, interviews with staff, and most importantly TIME with themselves. I never could have had quality appointments like that without first delivering quality and value to those owners through the educational event with David Stelzl. When time is money and every second counts, the meetings I choose to attend must be valuable. The security specialty and Stelzl's message has given me an open door to pinpoint the holes in security that businesses have and allows me a quality conversation to remedy those holes. The specialty eliminates the typical roadblocks from internal/external IT people protecting their domains—even at the risk of the business being insecure. The result: meetings that get to the REAL problem, proposals with a higher close rate, solutions that are custom designed and valuable to the owner. Now that is a win-win.
_________________________________________________________________________________
David Prince

President, Data Branch
… Your keynote message was outstanding; thought-provoking, very informative, entertaining – you delivered exactly what we were hoping for and more. The feedback from all attendees was excellent – you were a definite hit.
_________________________________________________________________________________
Organizer of Event Marketing Workshop - 7 Secrets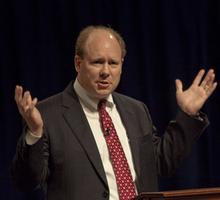 Keynote speaker and technology sales trainer, David Stelzl is an innovator in sales & marketing - He brings a fresh perspective on the high-tech consulting business - He believes the sales business should be exciting, helpful to clients, and highly successful. He believes there is a better way, as sales & marketing professionals embrace his vision and passion for helping solve today's complex business problems rather than vending point products.
Described as a visionary thinker and entrepreneur, David teaches his clients to function more like high-priced consultants and less like "sales" people. With a vision to bring back the concept of "Trusted Adviser", David is leading a movement where sales people embrace integrity, deliver value, and learn how to truly advise at the executive management level.