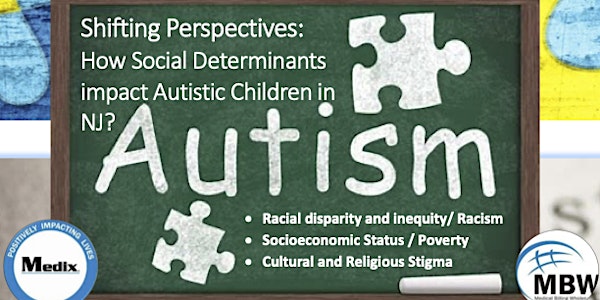 Event has been postponed
Somerset Lions Club and Shawn Ekwall, MBA, FACHE present: Shifting Perspectives: How Social Determinants impact Autistic Children in NJ
About this event
This educational webinar will inform caretakers and health leaders on an overlooked and misunderstood aspect of the care continum in the US - the struggles faced by Autistic children and families who face co-occuring social disparities.
With a focus on New Jersey, providers, parents, and health leaders will address this unique population, seeking to inform viewers by identifying negative impacts caused by a maginalization of autistic persons impacted by co-occuring social disparity
Specifically, this webinar will address challenges faced by autistic persons and families in New Jersey who are impacted by
1. socioeconomic status (low SES),
2. racial or ethnic minority status, and/or
3. Cultural and.or religious stigma
Panelists with a diverse understanding of this population will identify 2-3 resources each, which will be compiled, along with other basic resources, into an electronic databse hosted by the Sommerset Community Lions Club.
Giveaway: Each panelist will assist the Somemerset Community Lions Club in identifying between 7-10 autistic children or caretakers to be gifted one (1) brand new Amazon Fire tablet each, as courtesy of our generous sponsors, Medix and Medical Billing Wholesellers (MBW)
This webinar will generate awareness, gather informational resources, and provide material support to Autistic children, families and caretakers in the State of New Jersey
Shifting Perspectives: How Social Determinants Impact Autistic Children in New Jersey Oct 22, 2022 10:00 AM Eastern Time (US and Canada)
Join Zoom Meeting
https://rutgers.zoom.us/j/93734780277?pwd=ejd3a0hBMGtIeGkyNjdiaWFWV09DZz09 Password: 706024
One tap mobile +16465588656,,93734780277#
Join By Phone +1 646 558 8656 937 3478 0277