[ Event Gratis ] Pelatihan Internet Marketing Menuju Revolusi Industri 4.0

Sunday, April 28, 2019 from 1:30 PM to 6:30 PM (WIB)
Event Details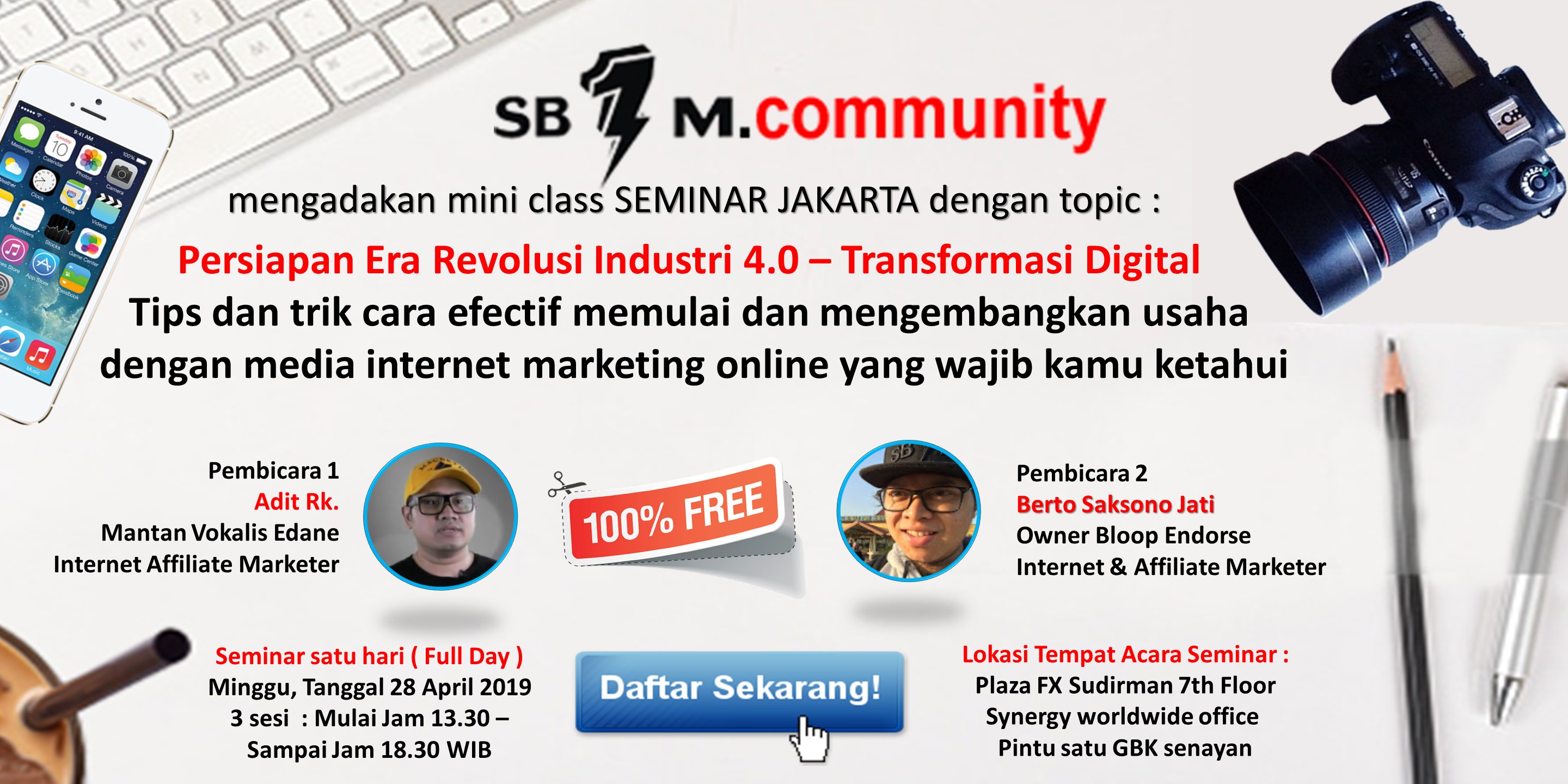 Buat teman-teman di Jabotabek dan sekitarnya, kabar baik ada undangan terbuka untuk kalian bisa ikut Seminar Jakarta untuk umum secara GRATIS persembahan dari kami sebuah komunitas internet Marketing Terbaik di Indonesia yaitu....sb1m.community
Kita belajar bareng datang yuk, Internet marketing untuk bisnis kamu, Seminar ini berlangsung selama sesi pertemuan Full praktek. Acara ini Cocok banget buat kamu yang ingin mendapatkan ilmu baru tentang bagaimana cara mendapatkan penghasilan tambahan dari internet.
Acara seminar ini cocok banget buat kamu yang bingung mau mulai bisnis dari mana ?, Bingung memilih produknya apa ?, Bingung juga caranya bagaimana ?, Atau ingin meningkatkan profit di bisnis anda sendiri tapi bingung gak ada yang ngajarin dan mendampingi bisnis anda dengan mentor yang tepat.
Silahkan datang, acara ini GRATIS dan terbuka untuk umum dengan topic tema menarik yaitu :
" Workshop Class - Pelatihan Internet Marketing, Persiapan Menuju Era Transformasi Era Digital - Revolusi Industri 4.0 "


Bersama para narasumber yang sudah ahli di bidangnya masing masing yaitu :
* Mas Aditya RK ( Vokalis Edane, Internet Marketer, Affiliate dan internet Marketer )
* Mas Berto Saksono Jati ( Owner Bebek Ginyo, Owner Bloop Endorse, Internet Marketer )
* Bintang Tamu Spesial lainnya yang akan akan hadir setiap bulannya

Kapan acara nya ?, berikut detail info nya :
Hari Minggu, Tanggal 21 April 2019
Mulai Jam 13.00 - 18.30 WIB

Lokasi Tempat Event Acara nya :
Synergy Worldwide Indonesia Office
FX Sudirman 7th Floor, Unit C
Jalan. Jendral Sudirman,
Pintu satu senayan GBK
Jakarta 10270
Indonesia

MATERI yang akan di sampaikan adalah sebagai berikut :
1. Tips sederhana dapat income dengan membuat web suka-suka sendiri
2. Bagaimana Cara jualan online setiap hari tanpa tatap muka dengan pembeli
3. Cara mendapatkan income online dari membuat video kartun sederhana
4. Rahasia tools ajaib yg bisa membantu anda mendapatkan income dari online
5. Cara cepat datangkan pengunjung dengan iklan facebook untuk produk anda sendiri
6. Cara memilih produk baik produk sendiri maupun produk tokopedia yang laku di jual diinternet dan kemana harus menjualnya
7. cara cepat membuat web dalam 7 menit
8. Cara jualan sangat cepat via iklan facebook PPE
9. Cara mudah yang mungkin tak terbayangkan dari bermain instagram untuk menghasilkan income yang terus menerus
10. Bagaimana mengubah Leads / prospek calon pembeli anda menjadi buyer
11. Cara dapat income yang mungkin belum anda ketahui dari nongkrong di mall selama 3 -5 jam
12. Cara jualan cepat dengan upload video youtube sendiri menggunakan handphone kita
13. Cara Membuat Email list yang akan membuat bisnis anda jalan sendiri
14. Bagaimana Cara Menset up bisnis online anda dalam sebuah sistem sehingga bisnis online anda jalan sendiri dan anda bisa travelling kemana saja
15. Bagaimana cara pecah telor pertama dari online
16. Rahasia Traffik apa saja yang membuat web anda bludak pengunjung
17. Bagaimana meng - onlinekan bisnis anda dan closing terus menerus dari online

Catatan Note : Setelah anda daftar dan register mengisi lengkap form yang sudah di sediakan, maka anda akan langsung mendapatkan e-ticket sebagai bukti ticket masuk ke event seminar ini.

e-ticket akan dikirimkan langsung otomatis ke email aktif dan nomor whatsapp aktif yang sudah di daftarkan saat registrasi e-ticketing

Dan jika masih ada yang belum jelas, silahkan di klik link di bawah ini untuk info detail lebih lanjut..
* ) Email Kami : infokelassb1m@gmail.com
* ) Chat Whatsapp : bit.ly/081395955051 ( admin )
* ) Registrasi Member #Gratis : bit.ly/JoinFreeMember
* ) Testimoni peserta seminar : bit.ly/TestimoniMemberSB1M


Acara ini di selenggarakan oleh :

Website : https://sb1m.community
Instagram : @sb1m.community
Have questions about [ Event Gratis ] Pelatihan Internet Marketing Menuju Revolusi Industri 4.0?
Contact SB1M.community
When & Where

Plaza FX Sudirman 7th Floor, Unit C
Synergy Worldwide Office
Jln. Jend. Sudirman
Pintu Satu Senayan, Jakarta Pusat 10270
Indonesia

Sunday, April 28, 2019 from 1:30 PM to 6:30 PM (WIB)
Add to my calendar
Organizer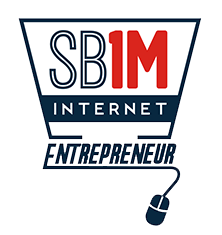 SB1M.community adalah komunitas tempat belajar bisnis online dengan akses belajar internet marketing GRATIS seumur hidup menggunakan media online untuk memasarkan dan mengembangkan product barang dan jasa yang kita punya menggunakan beberapa teknik ampuh yang sudah terbukti hasilnya.



http://bit.ly/TestimoniMemberSB1M