Darien Garden Club Celebrates Its 20th Anniversary with "Every Garden Tells a Story", A Garden Walk & Bazaar
About this event
This unique day will feature:
• Six diverse gardens in the greater Darien, IL area; highlighting ponds, wildflowers, gazebos, vegetable patches and more
• Guided tours at each location, including arts and entertainment provided by the Darien Arts Council
• A Garden Bazaar featuring handmade crafts and vintage items
• A tour of Chuck's Café's Farm-to-Table Vegetable Garden with optional Breakfast and Lunch Menus
* * * Event Day ticket $20 * * *
* * * RAIN OR SHINE. ALL SALES FINAL. * * *
NOTE: Current Covid-19 guidance will be observed at all gardens
You must print your Eventbrite ticket or display your Eventbrite ticket on your smart phone for admission.
Bring your ticket to pick up your tour passport at Chuck's Cafe in Darien. 8025 Cass Avenue, Darien, IL
This passport will allow you to enter the gardens and includes a highlighted map with the garden locations and descriptions.
Here are all the exciting details about the day!
The Darien Garden Club will showcase six creative and diverse private gardens to the public as part of their 20th Anniversary celebration. Each garden has a unique story of its evolution: the gardener, the site, and its objectives, challenges and successes.
Members of the club will serve as docents at each location to tell its story, act as guides and answer questions. The gardens range in size and style and feature ponds, water features, wildflowers, gazebos, tropical plants and vegetable patches. These gardens have been created and nurtured by Darien Garden Club members.
In addition, and in collaboration, the Darien Art Council will feature art, artists and entertainers throughout the event. https://www.artsdupage.org/organization/darien-arts-council/
The garden club members will hold a Garden Bazaar at one of the homes during the event. Handmade garden crafts, vintage items and plants will be available for sale with all proceeds benefitting the club and its support of the community.
Chuck's Cafe in Darien will hold free tours of their vegetable gardens on the day of the walk, and will also offer attendees optional breakfast and lunch menus highlighting their farm-to-table fare, available at an additional charge. http://chuckscafedarien.com/ Chuck's Cafe map
Read on for more information on the featured gardens.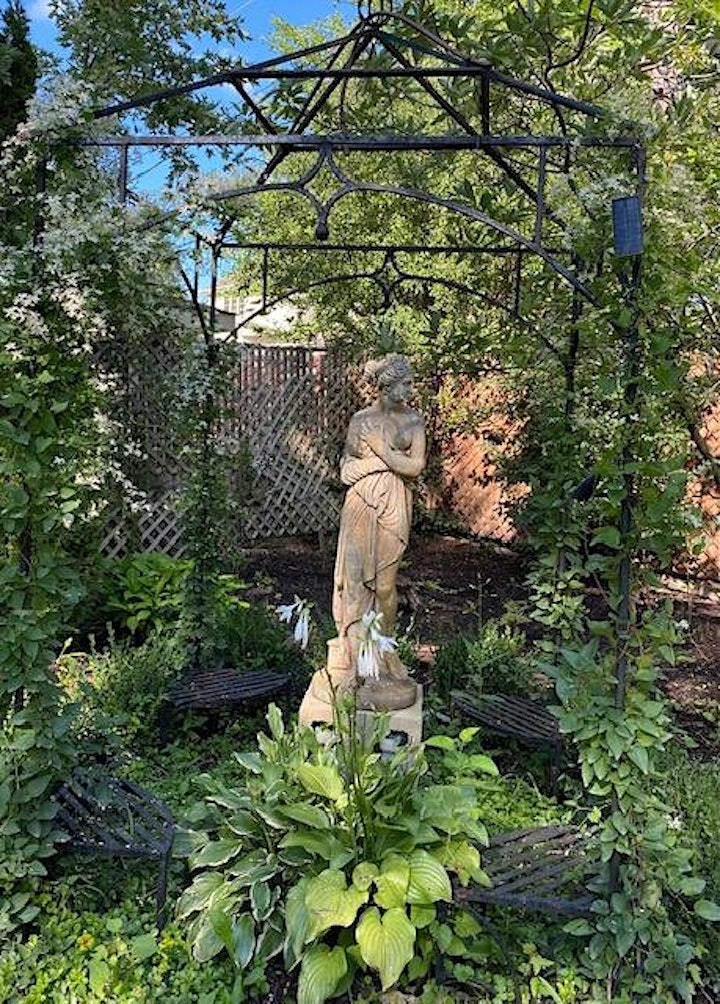 "A Garden Party"
Avid entertainers, Pat and John have hosted many celebrations from weddings to showers to graduations in their outdoor venue created for parties. The 1200 square-foot double deck incorporates a wood bridge that leads to a tree house. Another deck allows for relaxing and viewing the gazebo in the back garden.
Over 40 years their garden has been recreated and refined many times over, and although it can easily handle large crowds, it also serves as a calming retreat where they relax with family and friends and enjoy the lush vistas of greenery and flowers surrounding their property.
9S737 William Dr. Willowbrook
https://goo.gl/maps/vwdm2CZaD9TEKS14A

This 3-season oasis, anchored by a pool, grilling and dining area, fire pit and pergola, provides a beautiful and compelling reason for these gardeners to staycation at home. Over 20 years they have transformed their ninety percent lawn-covered property into a bird and butterfly habitat by utilizing native plants that support wildlife.
"Grass is Boring" is their motto, and this corner property is completely filled with various types of gardens and plant varieties. This incredible retreat never begs the question of where to go on vacation. It's all here, and is generously shared with family and friends.
9024 Hampstead, Woodridge
https://goo.gl/maps/sWCC5iYseXLq4jr9A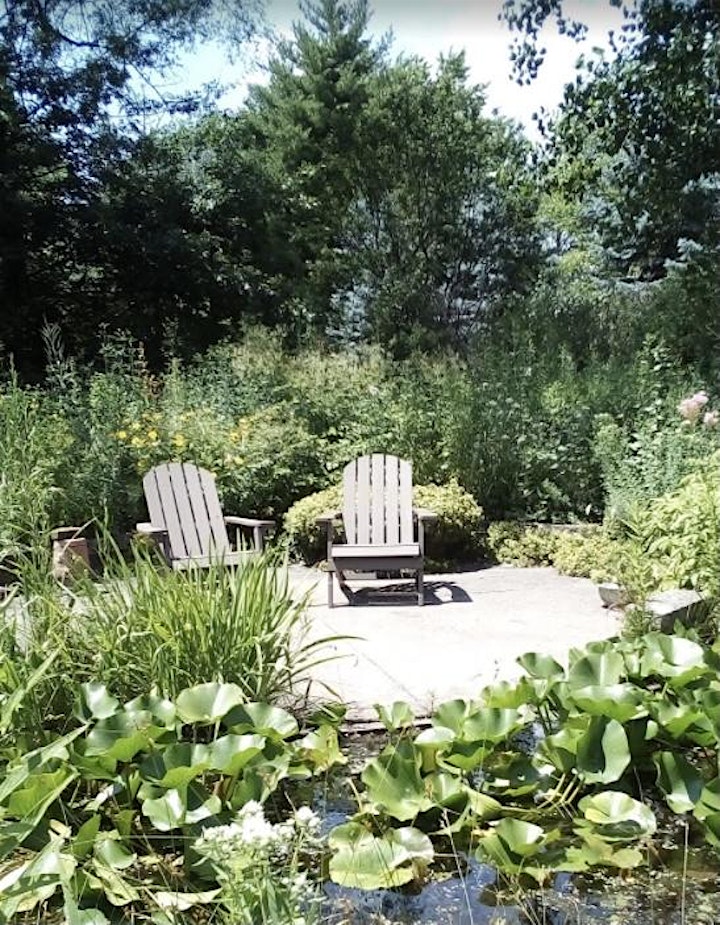 The minimal landscaping surrounding this authentically designed front facade is typical of early American gardens. The home's back side overlooks a naturalistic garden that features sun-loving prairie plants designed to attract birds, butterflies, frogs, and beneficial insects.
This garden illustrates the beauty and exuberance of local native flora. An intimate patio and bog in the center of it all invites one to relax surrounded by all the scents and sounds that arise from this lovely prairie meadow.
714 68th St., Willowbrook
https://goo.gl/maps/3xy5ZY3Yuvx8dZVP9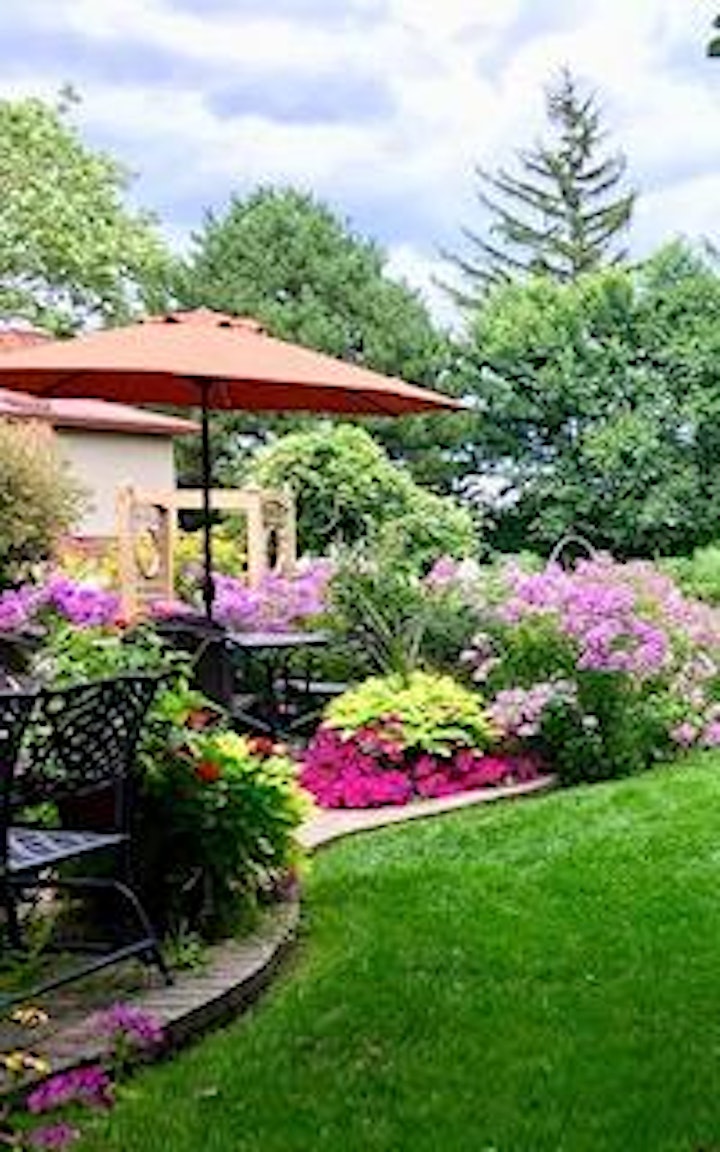 "The Anthophile's Garden"
Evenin is obsessed with flowers. Her garden is planted for layered levels of height and maximum color throughout the seasons. This floral extravaganza and productive vegetable garden attract other anthophiles to her yard: bees, birds and butterflies.
Since moving to their home in 2001, this couple has completely transformed the badly neglected yard into the dazzling display it has become. Gardening is a labor of love for Evenin, who is happy to share her tips and tricks for cultivating her show-stopping blooms.
1213 73rd Place, Darien
https://goo.gl/maps/ULW4pbAa5x8wA9QP6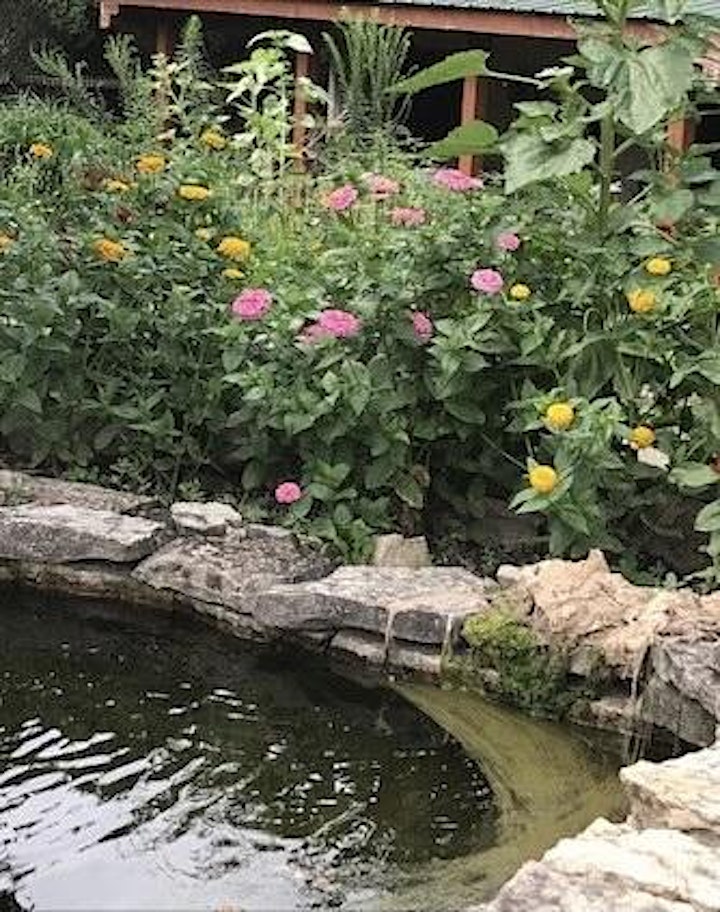 "A One-man Show"
This home and garden with its rock walls, waterfalls, paved walkways, fire-pit, custom metal-work and eye-popping array of blooms is even more astonishing given that it was built and nurtured by one man, our member, David. This 50-year labor of love of gardening and the environment has created an ever-changing vista where he delights in seeing deer, raccoons, muskrats, coyotes, pheasants, opossum and a great variety of birds throughout the year.
His significant knowledge of plants coupled with his technical abilities have resulted in a unique and layered transition from the house to the stream surrounding it on two sides.
207 79th St., Burr Ridge
https://goo.gl/maps/avsa5B4YXMaqQqFE6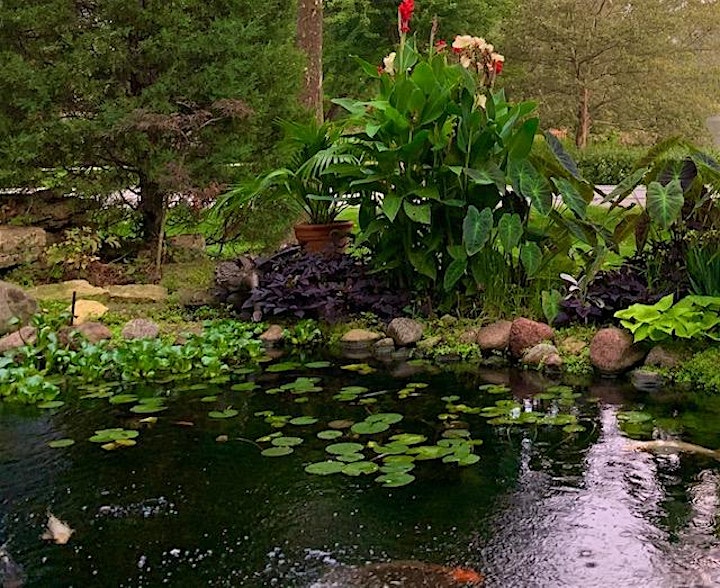 Attracted 9 years ago to the home's pond, greenhouse and view of the small lake across the street, these newbie gardeners began reshaping and refining the garden beds from cottage-style to simple and serene. Textures and shapes are preferred over colorful blooms throughout the yard planted with perennials and native plants.
Tropical plants overwintered in the greenhouse and cannas that surround the pond provide a punch of color that attract birds and butterflies and are enjoyed from the adjacent patio.
16W572 Hillside Ln, Willowbrook
https://goo.gl/maps/sbNWfBqjYie6NW349
16W572 Hillside Ln, Willowbrook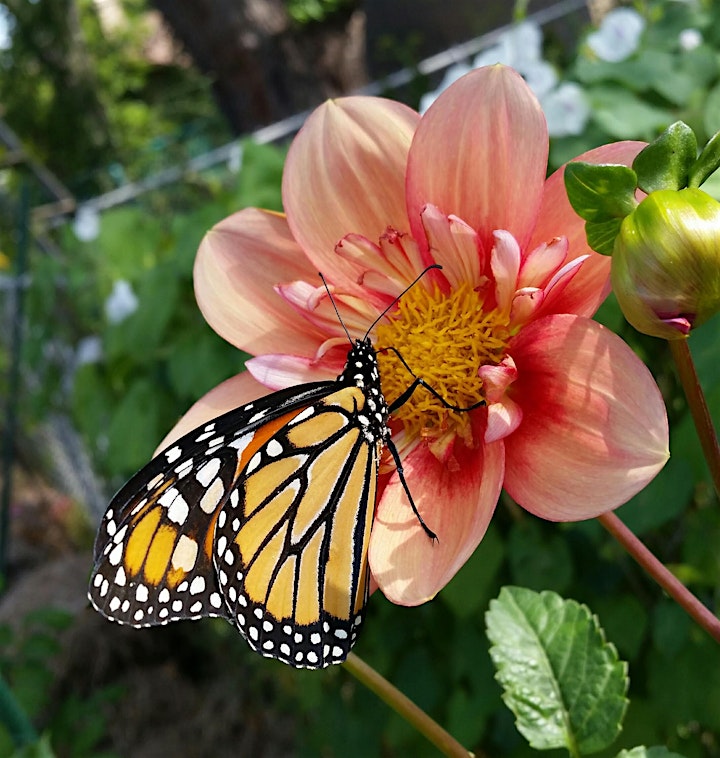 The Darien Garden Club is an award-winning, not-for-profit community service organization founded 20 years ago.
New and experienced gardeners, nature lovers and environmentalists meet to share experiences and get support from others while cultivating new friendships with those who have similar interests.

We would like to thank our sponsor, Bartlett Tree Experts.
https://www.bartlett.com/ Bartlett Tree Experts
Organizer of Event Day Tickets for "Every Garden Tells a Story" Garden Walk & Bazaar