Description
Mark your calendars and join us for Pan American Day on April 11, 2017 featuring keynote speaker, Sofia Adrogue, Esq. Hear her story and what drives this Latina Super Lawyer as well as how you can support our mission of providing educational opportunities to high achieving Latinas. Proceeds from the event benefit the PART Houston Scholarship Fund.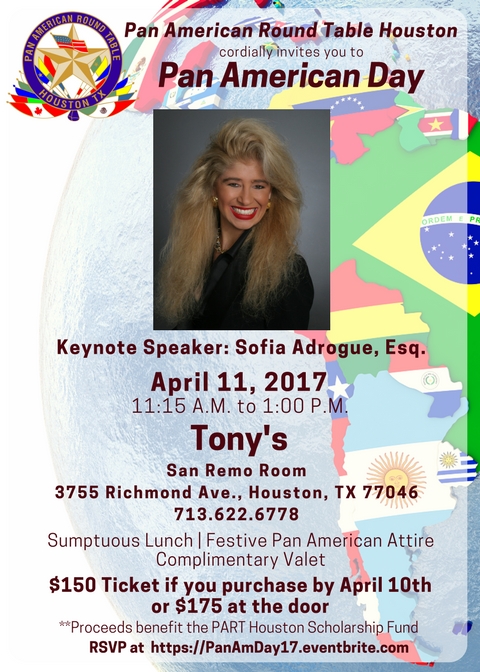 ---
---


KEYNOTE SPEAKER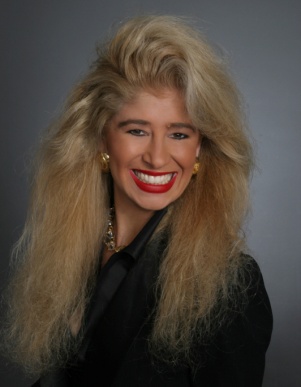 Sofia Adrogué, P.C.
Member/Partner
Gray Reed & McGraw, P.C.
Born in Buenos Aires, Argentina, Sofia immigrated to the United States at the age of eight with her father, Dr. Horacio J. Adrogué, her mother, Sara Oyenard Adrogué, and her four siblings (Horacio E., Soledad, Matias, and Marcos). The Adrogués arrived in Boston at Logan Airport with 14 suitcases, speaking little to no English. Funded by a $5,000 grant from the World Health Organization to support a family of seven, her father is now a Full Professor of Medicine at Baylor College of Medicine in Houston, Texas where he has practiced and led at The Methodist Hospital and the Michael E.DeBakey VA Medical Center, among other institutions. In pursuit of the American Dream, her parents raised all five children to follow the family's tradition of post-graduate careers in either medicine or law—all five are now practicing physicians or attorneys in Houston.
Bringing her journey full circle, she returned to Boston to Harvard Business School in 2006 as a 40 year-old "Texas Super Lawyer" and mother of three young children. Her three year Harvard Business School Owner/President Management Program (HBS OPM) investment, while challenging and testing the perennial "female balance," paid off with her selection as the U.S. representative and U.S. keynote speaker for her graduating class; she is ostensibly the first woman for HBS OPM executive education to serve in such a role. In addition to being an alumna of the Harvard Business School OPM, she is a graduate of Rice University, magna cum laude, Phi Beta Kappa, and the University of Houston Law Center, magna cum laude, Order of the Coif and Barons, both on full academic scholarships.
Her triad of passions has been her profession, my community leadership, and, of course, her family. She has sought to return in multiples all the opportunities the United States has provided her —whether through her professional or her community endeavors. As an immigrant, she feels an obligation to give back, leading always with a moral compass and a heart. She hopes her efforts evidence her passion, leadership and commitment to this nation and its diverse population.
A licensed attorney and commercial litigator for over 25 years, Sofia Adrogué is a Member (Partner) of Gray Reed & McGraw, P.C. She is a Texas Monthly "Texas Super Lawyer"; a Texas Lawyer Top "40 Under 40"; a National Diversity Council "Most Powerful and Influential Woman of Texas"; an Easter Seals Greater Houston Hats Off to Mothers Honoree; a UH Law Center Immigration Clinic Arrival Awards Immigrant Achievement Honoree; a Greater Houston Women's Chamber Hall of Fame Inductee; a Texas Executive Women "Woman on the Move"; a Houston Chronicle Channel 11 "Texas Legend"; a Houston Jaycees "Outstanding Houstonian"; a Texas Jaycees "Outstanding Texan"; and a U.S. Jaycees "Outstanding Young American," among other recognitions. Most recently, she was named one of "Top Latino Partners" and one "The 25 Most Influential Hispanic Lawyers" by Latino Leaders.
Sofia is a frequent speaker (over 120 speeches) and publisher (over 115 articles). She is the Editor of the Texas Business Litigation treatise, comprised of 20 plus chapters, exceeding 1500 pages, addressing the full spectrum of a complex business litigation matter. Hon. Caroline Baker serves as the Co-Editor. The third edition published in January 2017.
Sofia has continued her tradition of service to Rice she began with her tenure as Brown College President, and has served (among others) in the following capacities: RICE-TMS Board of Director; Rice University Committee on Affirmative Action Alumni Representative; Rice University SOLAR Board of Director; Alumni Association of Rice University Board of Director; Richard Tapia Center for Excellence & Equity Founding Executive Committee Member; and as the Rice University Hispanic Centennial Gala Co-Chair, underwriting the film Reflexiones y Conexiones: Insights from Latino Professional Alumni on Life Beyond Rice. As a past Rice University Vision Keynote Speaker and a Rice University LEAD Keynote Speaker, she was profiled in the Houston Chronicle as a "Notable Rice University Graduate." Sofia is the Co-Founder & Co-Chair of the Youth Leadership Forum, held for the last ten plus years at Rice University with the motto of Engage, Educate, Empower: By Service We Lead.
Sofia is Co-Host & Co-Producer of Latina Voices: Smart Talk. The mother of Sloane, Schuyler, and Stefan, married to fellow Rice graduate, Sten Gustafson, Sofia has been recognized for her public service by the City of Houston with a proclamation of July 10, 2004 as "Sofia Adrogué Day."