Actions and Detail Panel
EVENT CANCELED: PELICAN LAKE MOVIE NIGHT
Thu, Mar 30, 2017, 7:00 PM
Description

BY POPULAR DEMAND,
MOVIE NIGHT RETURNS TO
PELICAN LAKE MOTORCOACH RESORT !





THURSDAY, MARCH 30th, 2017
AT 7:00 PM MOVIE NIGHT


FEATURING THE BEST OF
INDEPENDENT AND FOREIGN FILMS


THIS EVENING'S
FEATURED FILM: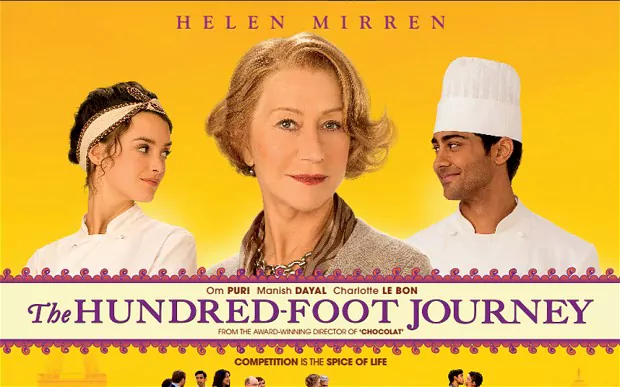 "THE HUNDRED-FOOT JOURNEY"
(Drama/Comedy/Romance)
RATING: PG


GOLDEN GLOBE WINNER: BEST ACTRESS
Hassan Kadam (Manish Dayal) is
an extraordinarily talented and largely
self-taught culinary novice.
When he and his family are
displaced from their native India
and settle in a quaint French village,
they decide to open an Indian eatery.
However, Madame Mallory (Helen Mirren),
the proprietress of an

acclaimed
restaurant just 100 feet away,
strongly objects.
War erupts between the two
establishments, until Mallory
r

ecognizes Kadam's impressive
epicurean gifts and takes
him under her wing.


THIS MOVIE WILL
MAKE YOU FEEL GOOD.
CLICK HERE TO WATCH A PREVIEW:
................................................................................
ENJOY THE MOVIE WITH FRESH
COMPLIMENTARY POPCORN PROVIDED


BRING YOUR OWN BEVERAGE AND
A COMFORTABLE FOLDING CHAIR


THIS EVENT IS FREE
FOR RESIDENTS OF
PELICAN LAKE
MOTORCOACH RESORT
AND THEIR
INVITED GUESTS.


FREE MOVIE
ADMISSION TICKETS
AVAILABLE
ON EVENTBRITE
BEGINNING
OCTOBER 1st, 2016.


WOULD YOU LIKE TO
ATTEND THIS FUN EVENT?
(ADMISSION RESTRICTED
TO PELICAN LAKE RESIDENTS
AND THEIR INVITED GUESTS)


PLEASE CLICK ON THE
"TICKETS" OR "REGISTER"
BAR AT THE TOP
AND DOWNLOAD
+ SAVE YOUR
ELECTRONIC TICKETS,
(OR PRINT PAPER
TICKETS IF YOU PREFER)
TO PRESENT AT THE DOOR
OF THE EVENT FOR ADMISSION.