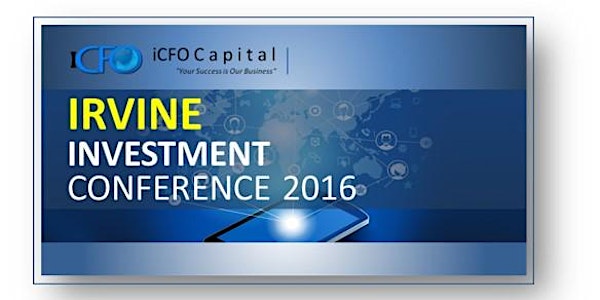 Event Announcement Feb 13th - iCFO Capital Investment Conference, Irvine CA
By iCFO Capital Global, Inc.
Date and time
March 3, 2016 · 9am - March 4, 2016 · 12:30pm PST
Location
Knobbe, Martens, Olson & Bear, LLP 2040 Main St, 2nd Floor Irvine, CA 92614
Refund Policy
Contact the organizer to request a refund.
Description

We've invited some of Southern California most influential Private Investors, Private Equity Firms, Broker-Dealers, Investment Bankers, Accredited Investors, and other industry professionals. This means great opportunities you won't find at any other conference this year, whether you're looking to invest or to secure funding.
This meeting is limited to Accredited Investors, Angel Investors, and Investment Bankers who are interested in pre-qualified investment opportunities.
---
Setting: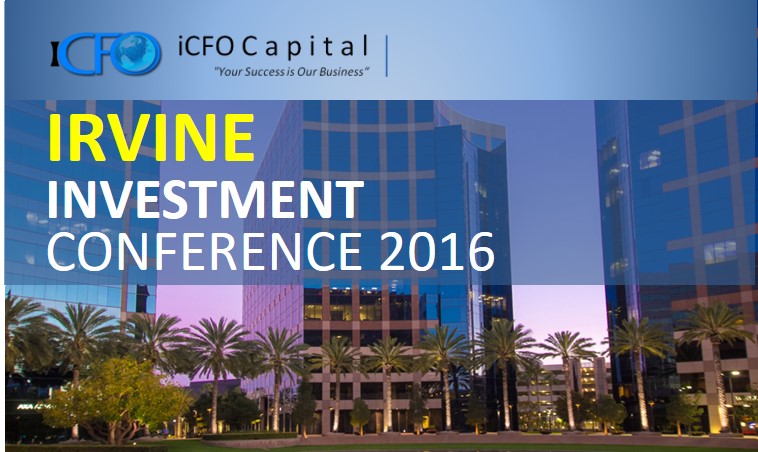 Introducing "The iCFO Investment Conference"
The iCFO Investment Conference features a panel of 20 to 30 potential "INVESTORS", as they consider offers from aspiring entrepreneurs seeking debt or equity investments for their business. The Investor group evaluates the concept, product, or business model. This process allows potential investors to discuss opinions, voice interests or concerns. Learn More...
---
Announcement: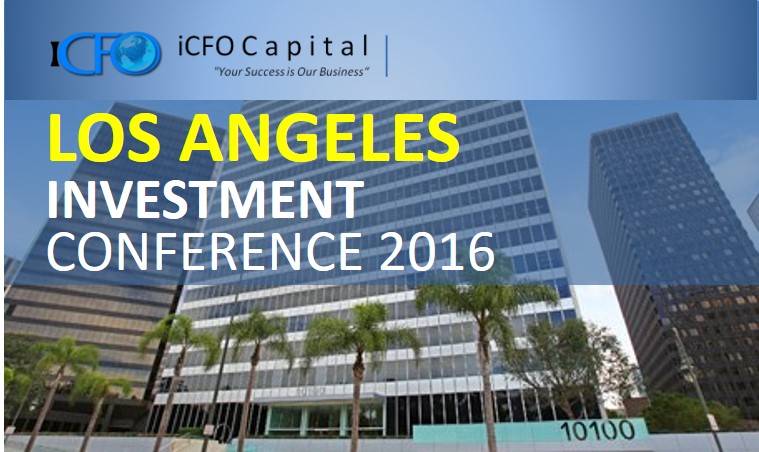 iCFO Capital is proud to announce our Los Angeles Chapter.
We are very pleased to welcome our newest chapters Los Angeles, California. Our multiple of chapters enables support of our presenting entrepreneurs with debt and equity capital resources, building additional quality deal flow for our members, and for our members to enjoy collaborative business and social relationships among chapters. We have shifted the model of local angels investing locally, and we are supporting entrepreneurs with capital and resources Nationwide.
For more information on launching a new iCFO Capital chapter, contact Khris Thetsy, email kthetsy@myicfos.com, or call (619) 502-9388 x104

Raising Capital For Your Business.
SAN DIEGO, FEBRUARY 2016 – iCFO Capital, Inc. has raised additional $950,000 for Quants Corporation. ("Quants"), headquartered in El Segundo, California. iCFO Capital is a go between person to connect entrepreneurs with our private investors that makes direct debt and equity investment for pre-revenue and early stage businesses.
To learn more about how your business can secure the funding it needs, email John Keffelas, Senior Consultant, email jkeffalas@myicfos.com, or call (619) 502-9388 x109.
---
Presenting Companies:

A Give Box, is perhaps the simplest way to promote the gift economy and is easy to set up even if you are on your own. It's simply a box designed for philanthropic causes, where people are free to put things in for others or to take things from for themselves. Known as a Give Box, Gift Box, or Free Box. A donation form designed to increase causes and user retention using Java Script lightbox widget technology that can be placed on any website or mobile device. This donation form known as a Give Box, statistically increase donations up to 50% and can be customized for the cause or organization utilizing micro donations, videos, and various other technologies. [ www.mygivebox.com ]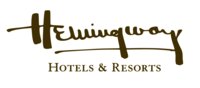 Hemingway Hotels and Resorts is a first-class, Four+ Star Hotel Brand and Management Company based on the iconic lifestyle, adventures and travels of the legendary author Ernest Hemingway. HMY holds a world-wide exclusive License for the Registered Trademarks "Hemingway" and "Ernest Hemingway" from Hemingway, Ltd., the estate of Ernest Hemingway. [ www.hemingwayhotels.com ]

FitCare Anywhere is a medical mobile app backed by years of strenuous testing that gives anyone the ability to perform self-care while they develop new, fun and healthy lifestyle habits. Developed with independent study designed in collaboration with the Professor and Chief of Vascular Surgery at Yale New Haven Medical Center. FitCare Anywhere is proven to lower body mass, body fat, weight and blood pressure. It's fun, it's fast, and most importantly, it works.

Gamified - We mash-up online games and TV-style shopping to create the "Winfomerical." Our unique, micro-sweepstakes formula; Dramatically lowers acquisition costs, keeps players coming back; and, turns players into buyers. The heroes of our fun, addictive games are pitches and products. We give e-tailers of all stripes -- from the smallest Etsy store to the mightiest brand -- a place to tell their stories and sell their goods. [ www.winuru.com ]
(Additional presenting companies will be announced)
If you are interested in attending, please register in a timely manner, as it is anticipated attendee seating will fill up quickly. Thank you
---
The Millionaires Investment Club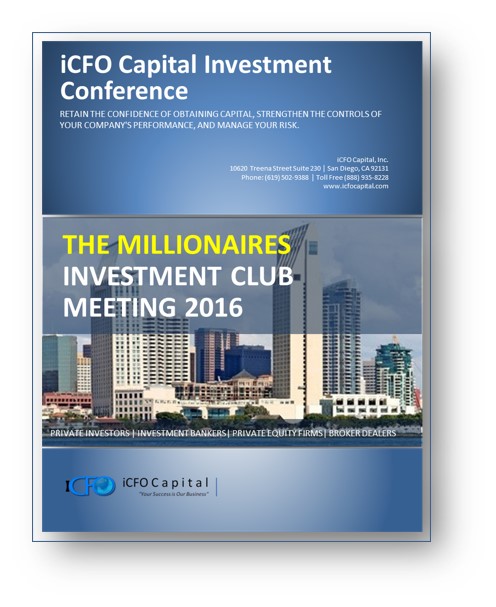 iCFO Capital holds a monthly investment meeting in San Diego. These meetings bring High Net Worth Individual who are interested in pre-qualified investment opportunities. Learn More...
(This Event is by invitation only.)

Need a CFO perspectives?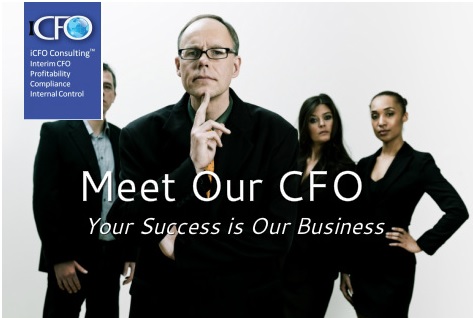 Choosing Interim CFO can be a smart business decision. Starting with an analysis by our Financial Specialist can gain a quick understanding of your financial condition. Our interim CFO services are designed for companies who are preparing for large scale growth. Many small businesses find themselves in a position where they are in need of the guidance that a quality CFO provides, but cannot currently afford the expensive salary that the position demands.
Learn More...
---
Gain Access to Leading Retailers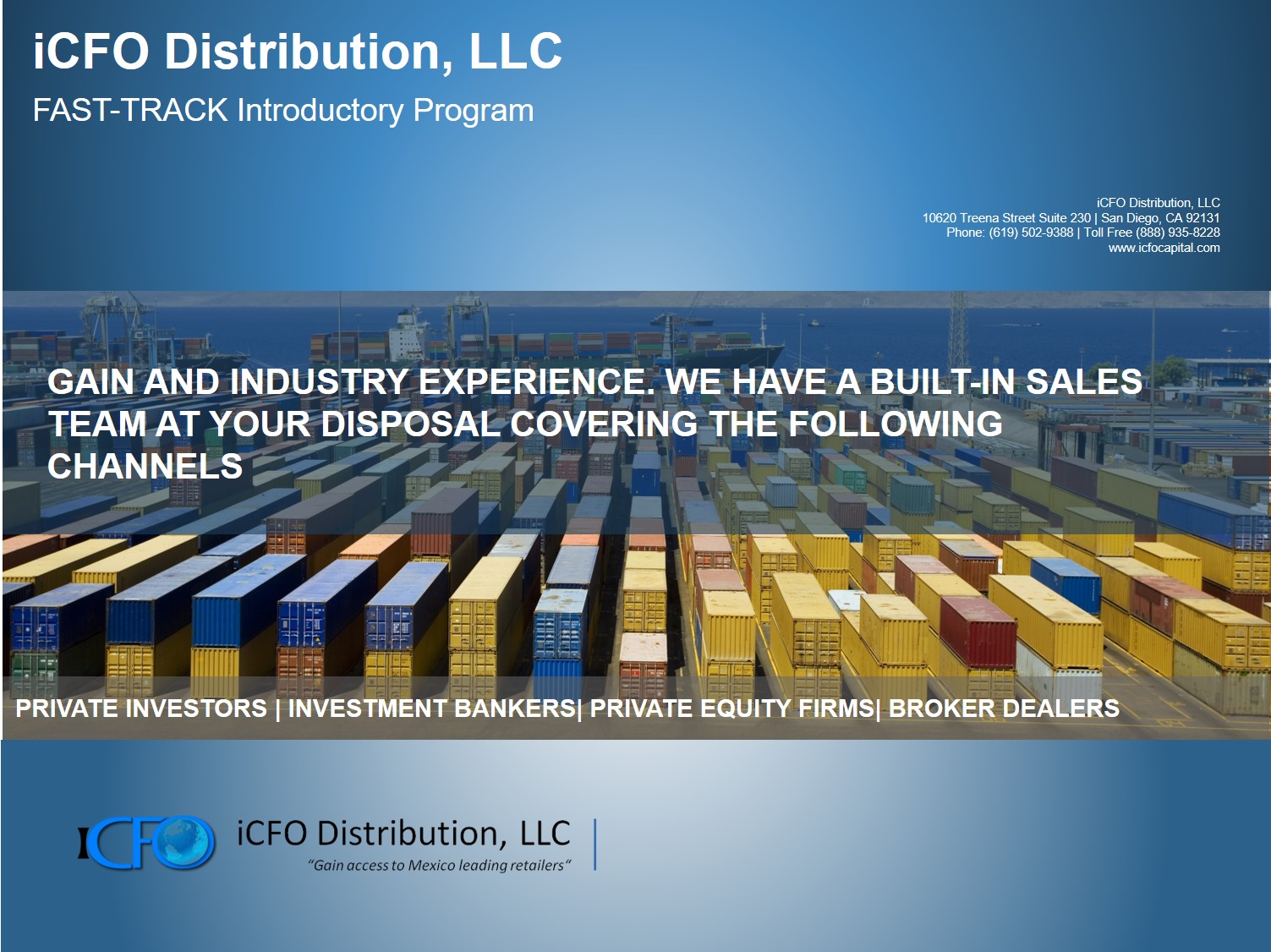 Our FAST-TRACK Introductory Program is the most comprehensive process available today and is designed to support profitable commercialization of your product! We've created this program based upon sound and proven scientific principles for new product launch. Learn More...
---
Sponsors and Strategic Partners
NEW CONFERENCE PARTNERS AND SPONSORS ARE WORKING CLOSELY WITH ICFO IN 2014 TO BRING ADDED VALUE TO OUR CLIENTS AND MEMBERS. CONTACT ICFO TO BE PERSONALLY INTRODUCED TO ONE OUR SPONSORING ORGANIZATIONS.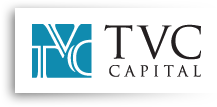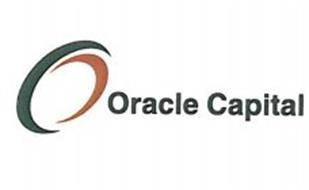 ---
Cocktail Party:


YOU'RE INVITED TO A COCKTAIL PARTY!
El Torito Grill - 1910 Main Street, Irvine, CA 92614
1:00pm to 3:00pm
Complimentary Breakfast:

Breakfast Basket - An assortment of freshly baked breakfast favorites, including Cinnamon Creme Cake, cinnamon rolls, muffins, bagels, sweet crisps and other pastries. Served with handcrafted cream cheese, butter, and preserves.
Fresh Fruit Tray - Slices of cantaloupe, oranges and pineapple with red grapes, blueberries and strawberries.
Hand-Roasted Coffee - Select from our signature Baker's Blend, Sumatra Decaf, rich Cafe Europa and Hazelnut Cream.
Contact: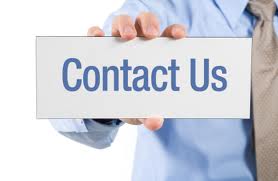 iCFO Capital, Inc.
Khris Thetsy | (619) 819-8268 | kthetsy@myicfos.com
Richard Copeland, CPA | (858) 603-2067 | rcopeland@myicfos.com
Mike Zeman | (619) 921-5435 | mzeman@myicfos.com
Matthew Joy | (619) 761-4771 | mjoy@myicfos.com
John Keffalas | (949) 872-8358 | jkeffalas@myicfos.com
Office: (619) 502-9388 | Toll Free: (888) 935-8228
iCFO Distribution, LLC. (Mexico)
Robert Ruiz | 044-664-674-5738 | rruiz@myicfos.com
Grabriel Hernandez | 044 664-321-0308 | ghernandez@myicfos.com
For more information about our company visit our website at: www.icfocapital.com
About the organizer
iCFO Capital Global Conferences Schedule
This is a Premier gathering of sophisticated private equity Investors, Institutional Investors, Angel Investors, VCs, Family Offices, Wealth Managers, and other Investment professionals gathering to discover High Quality & Cutting edge early and later-stage growth-oriented companies.
LA JOLLA | BEVERY HILLS | NEWPORT BEACH | SAN DIEGO | SAN FRANCISCO | DALLAS | SCOTTSDALE | SAN ANTONIO | PALM SPRINGS | FLORIDA | MEXICO