Event Announcement December 10th - iCFO Capital Investment Conference, Irvine

Saturday, December 10, 2016 from 9:00 AM to 12:30 PM (PST)
Event Details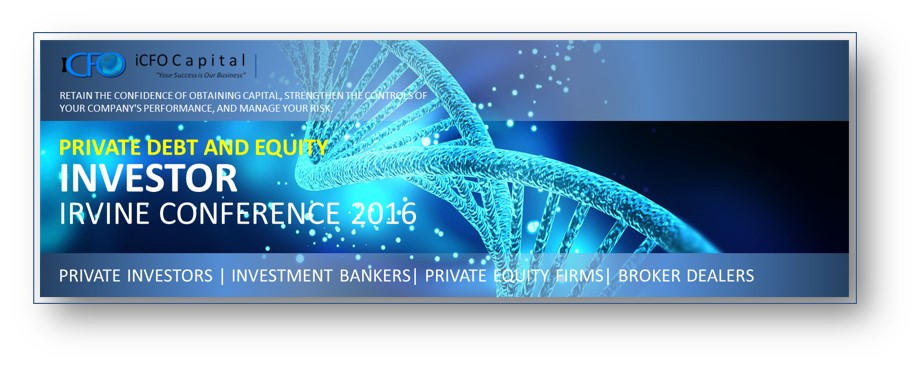 We've invited some of Southern California most influential Private Investors, Private Equity Firms, Broker-Dealers, Investment Bankers, Accredited Investors, and other industry professionals. This means great opportunities you won't find at any other conference this year, whether you're looking to invest or to secure funding.
This meeting is limited to Accredited Investors, Angel Investors, and Investment Bankers who are interested in pre-qualified investment opportunities. 
   

---

 

Setting:

   

   

 
 

 

Introducing "The iCFO Investment Conference"

The iCFO Investment Conference features a panel of 20 to 30 potential "INVESTORS", as they consider offers from aspiring entrepreneurs seeking debt or equity investments for their business. The Investor group evaluates the concept, product, or business model. This process allows potential investors to discuss opinions, voice interests or concerns.  

   

---

 

Announcement:

 
 
 

iCFO Capital have team up with PointAcross utilizing software to drive funding for your company!

We know that content is the key to successful results, so our services team works with our clients to repurpose video, or create new video that maximize your exposure to investors. We partner with our clients to leverage the value of this content within email and social media campaigns, and enabling to send personalized investment opportunity in video to potential investors.Whether your focus is to get connected with investors, present your opportunity, maximize your exposure to investors, iCFO Capital has a solution that can make it happen! 

 
 
 
 

iCFO Capital IP Funding Program 

iCFO Capital can assists companies in using its intellectual property as collateral for funding.  This is an attractive alternative or addition to Venture Capital (equity), Venture Debt and Mezzanine funding.   A company receives cash in place of an often undervalued IP portfolio. This process is ideally suited for mezzanine-stage, private equity and venture-backed companies requiring additional, non-dilutive capital for expansion, management buy-out, or acquisition of technology from a third party.

For more information on IP Funding program, contact Khris Thetsy - Managing Director, email kthetsy@myicfos.com, or call (619) 502-9388 x104 

   

---

 

 

 

Presenting Companies:

 

 

 

Moscase is a smartphone case that measures your body temperature, heart rate, body fat percentage and other vitals, making your life easier, happier and healthier. Moscase is also completely modular, allowing you to swap out backplates fit for any occasion, turning your phone into an entertainment power-house or a blood sugar meter with only as much as a backplate swap. [ www.moscase.com ]

 
 

EVA is the only non-privacy-invading, at-the-pump vehicle ID transaction solution, offering mobile pay-at-the-pump, plus addressable content marketing. EVA connects the gas pump to the cloud to create a consumer-friendly kiosk experience that gives the motorist simple, secure, personalized transactions while refueling, and also turns the pump into a revenue-driving profit source for the retailer and participating content marketers!  [ www.verdevainc.com ]

 
 

Exploride HUD is an automotive product that functions as a head-up display for any car. The motivation for this product is to reduce distraction and context switches due to mobile phones or consoles while driving. The HUD sits on the dashboard of the vehicle and shows relevant but minimal information in the line of sight of the driver using a projected virtual image, it uses cutting edge optical engineering, gesture and voice control to provide a compelling experience to the driver.  [ www.exploride.com ]

 
 

KitoTech Medical is a spinout company from the University of Washington, which is commercializing a revolutionary wound closure product, microMend, which is safer, more effective, and easier to use with reduced risks of scarring. microMend is a wound closure device that consists of a butterfly bandage containing tiny microstaples that securely anchor the device to the skin. microMend represents an attractive alternative to current wound closure products – it is painlessly applied like a bandage with the holding power of sutures and staples.  [ www.kitotechmedical.com ]


 
 
 

(Additional presenting companies will be announced)

If you are interested in attending, please register in a timely manner, as it is anticipated attendee seating will fill up quickly. Thank you! 

   

---

 

Conference Schedule:

 

 

 

iCFO Capital holds several monthly investment brunches all across Southern California. These meetings bring Accredited Investors, Angel Investors, and Investment Bankers who are interested in pre-qualified investment opportunities as well as other service providers and industry professionals to create a large audience of financing and networking opportunities for our clients.

 

   

---

 

What people are saying about iCFO Capital?

 

"We are getting some interest and we are expecting to build base on the interest of the investors...The way the connect us with the investors is by reaching out and telling them about our program and the benefits of our program, it saves us a lot of time and legwork by bringing people to the table, so we can present our program to them. We are very excited about their model". Frank Bashore, SVP 4M&I, LLC

   

---

 

Need a CFO perspectives?

 

 
 
 
 
 

Choosing Interim CFO can be a smart business decision. Starting with an analysis by our Financial Specialist can gain a quick understanding of your financial condition. Our interim CFO services are designed for companies who are preparing for large scale growth. Many small businesses find themselves in a position where they are in need of the guidance that a quality CFO provides, but cannot currently afford the expensive salary that the position demands.

To learn more about our Interim CFO services, please contact Richard Copeland - CPA, email rcopeland@myicfos.com, or call (619) 502-9388 x101. 

   

---

 
 

Gain Access to Leading Retailers

 
 
 
 

Our FAST-TRACK Introductory Program is the most comprehensive process available today and is designed to support profitable commercialization of your product! We've created this program based upon sound and proven scientific principles for new product launch.

For more information on iCFO Distribution, LLC. (Mexico), please contact Robert Ruiz - VP of Operation, email rruiz@myicfos.com, or call 044-664-674-5738.

 

 

 

---

 
Sponsors and Strategic Partners

 

   

New conference partners and sponsors are working closely with iCFO Capital in 2016 to bring added value to our clients and members.  Contact iCFO Capital to be personally introduced to our sponsoring organizations.

 
 
 

---

 

Cocktail Party:

 

 

 

 

YOU'RE INVITED TO A COCKTAIL PARTY!

El Torito Grill - 1910 Main Street, Irvine, CA 92614
1:00pm to 3:00pm


 

 
   

---

 

Complimentary Breakfast:

   

 

 
 
 
 

Breakfast Basket - An assortment of freshly baked breakfast favorites, including Cinnamon Creme Cake, cinnamon rolls, muffins, bagels, sweet crisps and other pastries. Served with handcrafted cream cheese, butter, and preserves.
Fresh Fruit Tray - Slices of cantaloupe, oranges and pineapple with red grapes, blueberries and strawberries.

Hand-Roasted Coffee - Select from our signature Baker's Blend, Sumatra Decaf, rich Cafe Europa and Hazelnut Cream. 

   

---

 

Contact:

  

 

SAN DIEGO OFFICE​
10620 Treena Street, Suite 230 | San Diego, CA 92131
Khris Thetsy | (619) 502-9388 x104 | kthetsy@myicfos.com
Richard Copeland, CPA | (619) 502-9388 x101 | rcopeland@myicfos.com
Matthew Joy | (619) 502-9388 x108 | mjoy@myicfos.com
Elaine Yarbrough | (619) 981-5019 | eyarbrough@myicfos.com

 

 

 

 

LOS ANGELES OFFICE​​
HOWARD HUGHES CENTER​
6080 Center Drive, Suite 600 | Los Angeles, CA 90045
Micheal Lerma | (619) 502-9388 x118 | mlerma@myicfos.com
Office: (619) 502-9388 | Toll Free: (888) 935-8228

 

 

 

 

 

iCFO Distribution, LLC. (Mexico) 

Robert Ruiz | 044-664-674-5738 | rruiz@myicfos.com 
Grabriel Hernandez | 044 664-321-0308 | ghernandez@myicfos.com

For more information about our company visit our website at: www.icfocapital.com 

 
When & Where

Knobbe, Martens, Olson & Bear, LLP
2040 Main St, 2nd Floor
Irvine, CA 92614


Saturday, December 10, 2016 from 9:00 AM to 12:30 PM (PST)
Add to my calendar
Organizer
iCFO Capital, LLC.
iCFO Capital Conferences Schedule
LOS ANGELES | IRVINE | SAN DIEGO | LAS VEGAS | SAN FRANCISCO
Event Announcement December 10th - iCFO Capital Investment Conference, Irvine