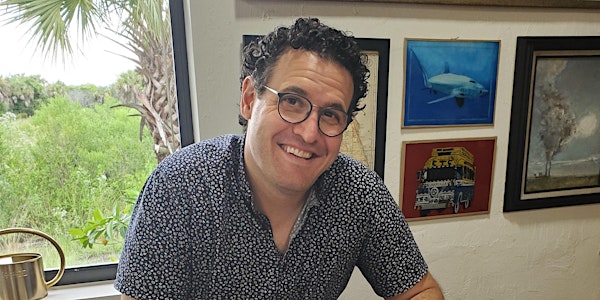 Evenings at the Homestead: A Season of Change featuring Ryan Orgera
December's Evenings at the Homestead will feature Ryan Orgera, SCCF's CEO.
About this event
Join us for December's Evenings at the Homestead, where Ryan Orgera will present for the last time as SCCF's CEO.
Ryan will give an overview of the incredible work SCCF's staff has done over the last three years, as well as provide a glimpse into what could be next for the organization given the environmental challenges we face. Ryan will also share details about his new global work on ocean conservation and how the themes from Sanibel & Captiva carry global significance and how they will inform his work. As of January 1st, Ryan will be the Global Director of a new fisheries transparency project funded by Oceans 5 and The Pew Charitable Trusts where he will work to identify and reform corruption in international fisheries management.
Please note: Covid vaccinations and masking when not able to adequately socially distance are strongly encouraged. If you are feeling sick or experiencing any symptoms , please do not attend the event and you will be given a full refund.
About the Speaker
Ryan Orgera, Ph.D.: Ryan grew up on Lemon Bay in Charlotte County where he fell in love with Southwest Florida's nature. Ryan holds a bachelor's and master's degree in Romance Languages and Literatures from the University of South Florida and a Ph.D. in Geography and Environmental Sciences from Louisiana State University. Before becoming a conservationist, Ryan taught French and Italian at the university level for eight years.
Before starting with SCCF, Ryan worked on the Ending Illegal Fishing Project and Global Shark Conservation teams with The Pew Charitable Trusts. He traveled extensively to institute meaningful conservation measures in African and Latin American nations, as well as within various United Nations conventions, most notably the Convention on International Trade in Endangered Species of Fauna and Flora. During his time with Pew, Ryan helped ensure global protections for thirteen species of sharks and rays.
As a Knauss Marine Policy fellow in the Office of U.S. Senator Bill Nelson, Ryan served as the senator's ocean, coastal, and flood insurance policy expert. Ryan also served as a member of the Federal Marine Protected Area Advisory Committee, which advises the U.S. Secretaries of Commerce and Interior.
Ryan has an affinity for the origins of food, and he especially loves cooking dishes from his family's native Italy. He is an avid animal lover, and lives in Ft. Myers with his wife, Alicia Tighe Orgera, executive director of F.I.S.H. of Sanibel-Captiva.
Organizer of Evenings at the Homestead: A Season of Change featuring Ryan Orgera
SCCF's (Sanibel-Captiva Conservation Foundation) mission is to protect and care for Southwest Florida's coastal ecosystems. SCCF manages over 1300 acres of land on the islands (and owns an additional 500 acres on nearby Pine Island). 
SCCF offers a wide array of educational programs for people of all ages, from beach walks to trail walks, boat tours, wading trips and kayak tours plus classroom-based activities.
Our Native Landscape and Garden Center has a wide selection of native plants for sale, and also offers landscaping and educational services.
The SCCF Marine Laboratory actively conducts research in areas including seagrasses, mangroves, harmful algal blooms, fish populations and shellfish restoration. SCCF's RECON (River, Estuary and Coastal Observing Network) network of seven in-water sensors provides real-time, hourly readings of key water quality and weather parameters. Find out more through our website.