Description
6:30 - 6:45 Doors open
6:45 - 7:00 Welcome Notes - Mary Dove, Executive Director, Lean In NYC, and New York University Alumni
7:00 - 7:10 Introductions - Khalid Latif, Executive Director and Chaplain (Imam) for the Islamic Center at New York University.
7:10 - 7:40 Talk by Yassmin Abdel-Magied
7:40 - 7:50 Q & A
---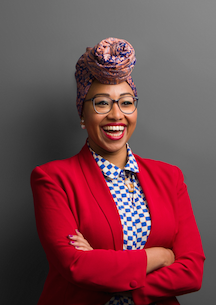 Yassmin Abdel-Magied is a mechanical engineer, award winning social advocate, author and broadcaster. A Sudanese-born Muslim woman, she was named the 2015 Queensland Young Australian of the Year and released her memoir, Yassmin's Story, a year later at the age of 24. Yassmin advocates for the empowerment of youth, women and those from culturally and linguistically diverse backgrounds. She founded the non-for-profit Youth Without Borders at age 16. Outside advocacy, she works as an engineer on offshore gas rigs and is an internationally accredited F1 journalist.
Her internationally acclaimed TED talk, 'What does my headscarf mean to you' has over 1.8 million views. Yassmin is now an internationally renowned speaker on the topic of unconscious bias, having presented in over 20 countries across 5 continents. She also published her best selling debut memoir, Yassmin's Story at the age of 24 and her writing has appeared in publications worldwide, including the Guardian, The New York Times and The Australian Financial Review.
This event is co-sponsored by Lean In NYC, the Islamic Center at NYU, and the NYU Alumni Association.