Evening with the Author: John & Mary Lou Missall
Description
Evening with the Author: John & Mary Lou Missal
Great works of literature can be entertaining or educational but they all share the ability to transport the reader to a different time or place through their stories. Join us at Weedon Island Preserve for Evening with the Author, a program that introduces readers to the masterminds behind some of their favorite stories and provides a look into the history of how these books were written.
This Evening's guests will be John and Mary Lou Missal, award-winning historians and authors whose primary work focuses on the Seminole Indian Wars. These were the longest, costliest, and deadliest of all the nation's wars against Native Americans and spanned a period of over forty years.
Biography and Selected Works:
John has been a life-long student of history, studies Shakespeare, and has taught astronomy courses. Mary Lou has a B.A. from Indiana University and an M.A. from California State University.
Their historical works include The Seminole Wars: America's Longest Indian Conflict from the University Press of Florida, History of the Third Seminole War 1849-1858 (co-authored with Dr. Joe Knetsch) from Casemate Books, This Torn Land: Poetry of the Second Seminole War from the Seminole Wars Foundation, This Miserable Pride of a Soldier: The Letters and Journals of Col. William S. Foster in the Second Seminole War from the Seminole Wars Foundation and the University of Tampa Press, The Army Is My Calling: The Life and Writings of Maj. John Rogers Vinton from the Florida Historical Soceity Press, and an Enhanced Edition of Woodburne Potter's classic The War in Florida. They also have articles published in The Encyclopedia of War and American Society.
Their works of fiction include Elizabeth's War a novel of the First Seminole War, and Hollow Victory a novel of the Second Seminole War, both from the Florida Historical Society Press. Both books have won the prestigious Patrick D. Smith Award for Florida Fiction from the Florida Historical Society.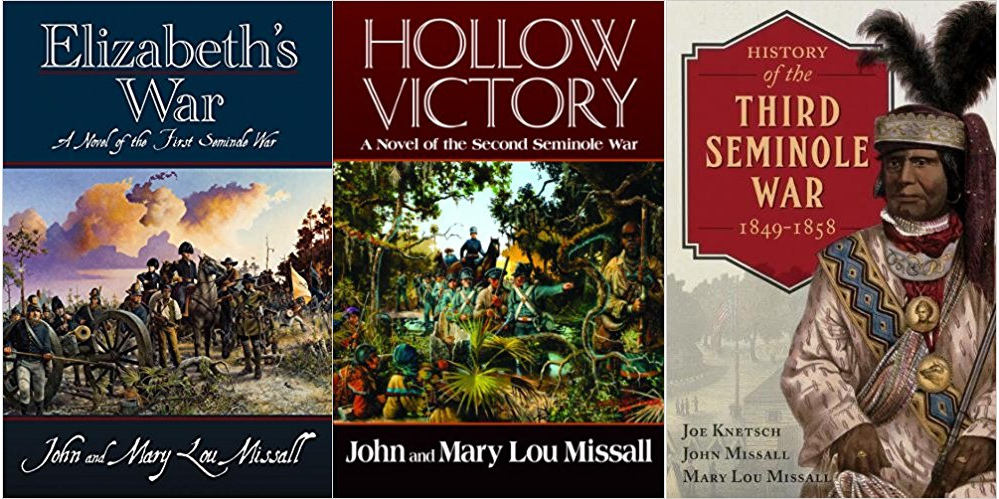 ---
The program will begin at 7:00pm with complementary refreshments available between 6:30-7:00pm.
For questions please contact Weedon Island Preserve at (727) 453-6500.