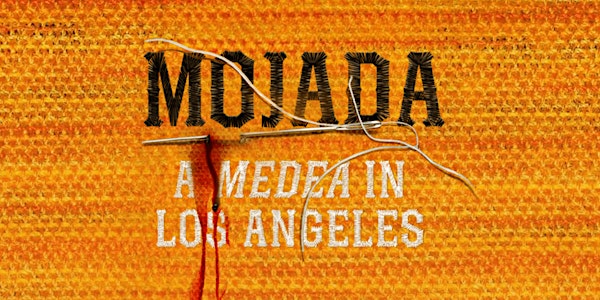 Evening with OISS at the Yale Rep: Mojada
Talk at OISS: 6:00pm Play at Yale University Theater: 8:00pm
Date and time
Starts on Thursday, March 30 · 6pm EDT
Location
OISS 421 Temple Street New Haven, CT 06511
About this event
We are excited to invite international students and scholars for an evening at the Yale Repertory Theater to see Mojada: A Medea in Los Angeles.
We will host a light dinner at OISS before the show at 6:00pm where we will hear a short presentation from Eugenio Saenz Flores, a 3rd year international student currently studying at the David Geffen School of Drama at Yale, and Constanza Etchechury López, the Production Manager of Mojada.
Constanza is a Mexican Engineer who has always been focused on theatre. Constanza began her career as a stagehand with Mexican contemporary dance companies and drafting stage machinery. She then served as running crew, carpenter, stagehand, and drafter for La Compania Nacional de Teatro. Constanza also worked as Assistant Set Designer for many Set Designers in Mexico's most important theatres and festivals. She has worked with Palacio de Bellas Artes, the Ibero-American Theatre Festival in Bogota, and the Cervantino International Festival. As a Production Manager, she has worked with DramaFest (a biannual international festival) and the Coordinacion Nacional de Teatro. A graduate of the National Polytechnic Institute, and currently attending the David Geffen School of Drama at Yale University Technical Design and Production program.
Around 7:30pm we will walk from OISS to the University Theater for the show which will begin at 8pm. We hope you can join us for a night at the theater!
Synopsis of Mojada: Medea, a Mexican seamstress of extraordinary skill, barely survived the perilous border crossing into the United States and lives uneasily in a borrowed Los Angeles house with her husband Hason and their young son Acan: the tension between their traditional values and assimilation is a matter of life and death. Blending wry humor, tragedy, and mysticism, Mojada unleashes the power of Euripides' ancient tale through an unforgettable story of an undocumented family caught in the grip of the American immigration system.
Before purchasing your ticket, please read the below:
1. Yale Rep productions are open to asymptomatic audiences with up-to-date COVID-19 vaccination and boosters. Audience members should carry vaccination documentation and be prepared to show it if asked, as well as a photo ID. ASTM (available on site), 3-ply, N95, or KN95 masks must be worn at all times while inside the theater; cloth masks are acceptable only when double-masking in combination with one of these approved masks.
2. This event is only open to the Yale international community. You must be 18+ to attend (no children).
3. Your ticket price includes your ticket to the show and the talk and light dinner at OISS before the show. Please note that you must exchange your Eventbrite tickets for physical tickets at OISS the evening of the show.
4. Tickets are non-refundable.
Questions? Please email molly.hampton@yale.edu.