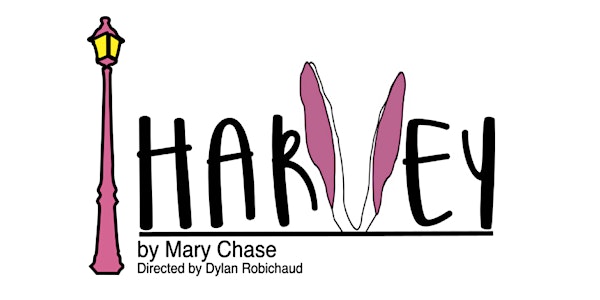 Evening Performances of Harvey by Mary Chase at Lindsay Little Theatre
When and where
Location
Lindsay Little Theatre 55 George Street West Kawartha Lakes, ON K9V 4V6 Canada
Description

Presented by Bull Dog ~ Harvey by Mary Chase ~ Lindsay Little Theatre

Directed by Dylan Robichaud
Harvey, a Pulitzer Prize-winning comedy by Mary Chase, is the story of a perfect gentleman, Elwood P. Dowd, and his best friend, Harvey -- a pooka, who is a six-foot-tall, invisible rabbit. When Elwood begins introducing Harvey around town, his embarrassed sister, Veta Louise, and her daughter, Myrtle Mae, determine to commit Elwood to a sanitarium. A mistake is made, however, and Veta is committed rather than Elwood! Eventually, the mistake is realized, and a frantic search begins for Elwood and the invisible pooka, which ends with Elwood appearing, voluntarily, at the sanitarium. In the end, however, Veta realizes that she loves her brother and his invisible his best friend just as they are, and doesn't want either of them to change.
Starring:

KELLSIE MCCULLOUGH as

MYRTLE MAE SIMMONS

LAURA MARSHALL as

VETA LOUISE SIMMONS

JOHN AUSTIN as

ELWOOD P. DOWD

LOGAN GERZYMISCH as

JOHNSON/DUMPHY

ANNA SPROULE as

MRS. ETHEL CHAUVENET

CAROLYN MACLEAN as

RUTH KELLY, R.N.

BEN WHYTE as

DUANE WILSON

IAN MACLEAN as

LYMAN SANDERSON, M.D.

BILL FULKER as

WILLIAM R. CHUMLEY, M.D.

HEATHER MCCULLOUGH as

BETTY CHUMLEY

SEAMUS MCCANN as

JUDGE OMAR GAFFNEY

JONAH GRIGNON as

E. J. LOFGREN
Special thanks to our production sponsors:

Please note: There are no refunds, returns or exchanges on the purchase of tickets. However, Lindsay Little Theatre will refund purchased tickets if any performance is ever cancelled.