Description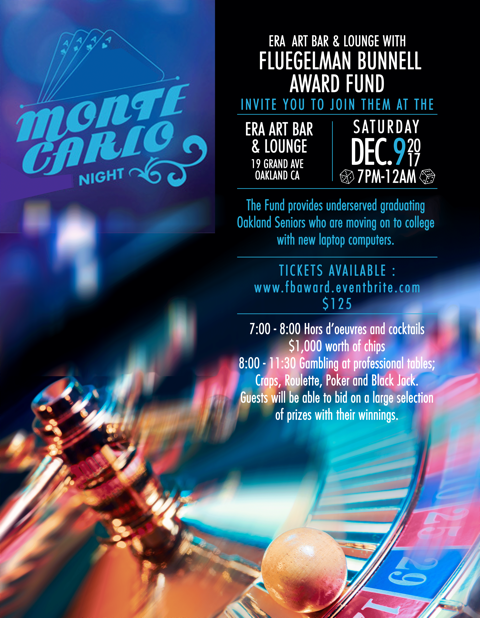 The Fluegleman Bunnell Award Fund, partnering with ERA Art Bar and Lounge, Kingston 11 and KSJ Photography, bring you a Night in Monte Carlo.
For one night only ERA's 5,000 square space will be transformed, invoking the feel of 1900's Casino de Monte-Carlo. Summons your inner 007 or Dame Shirley Bassey and gamble the night away for a great cause. The night begins with cocktails and hors d'oeuvres provided by Kingston 11 between 7:00 and 8:00. Brush up on your black jack, roulette, craps or poker skills with friendly tutorials provided by casino staff during this first hour. At 8:00 the cards and dice fly.
Each guest will start the evening with $1,000 in chips. Twice during the evening we will auction off some wonderful prizes provided by local businesses and sports teams (9:30 & 11:30). This is where the chips come in! Guests will have the opportunity to purchase more chips throughout the evening. 100% of the entry fee and chip purchases will go to purchasing laptops for our 2017 class.
A bit about The Fluegelman Bunnell Award Fund
https://www.fbaward.org
Honoring Andrew Fluegelman (1943-1985) and David Bunnell (1947-2016), two pioneers of the technology media industry, the Fluegelman Bunnell Award provides Macintosh laptop computers to outstanding San Francisco Bay Area high school seniors on their way to college. The award is granted by the Fluegelman Bunnell Fund, a collective action fund of Tides Foundation, a 501(c)(3) nonprofit designated by the IRS.
We are looking for Bay Area students who have overcome significant economic, social and family hardships, and who have contributed to their communities by participating in after-school and/or community programs.
Meet this past year's recipients: https://www.fbaward.org/recipients/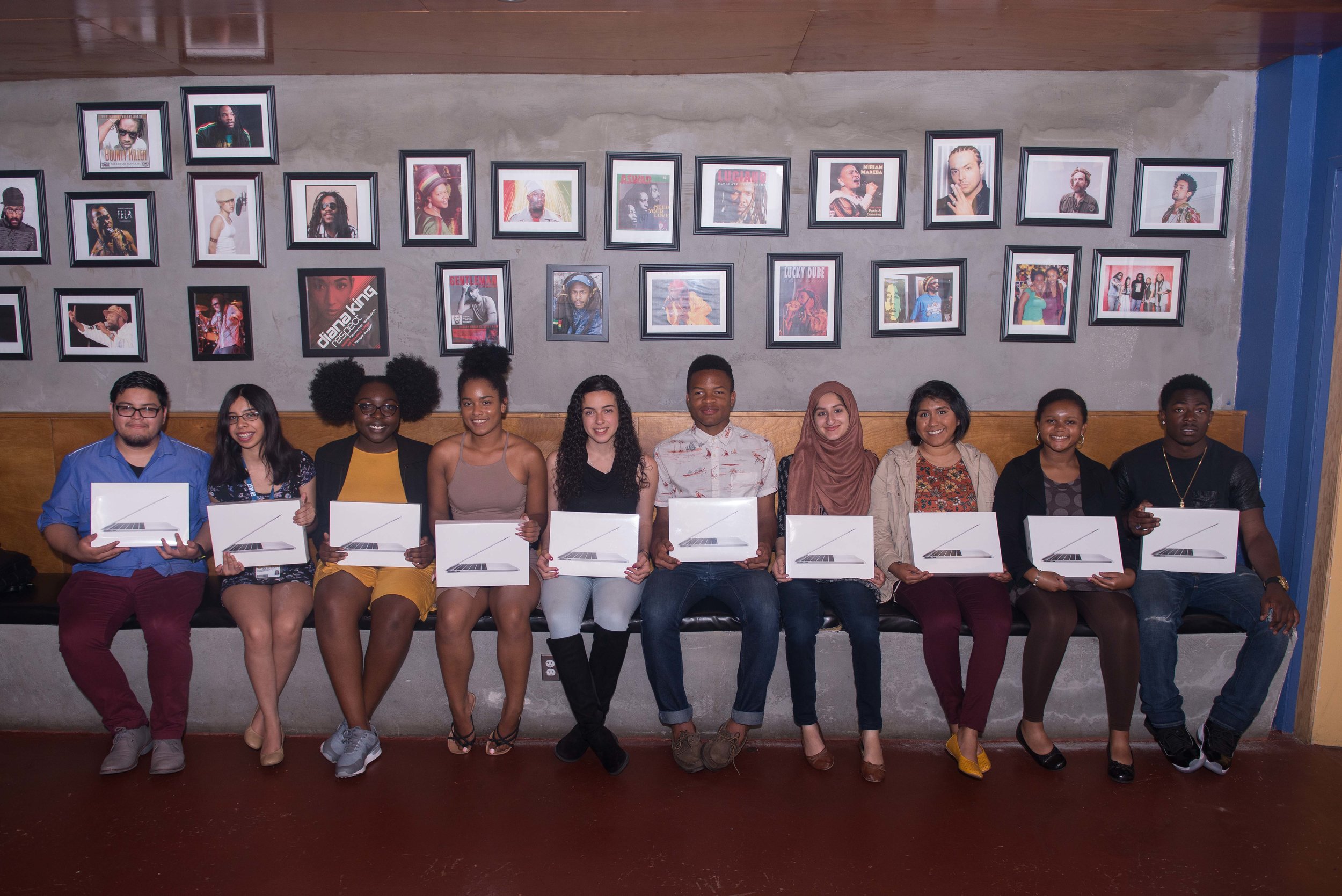 A bit about Kingston 11
http://kingston11eats.com
Kingston 11 Cuisine is an environmentally friendly, community-oriented, innovative restaurant. Our mission is to provide consistent high-quality, delicious blends of Jamaican and Californian cuisines using local and organic ingredients. We are a contemporary urban dining oasis known for great service, cultural exchange and the nexus of great relationships. Our goal is to use these qualities to positively transform the lives of our patrons, employees, and greater community.
A bit about KSJ Photography
http://www.ksjpix.com
Kola Shobo is an Oakland based photographer, he draws inspiration from the art rich and culturally diverse bay area. His enduring love for the arts, creative expression and photography has always been apparent. Growing up internationally and as an Introvert, photography helped Kola realize his ability to communicate and relate to people. Kola strongly believes every creative should own and exercise these abilities. Kola's welcoming personality, people and communication skills serve him well in relating to clients by understanding their needs, and bringing their needs into fruition. While art appreciation drew him to photography, the ability to create is the fuel that drives Kola.
A bit about ERA
http://oaklandera.com
The 5,000 square-foot space offers two comfortable lounges, each offering aesthetics of a different age. Downstairs, patrons are treated to vaulted, hand- plastered ceilings, two off-set seating areas, and a thirty-five foot steel and concrete bar; the upstairs features vintage leather seating, antique and modern furniture, reclaimed 1920's hardwood flooring, a handblown glass chandelier and a private, more intimate bar.
Overall, Era combines diverse music, curated collections of contemporary art with boutique cocktails and an elegant environment - to bring the Bay Area an impressive new haven for fine arts and culture.