Description
We're pumping in $20,000-worth of decor and props to transform the club into the Stranger Things' dual world of human and the supernatural. This is the premier, haunting stage for your Halloween 2017, complete with all the strange things: super natural entities, retro bikes, mad beats, and YOU!
Unlike Will Byers, you won't go missing: Candid party photographers roam the dancefloor to capture the best-dressed costumes. There will be a photobooth for party-revelers to strut their terrifying and sexy get-ups. Instagram, get ready for some wickedly ghoulish shots by professional photogs!
---
HIGHLIGHTS
-Fun photo booth
-Midnight balloon drop
-We're staying open till 3 am (as long as you're dancing)
-2 levels of ultra-chic booths and bars (3 total),
-Luxurious bottle service served by gorgeous servers
-Amazing sound system, incredible light shows, confetti production
-500+ fun guests wearing amazing costumes
-Chart-topping hits spun by Brian Mac and Co.
---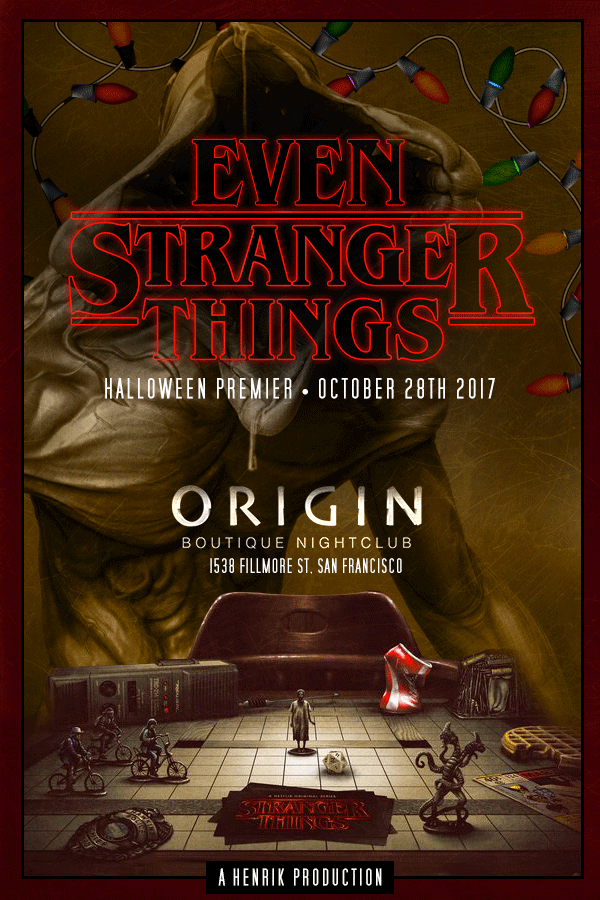 ---
FOR MORE INFORMATION I CALL OR TEXT 415.825.0338
---
ORIGIN - THE BOUTIQUE NIGHTCLUB I 1538 FILLMORE STREET
---
WEBSITE: WWW.ORIGINSF.COM I EMAIL: INFO@ORIGINSF.COM