Evanston Economic Development Summit 2012

Friday, May 18, 2012 from 8:30 AM to 11:30 AM (CDT)
Event Details

ECONOMIC DEVELOPMENT [ek-uh-nom-ik dih-vel-uhp-muhnt]
Definition - Progress in an economy, or the qualitative measure of this. Economic development usually refers to the adoption of new technologies, transition from agriculture-based to industry-based economy, and general improvement in living standards.
That may be the industry standard definition, but what does "Economic Development" mean to YOU?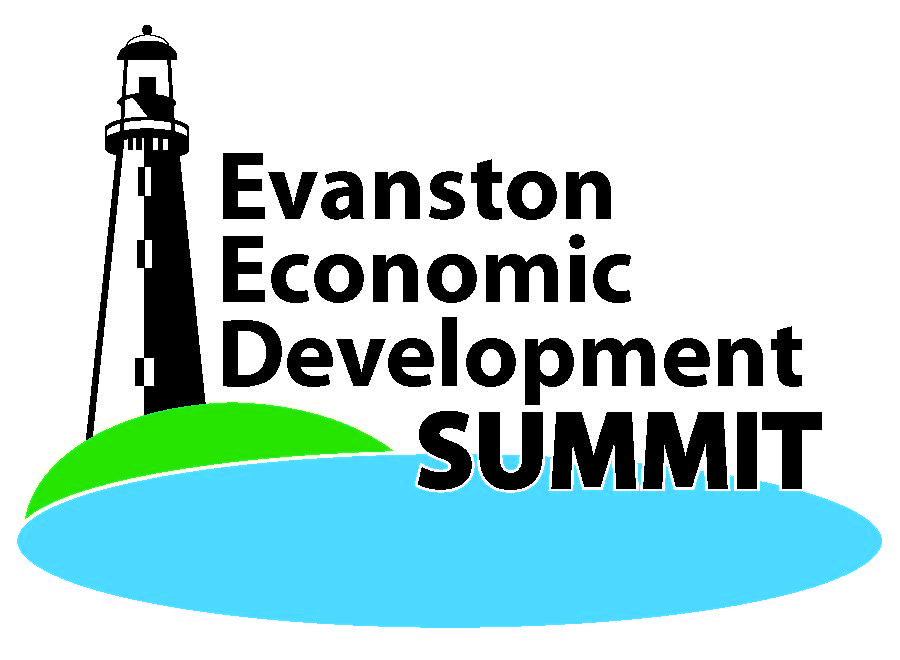 Join us for The City of Evanston's 2012
Economic Development Summit 
Friday, May 18th
8:30am - 11:30am
Lorraine H. Morton Civic Center
4th Floor Parasol Room
2100 Ridge Avenue
Evanston, Illinois 60201
HELP US DEFINE ECONOMIC DEVELOPMENT IN EVANSTON
We want your ideas about the best ways to implement the City's economic development goals and objectives through two rounds of "Focus Group" Break-Out Sessions.  The City and its economic development partners invite you to join fellow business owners, residents, and employees to identify ways we can work together to implement the adopted Economic Development Vision Statement and Plan (www.cityofevanston.org/economicdevelopment/).
Break-Out Session I – Five Targeted Industries:
Arts and Entertainment Venues
What role do the "arts" play in economic development? What are the best ways to engage the arts community in related economic development efforts?  How can the City and the community partner to advance common goals?
Health Care and Wellness
What can the City do help sustain and grow our health care industries? How can we better connect our health care and wellness businesses with other businesses within the City?
Technology-Based/Enabled Businesses and "Start up"
What can the City do to help strengthen and grow the entrepreneurial community? What resources are needed to nurture and develop the growing network of startups in Evanston?  How do we promote Evanston as a significant focal point for venture and angel capital investors?   What is Evanston's niche in the context of the greater Chicago startup "community"?
"Baby Boomer" Markets
What businesses and services should be in Evanston to support Baby Boomers - the United States' largest age group?   As the Baby Boomers begin to move into retirement age, what can the City do to help businesses and business districts become more "age friendly"?   What types of businesses and services would meet the demands of Evanston's Baby Boomers, while also appealing to other key population market/sectors:  young families, college students and the growing entrepreneurial/ "start up" workforce?
Water Related Industries – What can the City do to attract more water-based businesses, while still balancing sustainability goals?   What are the basic space and/or infrastructure needs for such businesses?  Which areas within Evanston and/or within communities that buy water from Evanston are best suited for water-related Industries?
Break-Out Session II – Traditional Growth Sector/Subsectors:
Retail Sector
Is Evanston positioned to benefit from the rapidly changing retail environment resulting from online merchants and shrinking space needs? How can the City work with the area business districts in promoting retention, expansion and attraction of desirable retail businesses?
Applied Skilled Industries (Manufacturing, Production, Construction)
What are the lead-types of applied skilled industries within Evanston?  Are there complementary businesses that we can attract that would benefit our existing business base and/or to support service needs at Northwestern, the City, the School Districts?
Office and Professional Services
How can we position ourselves for the next wave of office development? What are the current office space needs and does the City have enough office space based on current and expected future demand for each? Are there opportunities to retrofit existing building stock for modern users? How can the City assist real estate professionals in attracting new users to the existing space?  
Work Force Training Programs
How can the City, businesses, institutions, and non-profit agencies partner to better match the work force training programs with available jobs?   Are there certain base level skills that can translate to multiple employment sectors?  Are there sufficient opportunities for Evanston residents to access workforce training programs?
Educational and Non-Profit Market
What are the newest models of education, non-profit and city partnerships? How can the City partner with non-profit businesses to promote goals for economic development: job creation, increased revenues, enhanced of the quality of life? 
RSVP by Friday, May 11th
We hope you will join us for this event!  The City recognizes the importance of partnerships with local businesses, community leaders, and organizations in order to achieve our Economic Development goals, diversify our local economy, and create a more prosperous Evanston.
Please include your name, title, and company name and address, along with your preferred topic for each break-out session within the RSVP.  If you have questions regarding this event please contact us at:  economicdevelopment@cityofevanston.org or (847) 448-8100
WE LOOK FORWARD TO SEEING YOU ON MAY 18TH!
When & Where

Lorraine H. Morton Civic Center
2100 Ridge Ave
Parasol Room, 4th Floor
Evanston, IL 60201


Friday, May 18, 2012 from 8:30 AM to 11:30 AM (CDT)
Add to my calendar
Organizer
Evanston Economic Development Division