Building Black Wealth Through Homeownership !
About this event
The City of Evanston, Ebenezer AME & The Dearborn Realtist Board Present
COMMUNITY DAY 2020 in EVANSTON!!
Join us for a day of Wealth Building & Success Sessions:
Breakout Success Sessions:
- Homeownership - Steps to homebuying, tips on finding the right Real Estate Agent & pitfalls to avoid.
-Onsite mortgage Preapprovals
- Better Money Habits! - Savings, budget, credit, retirement, banking, Taxes & Income.
- Investor Bootcamp - Learn Investor formulas, tips and strategies to buy investment properties.
-Kids Investment Bootcamp - Getting our children ready....mindset, budget & savings.
-$5 billion dollar commitment!! Learn about Down Payment Program & closing cost grants to help buy.
- Careers in Real Estate & Mortgage Banking.
Raffles, Giveaways & Food!!
__________________________________________________________________________________________________________
Registration is open.
Sponsorship Packages_ Attention Business owners! Build your brand and expand your market.
#realtistnation #chicagorealtist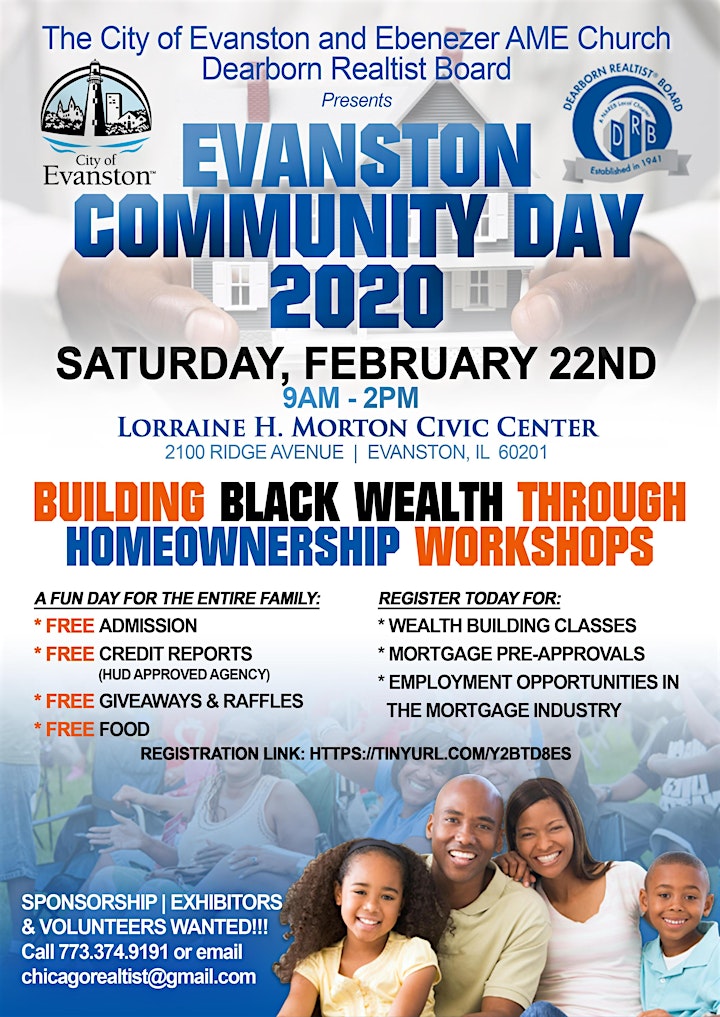 Organizer of Evanston Community Wealth Building Day
The Dearborn Realtist Board is the local chapter of the National Association of Real Estate Brokers (NAREB) which was formed in 1947 out of a need to secure the right to equal housing opportunities, regardless of race, creed, or color. Since its inception, NAREB has participated in and promoted meaningful challenges and supported legislative initiatives to ensure fair housing for all Americans. Today NAREB has 90 chapters located nationwide.