Evangel Cathedral: 2017 CAREER & COLLEGE DAY
Sales Have Ended
Ticket sales have ended
Thank you so much for registering. We are excited about this event and can't wait to see you there. STUDENT CHECKLIST~What to bring with you to the college fair SENIORS are encouraged to bring the following items to the College Fair to ensure they receive "ON-THE-SPOT" admissions and scholarship consideration: o Copies of transcript, if available for each college application you plan to complete o A copy of your SAT/ACT score (if taken) for each college application you plan to complete o Letter(s) of recommendation (at least 2 if available, addressed~ To whom it may concern ) o Personal Essay (if available) Reminder: Some of the colleges accept students who have a minimum 2.0 GPA and haven't taken the SAT/ACT JUNIORS and OTHERS should bring the following: o An unofficial transcript for colleges to review o 10 to 12 labels with your name, address, school, grade, current GPA and intended major to be given to each college you want to send you additional information. Transfer students should bring the following: o An unofficial transcript for colleges to review o Information regarding each of the colleges represented at the college fair o Application fee waivers for many of the colleges represented o ACT/SAT information and Financial aid information C.A.L.M Ministry Team
Sales Have Ended
Ticket sales have ended
Thank you so much for registering. We are excited about this event and can't wait to see you there. STUDENT CHECKLIST~What to bring with you to the college fair SENIORS are encouraged to bring the following items to the College Fair to ensure they receive "ON-THE-SPOT" admissions and scholarship consideration: o Copies of transcript, if available for each college application you plan to complete o A copy of your SAT/ACT score (if taken) for each college application you plan to complete o Letter(s) of recommendation (at least 2 if available, addressed~ To whom it may concern ) o Personal Essay (if available) Reminder: Some of the colleges accept students who have a minimum 2.0 GPA and haven't taken the SAT/ACT JUNIORS and OTHERS should bring the following: o An unofficial transcript for colleges to review o 10 to 12 labels with your name, address, school, grade, current GPA and intended major to be given to each college you want to send you additional information. Transfer students should bring the following: o An unofficial transcript for colleges to review o Information regarding each of the colleges represented at the college fair o Application fee waivers for many of the colleges represented o ACT/SAT information and Financial aid information C.A.L.M Ministry Team
Description
Get Ahead In the Game of Life: Career and College Readiness
What is a College Career Fair or Day?
A college fair is an event in which college admissions representatives come together at a school, community-gathering place to meet one-on-one with high school students (and parents) to talk about the student's plans for colleges and career readiness; and answer questions of interest in their college or university.
Is a College Fair Worth Your Time?
We have taken this question into deep thought. The C.A.L.M ministry team has designed this event to meet your practical needs as a parent and student. Our 5-Point Plan;
Career Pathing: We've made it interactive by having experts in various fields and industries share their career pathing experience from college to executive desk. We also have individual that will present on small business startup and trade careers (i.e. Plumbing, Electrical, and HVAC).

College Readiness: We've ask as many colleges and or universities to offer on-the-spot admission, housing, financial aid and scholarships.

Information (Practical Advice): We've created subject specific workshops to help you get the most out the event. Learn how to accomplish your plans with experts.

Resources: Every registered participant will receive a wealth of free materials; career apptitude and personality DIY assessments, scholarship listing, financial materials, resource program guide, etc.

Experience: We plan a day where you can get a taste of the college experience with bands, entertainment and more.
So, is it worth your time?
We think so. You will receive a wealth of information and resources. Close the gaps and get started right.
Who should attend?
We encourage all 8th- 12th graders from the D/M/V surrounding area to attend and their parent and/or guardian(s). Bring your neighbors and friends.
---
CAREER & COLLEGE DAY OF EVENTS
Doors open @ 9:00AM (sharp)

Opening Ceremony w/ Keynote Speaker (9:30AM-10:30AM)

Networking with College Recruiters (10:30AM to 2:45PM)

Workshop Block I: Career Pathing (11:00AM to 12NOON)

Workshop Block II: How To... (1:00PM to 2:00PM)

General Session Wrap-Up at 3:00PM
Workshop Block I Topics: Career Pathing (Participants Select One Topic)
Building A Career in Sports

Building A Career in STEM professions

Building A Career in the Military

Building A Career in the Music Industry

Building A Career in Ministry

Building A Career in Entrepreneurship

Building A Career in Law

Building A Career in Human Resources

Building A Career in the Arts/Theatre

Building A Career in Politics (Congressperson, Councilman)

Building A Career in the Trades (Plumbing, Electrical, Heating & Air, Mechanic)

Building A Career in Medicine

Building A Career in Business

Building A Career in Education
Workshop Block II Topics: How To… (Participants Select One Topic)
How To Apply And Understand Financial Aid

How To Apply And Win Scholarships

How To Help Your Student Prepare For College Life (Parents Only)

How To Survive College Life (Students Only)

How To Find Alternative Solutions To Pay For College

How To Plan For College (Student Career Coaching)

How To Get Started In A Trade And Apprenticeship

How To Start A Business- Even Now
Lunch: 12Noon-1:00PM
Local DMV Food Trucks (Lunch FREE for STUDENTS who register BEFORE MARCH 15 (maximum 500.) A Student discount will be offered if you purchase ticket online.
Entertainment: TBA
Band/Drumline

Cheer Team

Step Show

and more

Meet Our Keynote Speaker: Dr. Joey Jones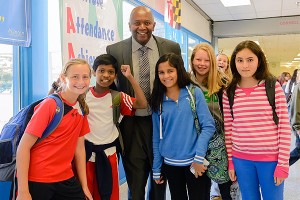 Dr. Joey N. Jones, a native of Reidsville, North Carolina has served as an award-winning educator for over 25 years, focusing on the development of youth as a middle school principal, high school administrator, technology education teacher, curriculum writer, mentor, minister, coach, and tutor. He earned undergraduate degrees from North Carolina A&T State University in Greensboro, North Carolina and a Ph.D. degree from the University of Maryland, in College Park, Maryland. Among numerous awards and recognitions, he serves as principal of a blue ribbon school and was selected to participate in the Washington Post's Vincent E. Reed Principals Leadership Institute in Washington, D.C. 100 Percent The Power of Giving Your All is his first of many motivational/inspirational books. Dr. Jones is married to Kinta C. Jones. They have three daughters and reside in Silver Spring, Maryland.
---
Business Sponsor- Platinum
Event Sponsor (Please call us.)
Business Sponsors-Gold
We are still seeking sponsors.
Business Sponsors-Silver
C.A.P Solutions, LLC
Consumers Win! Internet Shopping Channel
Academic Management Group, LLC

Business Sponsors-Bronze
Reema Consulting Services, Inc.