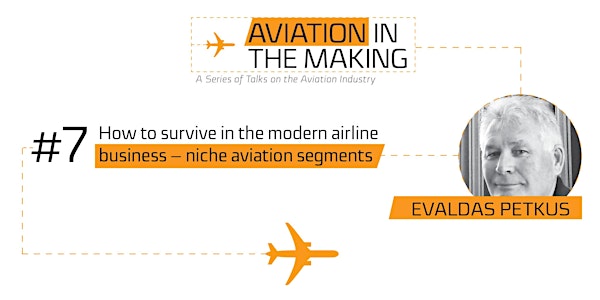 Evaldas Petkus: How to Survive in the Modern Airline Business – Niche Aviat...
Event Information
Location
Dariaus ir Girėno g. 21
21 Dariaus ir Girėno gatvė
02189 Vilnius
Lithuania
Description
< Lietuviškai skaitykite žemiau >
Evaldas Petkus

: How to Survive in the Modern Airline Business – Niche Aviation Segments

Short lecture plan:
1. Different kind of airline business;
2. Future perspectives in aviation worldwide and in the Baltic region;
3. Airline's "DOT LT" experience finding own way in the aviation:
– History of the bad and good;
– Mistakes analyses;
– Enhancing the best success;
– How to find the best airline's structure;
– Pros & cons of the model;
– Future threats.
About lector
Evaldas Petkus is the head of DOT LT since 2003. He is also a professional pilot and navigates Airbus 320 and ATR42/72 as the master of the plane and instructor as well. In 1986 he was graduated from Aktiubinsk civil aviation institute and received the licence of the pilot. In 2002 he was graduated from Kaunas technology university Bussines management master's degree.
Part of AVIATION IN THE MAKING / A Series of Talks on the Aviation Industry
The current situation within the world of aviation is very optimistic, although there are a number of contradictions. The big players are buying out the small ones, challenges within aviation security are on the constant increase, and new areas of operation and regulation come into play as drones and commercial space flight become a reality.
Much strategic thinking about the future of air transport needs to be accomplished as it predetermines the economy within the entire region. International Air Transport Association predicts that air travel will double within the next 20 years and freight air transport is already one of the fastest growing sectors of the economy within the European Union. What do aviation leaders think of such predictions?
Kazimieras Simonavičius University and the company Friendly Avia Support have joined forces with the intention of concentrating ideas and deepening the knowledge of air transport by organising a series of public discussions about the industry with its leading managers. Sixteen meetings will take place during the 2017-2018 academic year in which distinguished aviation company managers will share their views and insights on the situation within various fields of air transport and evaluate the region's airport systems within a global context.
<< >>
Evaldas Petkus -

Kaip išgyventi šiuolaikiniame oro linijų versle - nišiniai aviacijos segmentai
Trumpas paskaitos planas:
1. Skirtingi oro linijų verslai
2. Ateities aviacijos perspektyvos pasaulyje ir Baltijos regione
3. Oro linijų DOT LT patirtis, atrandant savą nišą aviacijoje"

– Istorija gerų ir blogų patirčių
– Klaidų analizė
– Sėkmės siekimas
– Kaip atrasti geriausia oro linijų struktūrą
– Modelio pliusai ir minusaiAteities grėsmės
Apie lektorių
Evaldas Petkus yra aviakompanijos DOT LT UAB generalinis direktorius nuo įmonės įkūrimo 2003 metais. Jis yra profesionalus pilotas ir tęsia skraidymus kaip orlaivių Airbus 320 ir ATR42/72 kapitonas bei instruktorius. Aukštąjį išsilavinimą bei piloto licenciją įgyjo 1986 metais baigdamas Aktiubinsko civilinės aviacijos institutą. 2002 metais baigė Kauno technologijos universiteto verslo vadybos magistro studijas.
Pokalbių apie aviacijos verslą ciklas

"

AVIATION IN THE MAKING

"
Pastarojo meto oro transporto verslų prognozės itin optimistinės, tačiau aviacijos pasaulyje daugėja ir prieštaravimų. Mažuosius supirkinėja dideli žaidėjai, plečiasi iššūkių civilinės aviacijos saugumui spektras, gimsta visai naujos veiklos sritys: bepiločiai orlaiviai, komercinės kelionės į kosmosą.
Apie oro transporto ateitį būtina mąstyti strategiškai, jis lemia
viso regiono ekonomikos būklę.
Tarptautinė oro transporto asociacija prognozuoja, kad per 20 metų keleivių oro transportu skaičius padvigubės. Krovinių pervežimai oro transportu jau dabar yra viena iš greičiausiai augančių ekonomikos sričių Europos Sąjungoje.
Ką apie šias prognozes mano aviacijos lyderiai?
Siekdamas sutelkti idėjas ir pagilinti aviacijos verslo žinias Kazimiero Simonavičiaus universitetas kartu su įmone "Friendly Avia Support" organizuoja atvirų susitikimų su aviacijos atstovais ciklą. 2017 - 2018 metais vyksiančiose 16-oje paskaitų, seminarų ir diskusijų oro transporto būklę nagrinėja, regiono oro uostų sistemą globalios aviacijos kontekste vertina bei įžvalgomis dalinasi žinomų aviacijos įmonių vadovai.
--- --- --- --- --- --- ---
Registration required / Privaloma registracija #AviationIndustry #KSUniversity #AviaintheMaking
More info / daugiau:
+370 614 75790
rimvydas.vitenas@ksu.lt
http://www.ksu.lt/aviainthemaking/
Date and time
Location
Dariaus ir Girėno g. 21
21 Dariaus ir Girėno gatvė
02189 Vilnius
Lithuania