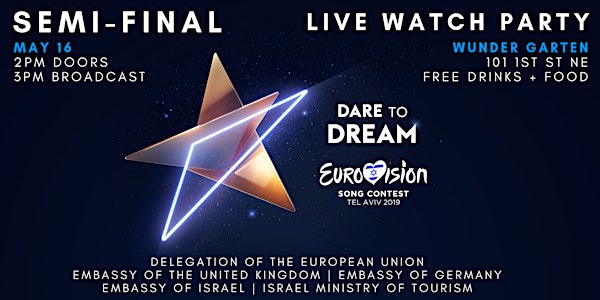 Eurovision 2019 Semi-Finals - LIVE!
When and where
Location
Wunder Garten 1101 First Street Northeast Washington, DC 20002
Description
TV's campiest, wildest, and most spectacular live event is back! Eurovision Song Contest is back for its 64th year in Tel Aviv, Israel. 41 different countries perform original songs and battle it out for the iconic glass microphone trophy, as well as the chance to host next year's contest. And it all happens LIVE.
You don't need to Dare to Dream that you're in Tel Aviv, because the Embassy of Israel, the Embassy of Germany, the Embassy of the UK, the Delegation of the European Union, and Israel Ministry of Tourism are bringing Eurovision to you. Join us Thursday, May 16 for a live broadcast of the second Semi-Finals.
Entry is free. First 100 registered guests to arrive and present their RSVP get drinks on the house! Drink specials, food truck, and more!
About Eurovision Song Contest:
The 64th Eurovision Song Contest airs live from Tel Aviv, Israel from May 14-18, 2019.
The brainchild of Marcel Bezençon of the European Broadcasting Union, the Eurovision Song Context was originally designed to test the limits of live television broadcast technology. The first Contest was held in May, 1956, when seven national participated, and has grown into a true pan-European tradition.
In 2015, the Eurovision Song Contest celebrated its 60th anniversary. The BBC hosted a grand anniversary show in London, featuring over a dozen former participants. And to honor the country's Eurovision Song Contest commitment for over 30 years, the organizers admitted Australia to participate for the first time ever.
ABBA is the most successful Eurovision Song Contest winner. The Swedish pop band won the contest in 1974 and has enjoyed phenomenal success ever since, despite officially splitting up in 1983. You may have also heard of a little singer named Céline Dion, who won for Switzerland in 1988.
Why Israel?
Israel made its debut in the Eurovision Song Contest in 1973 and it was the first non-European country that was granted permission to participate in the event. The EBU allowed Israel to participate since the country's broadcaster was already one of its members.
Dana International made headlines around the world in 1998 when she became the first transgender singer to win the Eurovision Song Contest. Israel has qualified for every Grand Final since 2015 In 2018, Israel won the Eurovision Song Contest for the fourth time, with Netta receiving 529 points for her empowering anthem TOY.