Description
On the 20th of April, in the fantastic venue of the Rijksmuseum in Amsterdam, Europeana Fashion is organising in collaboration with the Europeana Foundation, Platoniq and Rijksmuseum a co-creation workshop.
We invested so much time and resources in aggregating and publishing digital fashion objects online, but there are not many concrete ideas yet on how to exploit and valorise this content (not only from a commercial point of view). We think that having a focus on developing and prototyping new ideas on this, and having also a validation from a business modeling perspective is a good "added value" that we can offer to our fellow GLAM institutions.
That's why we decided to invite fashion GLAMs, brand archives, creative industry professionals, but also developers, UX designers and users, in order to share, evaluate and refine ideas and concepts. The result of this process will provide fresh perspectives and useful inspiration for the valorization and exploitation of digital fashion content. The most promising ideas will be then prototyped and moved forward to the next development levels.
More information on the co-creation methodology can be found here.
Here is an outline of the workshop roadmap and below a draft program of the day: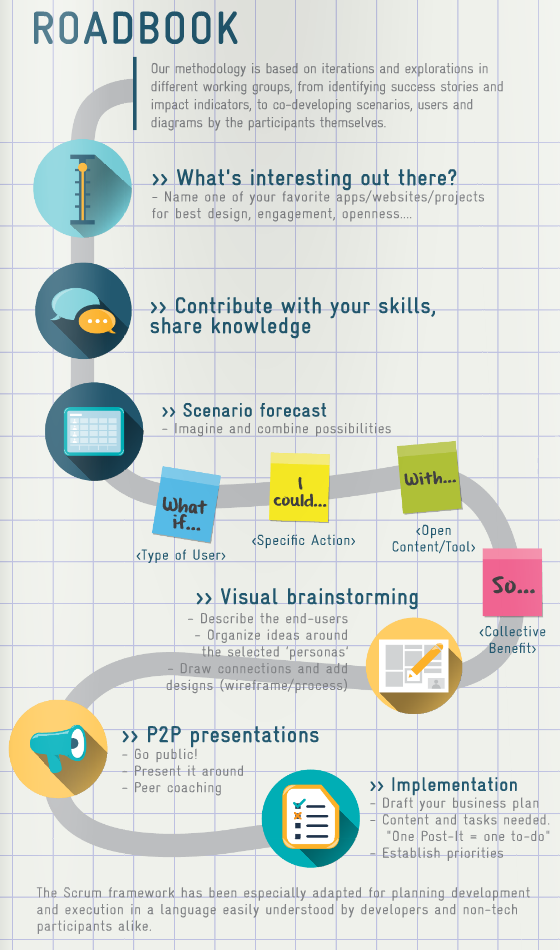 Agenda:
09:15 Registration in Atrium West (main entrance)
09:30 Welcome by Lizzy Jongma / Breaking the ice: who's who, map of skills
09:45 Introduction of the methodology and materials / Rules of the space.
10:00 Appetizer! What's out there? Inspirational success and failure stories. Let's agree on criteria.
10:45 What if? Structured scenarios for classification, combination and selection of ideas in the room

12:00 Lunch
12:45 Tour of the exhibition "Catwalk"
13:30 Dotmocracy / Clustering. Voting the best ideas.
14:15 Prototyping best ideas: define personas and collage around them. UX assessment
15:15 Prepare Pitch
15:30 Pitches / Peer reviewing / Feedback madness
16:15 Implementation of minimum viable products. Prepare for Agile development cycle
17:15 What's next. Prepare 2 minutes pitches for presentation at the Symposium
17:45 Closing of the workshop
We remind you that registration is mandatory and places are limited.