About this Event
No ... this wasn't inspired by Game of Thrones... but... I did LOVE the show.
Join wineLA and "Tastes of Italy" for a highly planned and organized trip to NORTHERN ITALY, SLOVENIA & CROATIA – Wine Without Borders, May 10-17
At wineLA - we work hard to make unique experiences, classes and yes, wine travel. I have traveled all over the world and at no other point do I learn nor understand more... the people, the place, the history, the smell, the taste, the memories... are deep. This will be an exceptional outing... join us.
Limited to 16 guests
INSPIRATIONAL WINES OF NORTHERN ITALY, SLOVENIA & CROATIA
IN MAY 2020, TAKE AN IMMENSELY FUN TOUR TO DISCOVER THE BEAUTY OF THE JULIAN ALPS AND THE ISTRIAN COAST, TRACING THE ARC OF BORDERS ACROSS NORTHERN ITALY, SLOVENIA, AND CROATIA. SUPERB FOOD AND WINE IN FABULOUS SETTINGS, GLORIOUS SPRING SUNSHINE, AND WARM WELCOMES AWAIT YOU AT EXCEPTIONAL WINE ESTATES.
CELEBRATED WINEMAKER AND PARLIAMENTARIAN MANLIO COLLAVINI FIRST INTRODUCED ME TO THIS REGION, NEWLY INSPIRED BY THE OPENING OF THE BORDERS IN THE 1990S. JOIN ME AND WINELA'S IAN BLACKBURN TO DISCOVER THE DIVERSE CULTURE, FABULOUS FOOD AND WINE OF THREE COUNTRIES, ALL WHILE STAYING IN SPECIALLY SELECTED LUXURY HOTELS ALONG THE COAST.
Tour itinerary
Day 1 – Saturday 10th May 2020 Wine region of Karso & Portopiccolo
Meet us at Venice Airport and transfer to the Friuli region to our first winery, Kante. Edi Kante works vineyards on the extraordinary windswept limestone Karso plateau making wonderful wines from international and local grape varieties such as Vitovska. Edi's own art works adorn the wine labels of his best wines. Your luxury 5-star accommodation, Falisia is a short drive away at Portopiccolo. Check in to your room overlooking the marina and enjoy the sea views. The hotel has a beach club and one of the best spas in Italy. This evening gain further insight into the wines of the Karso region over dinner in the marina.
Day 2 – Sunday May 11th 2020 Wine region of Colli Orientali del Friuli & Cividale del Friuli
Discover the wines of the Colli Orientali with a visit to Ronchi Di Cialla. The Rapuzzi family are best known for saving the Schioppettino red grape variety from extinction but their wonderful sweet wine Picolit is no less special. These wines are so good they were served to the Chinese President in the Presidential palace in Rome. Enjoy a warm family welcome into their home to taste magnificent older vintages accompanied by sharing platters. After a light lunch, visit beautiful Cividale del Friuli on the Natisone River founded by Julius Caesar. The Unesco heritage city was founded as Forum Julii after which the Friuli region takes its name.
Day 3 – Monday May 12th 2020 Wine region of Collio & Udine
Visit the Bishops Palace in Udine, where Giambattista Tiepolo created some of his finest work before free time to shop in this beautiful Venetian city center. Enjoy lunch at the Collavini winery to try award winning wines with the family including the sparkling Ribolla Gialla and Broy. Manlio Collavini represented the region in the Italian Chamber of Deputies and is known as the Lord of Ribolla Gialla, the local white grape variety which continues to gain more fans internationally. On return to Falisia this evening, visit the spa or join us to walk along the coast to Duino Castle.
Day 4 – Tuesday May 13th 2020 Wine region of Brda & Smartno
Check-out from the hotel and drive into Slovenia to visit the cozy hill top town of Smartno, which has stunning views over the Brda Wine Region. Continue to Medot winery run by Simon Simcic whose grandfather helped transform Brda region wine during the 1950s when he was in charge of the Wine Cooperative. Enjoy lunch at the family's castle overlooking the present border to enjoy aged sparkling Rebula. This afternoon check in to the luxury 4-star Savoia Excelsior hotel in Trieste, a magnificent imperial hotel just off the main square created to receive Australian Emperor Franz Josef whose apartments can still be visited. Enjoy the views over Trieste seafront from your deluxe room balcony.
Day 5 – Wednesday 14th 2020 Trieste
This morning enjoy a walking tour through the culture of Trieste including its literary cafés. Trieste is famous for its wonderful coffee with a choice of more than 60 ways to take it at Caffe degli Specchi in the main square. The afternoon is free to enjoy shopping or further exploring the city's art and culture. Alternatively enjoy an optional walk along the Trieste shoreline. This evening enjoy a wonderful dinner high in the city's hills at historic restaurant founded in 1864, still one of the best places to enjoy the city's traditional gastronomy.
Day 6 – Thursday 15th 2020 Wine region of Istria & Motovun
Check-out from the hotel and drive into Croatia to visit the hill top town of Motovun, with stunning views of central Istria. Continue to the winery of Roxanich created by Mladen Rožanić and enjoy some of Croatia's best biodynamic wines over lunch including the Istrian Malvasia, aged in large wooden vats. Arrive in Rovinj, a former Venetian outpost dramatically perched on the Adriatic coast to check in to your luxury 5-star accommodation at the Monte Mulini hotel, which has established itself as one of Croatia's top hotels. It enjoys a beautiful waterside location, being set on one side of Rovinj's bay and provides the highest standards of service and facilities from infinity pools with seawater to two fine dining restaurants, particularly the Wine Vault one, that hosts the largest wine list in Croatia.
Day 7 – Friday 16th 2020 Wine region of Istria & Pula
Visit Matošević winery founded by Ivica Matošević considered Croatia's best wine maker by many, who champions local Istrian grape varieties Malvasia and Teran. Afterwards continue to Pula, which preserves a wealth of Roman ruins. Enjoy a tour of the city and time free to shop and explore the city. On return to Rovinj, enjoy dinner paired with Istrian wines over dinner on the seaside.
Day 8 – Saturday 17th 2020 Departures
You may return to Venice or extend your stay to further explore Croatia and the Dalmatian coast.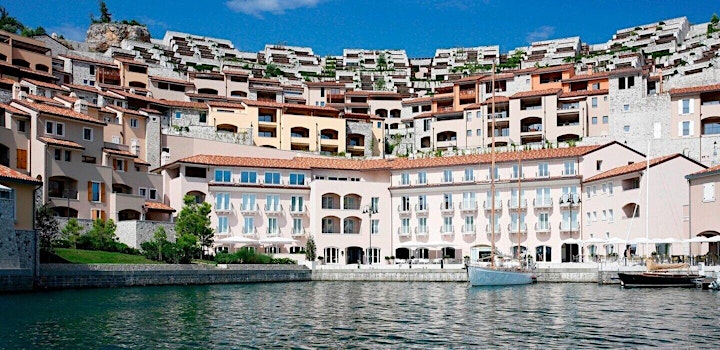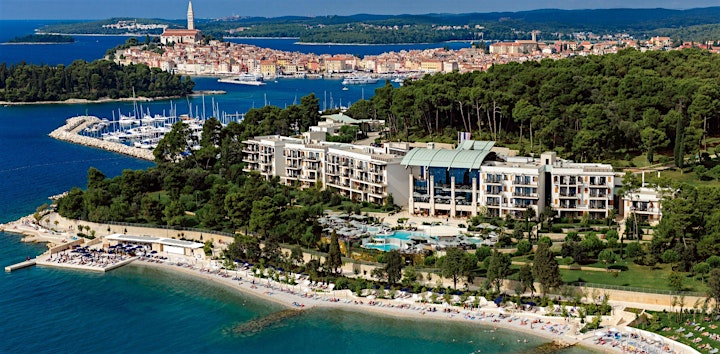 Inclusions
· 3 "Meet the owners" exclusive winery visits in Italy
· 2 "Meet the owners" exclusive winery visits in Slovenia
· 2 "Meet the owners" exclusive winery visits in Croatia
· Private guided tour of Udine and Tiepolo's frescoes
· Coffee and culture private guided tour in Trieste
· Private guided tour of Cividale and its UNESCO World Heritage Site
· Private guided tour of Smartno
· Private guided tour of Pula and its Roman amphitheatre
· All tickets and entrances tied to the itinerary
· Services of wine host and LA WINE founder Ian Blackburn
· Services of wine host and Tastes of Italy founder William Goodacre
· Private coach transfers throughout with water onboard
· 7 carefully selected meals with wine and mineral water (4 lunches, 3 dinners)
· 3 nights' accommodation at 5-star Falisia Portopiccolo Resort & SPA
· 2 nights' accommodation at 4-star Savoia Excelsior Palace, Trieste
· 2 nights' accommodation at 5-star Monte Mulini hotel, Rovinj
· Daily breakfast and porterage at all hotels
Price:
$3995 per person sharing a room
$4945 per person sole occupancy of a room
Amounts are in US DOLLARS
Sign up for interest list - SIGN UP ENDS MARCH 1ST
An agreement will be emailed - you will have 48-72 hours to sign and deposit.
The first 16 to pay - will be entitled to go. Please do not book air until you are confirmed.
All that sign up before March first will be invited to a special gathering - a meet a greet - as we learn about the regions, the wines, the history.... and ask questions about who, what, where, when... Don't hestitate - our trips sell out - and this trip has a large list of interest.