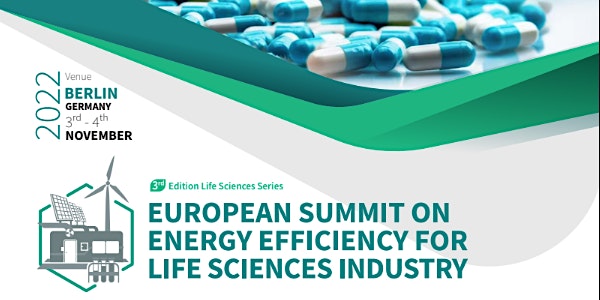 European Summit on Energy Efficiency for Life Sciences Facilities
European Summit on Energy Efficiency for Life Sciences Facilities
When and where
Location
Berlin, Germany TBA 1050 Berlin Germany
About this event
The Energy Efficiency summit is a hybrid event that will be physically held in Berlin. The conference's goal is to bring together decision-makers from the pharmaceutical industry for a two-day business networking event. The attendees will have the opportunity to witness a program that focuses on insightful case studies and panels which will promote in-depth exchanges and discussions that address the industry's challenges.
The pharmaceutical industry has been in the spotlight throughout the last couple of years. The industry must ensure a steady supply of regulated drugs and medical devices. The production and manufacturing stage requires a high level of cleanliness and a sterile environment. To ensure a sterile and clean manufacturing environment, companies implement systems such as HVAC, temperature control, and process equipment, these systems account for 50-75% of the facility's total energy demand. Recent studies showed that the life science industry is 55% more emission-intensive than the automotive industry. Pharmaceutical industries need to certify that their facilities are energy efficient to comply with future regulations. Additionally, due to the constant instability in energy prices, having energy-efficient facilities will benefit as a cost-minimizing factor.
The conference is aimed at supporting the life sciences industry by creating a roadmap for new technologies that ensure energy efficiency in next-generation facilities/plants. The energy and engineering directors from the top pharmaceutical and medical device manufacturing companies will discuss the solutions associated with energy-efficient facilities such as the optimization of the HVAC system, efficient process systems, green energy transition, air quality/filtration, and temperature monitoring, cleanroom efficiency and others.