Description
It has been a century since the Baltic nations of Estonia, Latvia, and Lithuania first gained their independence. Suffering the double occupations of Nazi Germany and the Soviet Union, these three countries have emerged since the fall of the Iron Curtain as members of the European Union and NATO and models of successful transition in the post-Soviet sphere. But Russian revanchism since the annexation of Crimea has placed the Baltic region on edge, and exposed it as 'NATO's Achilles Heel.' Just how serious is the Russian threat to the Baltic region? What is the extent of Russian malign influence in the region? What can be done about it? Join us for a panel discussion from experts and practitioners to find out more.
Doors open at Juju's at 6:00pm and the panel discussion will begin at 6:30pm. The formal program will be followed by Q&A and social hour(s) at the bar.
Speakers
Dr. Alexander Lanoszka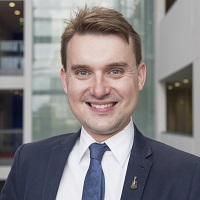 Dr. Alexander Lanoszka is a lecturer at the City, University of London's Department of International Politics and non-resident fellow at West Point's Modern War Institute. His research on alliance politics, theories of war, and European security has appeared in International Security, Security Studies, International Affairs, Survival, Parameters, and other academic journals. Alexander holds a BA from the University of Windsor and a PhD from Princeton University.
Aliide Naylor
Aliide Naylor is a British journalist and editor, and the author of the forthcoming book 'The Shadow in the East: Vladimir Putin and the New Baltic Front,' to be published in September, 2018 with I.B. Tauris. She spent 3-4 years based in Russia, and has written extensively for New Statesman, the Guardian, New Eastern Europe, Global Voices, POLITICO Europe, The Moscow Times, and Russia! Magazine.
Thomas Sætherhaug Pettersen

Lieutenant Thomas Sætherhaug Pettersen of the Telemark Battalion has served in the Norwegian Army since 2003. He has served in a variety of units, including the Intelligence, Armor, and Telemark battalions where he focused mainly on reconnaissance. Thomas deployed to Afghanistan in 2005, 2006, and 2008 as an enlisted soldier and second lieutenant. From 2009-2012, he attended the Norwegian Military Academy. In August 2017, Thomas deployed to Lithuania as part of NATO's Enhanced Forward Presence, where he served as second-in-command of the Norwegian Armour Company's second rotation.