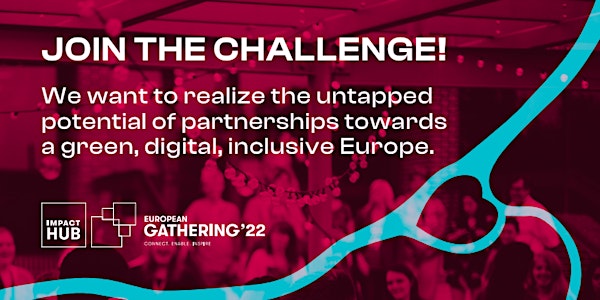 European Gathering'22 - Belgrade
Impact Hub Network European Gathering
When and where
Location
Impact Hub Belgrade 21 Makedonska 11103 Beograd Serbia
About this event
Impact Hub Network European Gathering
As we are witnessing daily challenges in our European region, we believe our values of trust, courage and collaboration are best when in practice - some conversations are just better when in person. It's been three years since the last physical Regional Gathering in Odesa, so how about we take our collective impact to the next level by doing business together during the next Impact Hub's European Gathering.
🎉 Save the date, grab your tickets, and join us on September 14th, 2022 in Belgrade, Serbia. 🎉 Check out the FULL AGENDA 👉 HERE
Early bird tickets will be available at a discounted price of EUR 210 until 15 July, but as their number is limited may sell out before then - so don't wait!
------------------
Setting the tone
We shift to a system of change: how might we realize the untapped potential of existing partnerships at local and European level towards a greener, digital, more inclusive economy?
We designed this year's regional Gathering to build our internal capacities as Makers of the network and designed its objectives around what is set out by the 🌿European Green Deal. We will get to reflect on how conflict resolution brings empathy and dialogue needed to amplify impact, which we can achieve only collectively and not in isolation.
And all of these discussions, networking and business opportunity building will happen in Belgrade, during the 🏳️‍🌈EuroPride week. Join us to get inspired, build relationships, develop your skills, and explore Belgrade through conversations about what it means to be an #impactmaker💪
Let's bring together the community of Impact Hubs throughout Europe towards one common goal we aim to achieve in the heart of the Western Balkans - create a change for a better world our future generations can proudly inherit.
What's in it for me?
Regardless of your role within the Impact Hub network, we will make sure that you will get the most out of this experience!
At the European Gathering in Belgrade you will be
Building team capacities and Learning from peers
Joining outdoor activities to discover solutions to the urban challenges with local community
Meeting potential new partners, investors and collaborators to build trans-local solutions
Connecting with the EuroPride 2022 's team for conferences, and networking events
Party in Belgrade
Who can attend?
Our invitation is for European Region Impact Hubs to send makers that usually do not have the opportunity to attend the Global Gathering and those in positions that would benefit most from an increased inter-Impact Hub collaboration or learnings about the topics which will be discussed in the agenda. You can send as many members of your team as you wish - tickets are allocated on a first come first serve basis. This year we are also extending the invitation to some of your Community members (see below).
Do you have a ⭐ Rock Star Maker ⭐ in your community working towards green transition?
We are inviting the best rocking members from any European Impact Hub to join us for a full day of activities during the European Gathering. Nominate a Startup Founder in your community to join for free, while you will earn a 50% discount on one Maker's ticket as well!
Click here for visuals and comms options we prepared for you to share this call with your community.
👉 IMPORTANT: IF YOU ARE BRINGING A ROCK STAR AND WANT TO GET YOUR 50% DISCOUNT IN ONE OF YOUR MAKERS TICKET, REACH OUT TO belgrade@impacthub.net, SO THEY CAN GIVE YOU THE DISCOUNT CODE BEFORE YOUR PURCHASE.
Startup Founders will be:
Attending 1:1 meetings with investors
Meeting with startup peers
Pitching in the Demo Day with key business experts, stakeholders and investors
Joining the Gathering's official closing event with music, food and drinks
On Friday 16 September, 5 of the selected best European startup founders will also have the chance to join a hybrid Demo Day (in person and live streamed) and pitch to a jury of handpicked investors and ecosystem partners.
Check out the FULL AGENDA 👉 HERE
Agenda Overview
Day 1 | Wednesday, 14 September
EU Cluster Meeting
Welcoming at Impact Hub Belgrade & Group Dinner
Day 2 | Thursday, 15 September
Opening ceremony
Maker innovation swap & hackathon
Day 3 | Friday, 16 September
Maker-led workshops to connect, enable & inspire
Startup pitches
Closing celebrations
Day 4 | Saturday, 17 September [OPTIONAL]
Join us to explore the activities planned for the Belgrade EuroPride 2022
This schedule may be subject to minor changes.
Full details of the workshop content to be released soon!
Where?
Impact Hub Belgrade: our space will be the main meeting point for the full 2.5 days. Central location with a 550 sqm space with a terrace, 3 separate meeting rooms and various possibilities for face-to-face or hybrid meetings. Photo gallery HERE
Kompot: Centar za delikatesna istraživanja - association of citizens founded with the aim of supplementing the gastronomic offer in our city through modern, creative and educational ways. The space is located in an attractive location, in Savamala.
Dorćol Platz - a multidisciplinary art commune open to all creative people, a meeting place for all those who are committed to cultural and social change.
Drugstore - a DIY cultural venue in Belgrade, set in the space of the former slaughterhouse, with brutal interiors and intense industrial atmosphere. A go to place for EuroPride partying.
Tickets & prices
A limited number of Early bird tickets will be available at a discounted price of EUR 210, until 15 July or until we reach the cap of 35 tickets sold. After that, the regular price of EUR 250 will apply up to August 31st. If possible, tickets at a Late fee of EUR 300 will be on sale during the first half of September.
For Rock Start startup founders, only 15 tickets will be available for free.
Tickets include:
Full access to the gathering's spaces and contents for 2.5 days
Coffee breaks and snacks
Lunch breaks
2 Dinners, on Wednesday 14th and Friday 16th
Final party
Theater play "Macho Men" [RSVP only]
Queen Real Tribute Band LIVE concert [RSVP only]
Tickets don't include:
Traveling costs
Accommodation
Dinner on Thursday 15th
Accommodation:
Hostels and Apartments:
AirBnB/Stan Na Dan [local version of AirBnB] prices cca EUR 40/night
ArkaBarka River floating hostel, prices cca EUR 40/night
SanArt Hostel
Hotels nearby:
How to reach us
From the airport to the city center:
Taxi or CarGo, the local Uber (30min, EUR 15)
Minibus line A1 to Slavija Square (30 min, EUR 2,50) 15 min walk to the Hub
To move around the city:
By foot - our recommendation is to walk around the city rather than use any transportation and the full Gathering program will be available at walking distance!
Taxi or CarGo, the local Uber
Public transport (here you can take a look at stations and routes of public transport, and ticket prices)
Getting to Belgrade
By air: There is only one international airport in Belgrade (BEG), "Nikola Tesla Airport" – 20km from the city center. You can get from the Airport to the city center by taxi services, CarGo (local Uber), Bus or Minibus line - All explained in "How to reach us" section.
By bus: Belgrade is well served by coaches and they are the cheapest means of transportation within the city and all towns in Serbia. Belgrade is connected by bus to almost every European country. Tickets can be purchased at the main bus station (Glavna autobuska stanica). Check Belgrade Bus routes from and to Belgrade here.
By car: If you prefer to get to Belgrade by car, you may find these tips useful.
Check out the FULL AGENDA 👉 HERE
IF YOU HAVE ANY QUESTION, PLEASE CONTACT THE IH BELGRADE TEAM THROUGH: belgrade@impacthub.net
Cancellation policy: https://docs.google.com/document/d/1zhgUbvUycb6Tzg2y58qyHCIahS3J08DUUnvoYF92894/edit?usp=sharing
See you and your team in Belgrade!!