European Book Club - TIES ("LACCI")

Tuesday, September 19, 2017 from 6:00 PM to 8:00 PM (CDT)
Event Details
European Bookclub - TIES ("LACCI")
The discussion in English will be moderated by Prof. Alessia Ricciardi (Northwestern University)
Tue, Sep 19, 2017 at 6PM
Italian Cultural Institute
500 N Michigan Avenue, Suite 1450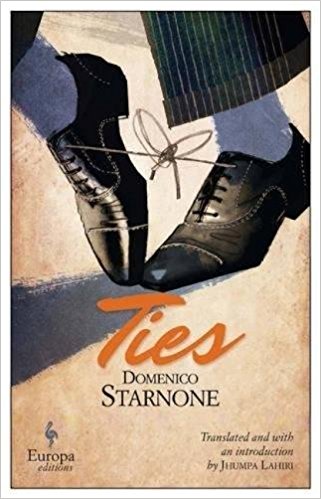 Translated by Pulitzer Prize-winning author Jhumpa Lahiri, Ties is a compulsively readable and provocative novel about marriage and family by one of Italy's bestselling novelists.
Like many marriages, Vanda and Aldo's has been subject to strain, to attrition, to the burden of routine. Yet it has survived intact. Or so things appear. The rupture in their marriage lies years in the past, but if one looks closely enough, the fissures and fault lines are evident. It is a cracked vase that may shatter at the slightest touch. Or perhaps it has already shattered, and nobody is willing to acknowledge the fact. 

Domenico Starnone's thirteenth work of fiction is a powerful short novel about relationships, family, love, and the ineluctable consequences of one's actions.
Known as a consummate stylist and beloved as a talented storyteller, Domenico Starnone is the winner of Italy's most prestigious literary award, The Strega. 
The European Book Club (organized by EUNIC Chicago) meets regularly for a book discussion of a bestselling novel in English translation.
Guests who would like to attend, should read the book in advance and come prepared  to participate in the discussion.
Free and open to the public.
When & Where

Italian Cultural Institute
500 N Michigan Ave
Suite 1450
Chicago, IL


Tuesday, September 19, 2017 from 6:00 PM to 8:00 PM (CDT)
Add to my calendar
Organizer
Italian Cultural Institute of Chicago
Italian Cultural Institute of Chicago
500 N Michigan Ave., Suite 1450
Chicago, IL 60611
Currently active in all the major cities of the five continents, the ninety Italian Cultural Institutes serve as an ideal meeting place for intellectuals, artists, and cultural operatives, as well as for ordinary citizens, both Italian and foreign, who wish to establish or maintain a relationship with our country. By acting not only as a showcase and source of current information on Italy, but also as a driving force behind initiatives and projects of cultural cooperation, the Italian Cultural Institute has become a focal point for both the Italian communities abroad and the growing demand for Italian culture throughout the world.

By extending the role of Embassies and Consulates, the Italian Cultural Institutes offer the most effective tools for promoting a worldwide image of Italy as a center of production, preservation, and dissemination of culture from the Classical Age until today. Along with organizing cultural events in a vast array of areas, including art, music, cinema, theatre, dance, fashion, design, and photography, the Italian Cultural Institutes:


Offer the opportunity to learn Italian language and culture through the organization of courses, the management of libraries and the preparation of educational and editorial materials;
Provide the networks and the premises to facilitate the integration of Italian operators in the process of cultural exchange and production at an international level;
Provide information and logistic support to public and private cultural operators, both Italian and foreign;
Continuously support initiatives aimed at promoting an intercultural dialogue based on the principles of democracy and international solidarity.
European Book Club - TIES ("LACCI")