On 13th June the whole world comes together for a day of Yoga & Meditation. With the special presence of Sri Sri Ravi Shankar.
About this event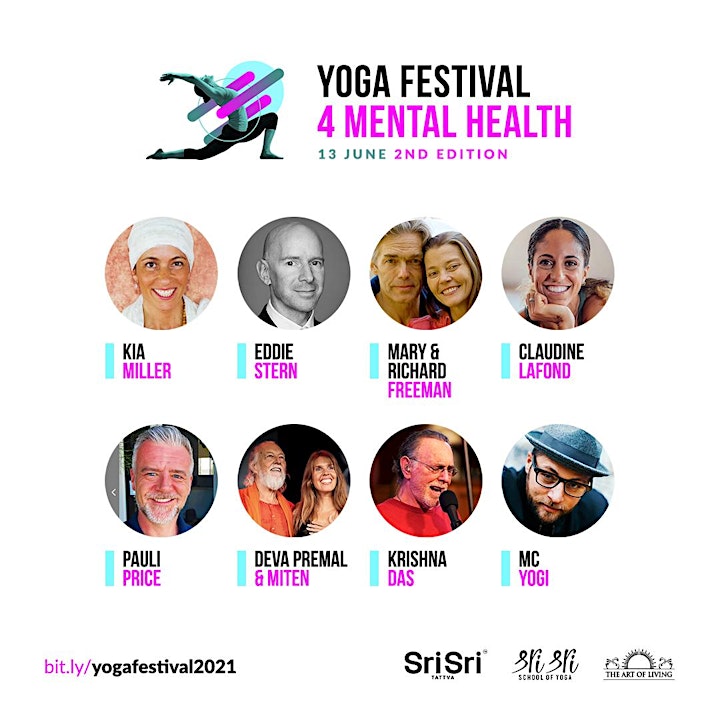 Europe meditates with Gurudev Sri Sri Ravi Shankar as part of the Yoga Festival 4 Mental Health!
This is a one-of-a-kind event where each country comes together as one and meditates to bring joy, peace and happiness.
🕉️ The Festival 4 Mental Health is raising awareness on the power of yoga, meditation, and spirituality to tackle mental health at the root, and create a unified, peaceful, and collaborative society.
The event will take place on Sunday 13th June, from 7 am and throughout the whole day, bringing Senior Yoga Teachers known all over the world in workshops and discussion panels. Eddie Stern, Mary and Richard Freeman, Claudine Lafond, Deva Premal, Krishna Das, MC Yogi and so many more will be there!
And at 10 to 11 am CET you will experience a profound meditation with Gurudev Sri Sri Ravi Shankar himself, leading Europe Meditates.
On this link you can register for the whole day of yoga workshops, or just for the meditation with Gurudev.
Gurudev Sri Sri Ravi Shankar is a global humanitarian leader, peacemaker, and renowned spiritual teacher. He founded The Art of Living (1981) , its sisters organization, The International Association for Human Values and Sri Sri School of Yoga.
An estimated 450 million people have benefitted through these programs and social service projects run entirely by Art of Living volunteers across 156 countries.
This year's festival reunites experts from all these fields:
Business
Education & Youth
Sports, Fitness & Yoga
Ayurveda & lifestyle
Nature & environment
Yoga is returning to our natural way and state of living. It is connecting back to our own source, experiencing love, peace and joy. With all its multifold techniques, yoga has the ability to peel stress away, so our true nature can shine forth.
DAY: 13th June
TIME: From 7 am CET (and throughout the whole day!)
See the schedule to choose your preferred sessions and attend!
Register for free here!
You can follow us on Instagram to stay up to date on the latest celebrities that will lead a workshop! > www.instagram.com/srisrischoolofyogaeu
IMPORTANT: We will be sending you the details of the event schedule and how to attend your selected workshops/panels in a follow up email, so stay tuned!
Sri Sri School of Yoga Europe
Organizer of Europe Meditates @ Yoga Festival 4 Mental Health