About this Event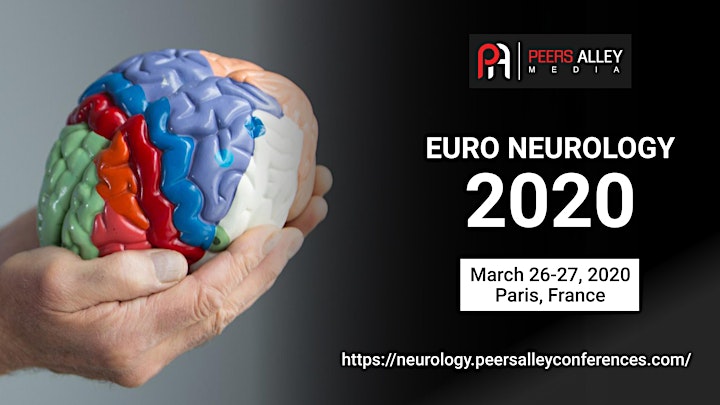 A Spectrum of Opportunities for Aspiring Neurologists. Join at Concurrent Didactic Conferences: Neurology Conferences, Neurologists Conferences, Neurophysiology Conferences and Neurologists Meetings 2020. Connect with Experts from USA, Canada, Europe, Japan, Asia, Middle East, China and Singapore.
On behalf of Peers Alley Conferences, we would like to extend our warm welcome to all at the Euro Neurology and Neurosurgery Congress in one of the most beautiful cities of Paris, France in March on "26-27, 2020". This conference highlights the theme: "Neurology and Neurosurgery: Unravel the recent advancements and novel discoveries".
Euro Neurology 2020 will summon all the researchers, scholars, neurologists, neurosurgeons, students, professors, associate professors, assistant professors, doctors, and young researchers of Neurology and Neurosurgery fields to give their insights in various keynote speech, speakers' speech, workshops, B2B meetings, B2C meetings, networking, poster presentations, video presentations and exhibition to the attendees of the conference.
Organizing Committee Members and featured speakers:
Stefan Schwab, Professor of Neurology, Director and Chair, Department of Neurology, Friedrich-Alexander University Erlangen-Nuremberg, Germany
Marco Carotenuto, Associate Professor, Clinic of Child and Adolescent Neuropsychiatry, University of Campania Luigi Vanvitelli, Italy
Jacques L. De Reuck, Professor, INSERM U1171 Degenerative and Vascular Cognitive Disorders, Université de Lille 2, France
Kurt A. Jellinger, Professor, Institute of Clinical Neurobiology, Austria
Yonca Anik, Professor, Radiology Department, Kocaeli University, Turkey
Sudhir V Shah, Prof and HOD, Neurology, V. S. G. Hospital, India
Shinghua Ding , Professor of Biomedical, Biological and Chemical Engineering, University of Missouri-Columbia, USA
Hagen Huttner , Neurological Intensive Care Unit, Friedrich-Alexander University Erlangen-Nuremberg, Germany
Joji Kuramatsu , Friedrich-Alexander University Erlangen-Nuremberg, Germany
Beatrice Alescio-Lautier , Aix-Marseille Université, France
Jimena L Frontera , Institut de Biologie de l'Ecole Normale Superieure (IBENS), France
Chika Okwuolisa, Founder and Executive Director, Brain & Spine Foundation, Nigeria
Estefana Ayln Fesser, Buenos Aires University, Argentina
Paola Diaz Borrego , Virgen Macarena University Hospital, Spain
Contact us for more details at neurology@meetingsengage.com.